What's this? A basketball post? Yes, yes it is. One of my resolutions was to write more about Auburn basketball this year, and I've failed. Well, technically next season starts in the fall of this year, so there's still hope.
Let me be honest. I love Auburn basketball, but it also infuriates me as much as small conference automatic bids in the NCAA tournament. I see lots of promise, now more than in a long time, but they can never seem to get over that last little hurdle of stupid. I'd love to write blogles about the games just as much as I do for football games, but how many different ways can I say "they led early, and played the best they have all season, before they let the stupid take over and lost a 10-point lead in the last five minutes."?
I'm sorry, I love Kenny Gabriel, Frankie Sullivan, Chris Denson, and all of those boys, but it's the truth. It's just very frustrating, and to someone with my level of patience, very infuriating. Having said that, let me show you how I think Auburn can win the SEC tournament, and what has to happen for them to do so. Here's the dream bracket scenario with short analyses below.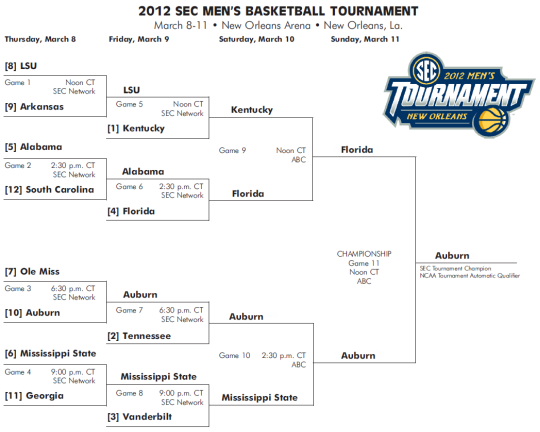 1st Round (vs. Ole Miss) – Auburn split with Ole Miss this season, with a 69-68 double overtime win back in January and a 61-54 loss around a month ago. In both games, Auburn held 10+ point leads in the 2nd half. In the first meeting, Auburn lead by 14 with less than five minutes to play and had to go to double overtime to win. In the second, it was the same scenario with Ole Miss overtaking the lead and winning by 7.
What does this mean? It means that Auburn is definitely good enough to blow Ole Miss out, but like almost every loss this season, they haven't had the consistency to close it out. For whatever reason, Ole Miss does not match up with Auburn very well, and the Tigers should win this game. They should have won both of the previous match-ups by double digits.
2nd Round (vs. Tennessee) – Earlier this season, the Vols lost to Oakland, Austin Peay, and College of Charleston. They ended their season winning 8 of their last 9. Somehow, they ended up taking the 2nd seed in the SEC Tournament after winning tie-breakers with Florida and Vanderbilt (all had a 10-6 SEC record). Dream bracket scenario or not, there is no way around the Vols because of their bye.
Tennessee gave Auburn one of their worst losses of the season (64-49) in embarrassing fashion on national TV. I know Auburn is prone to going on scoreless streaks throughout games, but that night they ended the first half with almost ten minutes without a field goal. That's not normal.
Plain and simple, Auburn will need to play much better than they did the first time around to slow down Tennessee. I wouldn't say Auburn has delivered an upset all season. They are usually good for at least one a year, and this would be a great time for it to happen. Tennessee is hot right now, but they aren't that good. Auburn can beat them.
3rd Round (vs. Mississippi State) – In this dream scenario, Auburn avoids teams like Vanderbilt. It's possible. The 'Dores live and die by the three and are a different team outside of their gimmick arena. Mississippi State is definitely capable of knocking them off – again – to give Auburn an easier road.
The Tigers should be 4-0 against the state of Mississippi this season. Auburn beat both state schools in Auburn, and lost to both away from home. I already mentioned the collapse at Ole Miss, and then Auburn had their best offensive performance in Starkville a few weeks ago, leading the Bulldogs for most of the game, before collapsing at the end.
Like the Rebels, for whatever reason Mississippi State doesn't match up well with Auburn. It has shown in both games, regardless of the outcome. If Auburn can keep Dee Bost (a 9th year senior) and the fat guy that the announcers bash all the time from getting hot, they can easily beat the Bulldogs again. On to the Finals…
Championship Game (vs. Florida) – Yes, I do have Kentucky losing to Florida in the semi-finals. It could happen. Nevermind that the Gators lost to the Wildcats by fifteen on their home court just this past weekend. Calipari knows they are a lock for the #1 seed, so he'll take the game lightly. Right?
Auburn led Florida at halftime when the two teams met in February. The Gators were cold and Auburn kept up with them for most of the game. The problem, like all games, was the ability to close it out. Once Florida started scoring in the 2nd half, Auburn started shooting quickly and went on one of those famous, can't-hit-the-side-of-an-Aw-barn scoreless streaks. The Tigers were outscored 36-17 in the 2nd half, but the first half at least showed promise.
It seems that Auburn always plays Florida close in basketball (and beats them all the time in football, amiright?!), so beating the Gators would not be a monumental feat. It looked possible a month ago, and if the Tigers have already won three straight in the tournament, they'll have the momentum to finish it off this time. On to an 11-seed….
Now after saying all of that, this is probably what will happen: