Back in January, I gave you a visual history of most of Auburn's uniforms. In that blogle, we learned that Auburn had worn blue helmets in their storied history, much to the surprise of most fans. During the great blue helmet debate of 2010, no one ever imagined that a helmet change for Auburn was actually old news.
But now, thanks to the 1951 Glomerata, we know that the 1950 Auburn Tigers wore a blue helmet with an orange stripe and an orange helmet with a blue stripe as part of their uniform. And it doesn't stop there. They wore them at the same time. No, one person did not have two helmets on his head. Some players wore the blue helmet and some players wore the orange helmet, all together, all on the field at once, all year long.
Take a look at this team picture from the 1950 season. You will see the alternating helmets placed below the bottom row.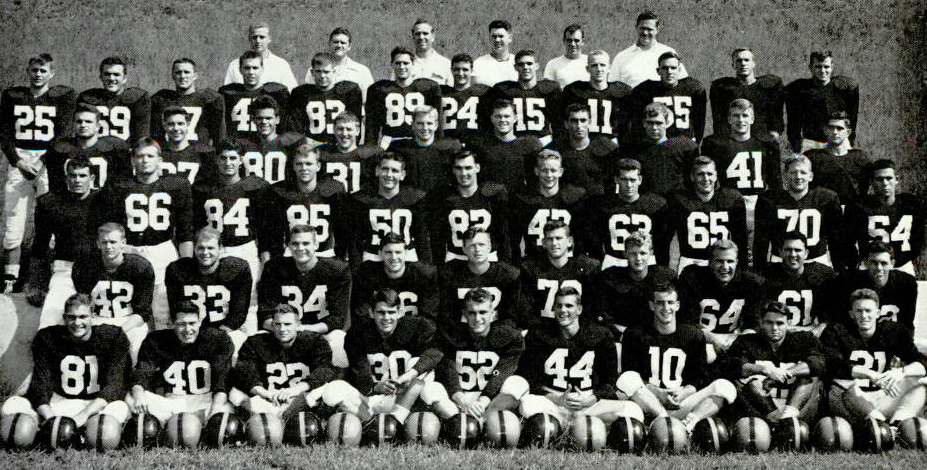 But this wasn't some Nike Pro Combat-style gimmick. The different colored helmets had a purpose. I was unable to find the NCAA rule in writing, but according to this article in the Florence Times from July 17, 1949, the NFL adopted a rule that allowed teams to give eligible receivers a different colored helmet to make it easier for fans, officials, and quarterbacks to determine who could actually catch and run with the ball. That makes sense, I guess. Maybe there weren't rules about numbers for certain positions yet, but it sounds like the NCAA adopted the same helmet rule.
In the picture below, you will see that the Auburn quarterback, running backs, and tight ends (in white) are wearing the orange helmet, while all lineman are wearing blue helmets.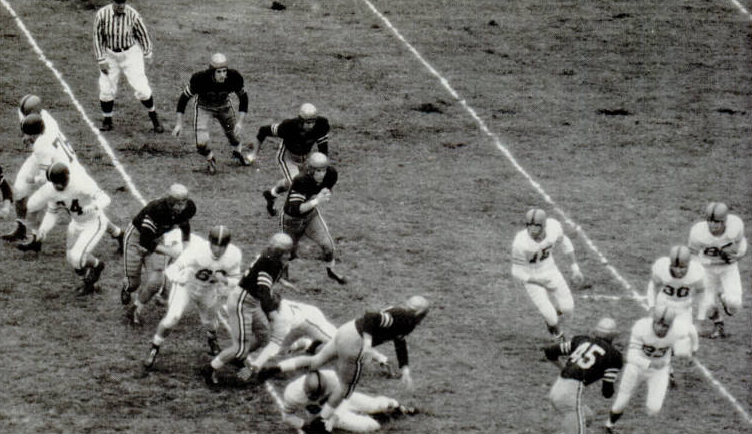 You may have also noticed that the opponent, Georgia Tech, are all wearing the same gold helmet. This is most likely because they are defenders, but back in these days, guys played both ways. That brings up the question "did players have to swap helmets if they played both ways?" Either way, the NFL rule states that this was not a mandatory rule, and only teams that wanted to do it could. So I'm assuming Georgia Tech was probably just not one of those teams.
Here's just a little more proof of the different helmet colors, but take a look at the two tone pants. I'm guessing the fronts are brown, and the backs are white, but what if the fronts are actually orange? That would make for orange helmets, blue jerseys, and two-tone orange and white pants. I always thought old school uniforms were drab. "Not so," says A.P.I! Wow that sounded just like some of the writing in these Gloms from the 50's. I need to go outside.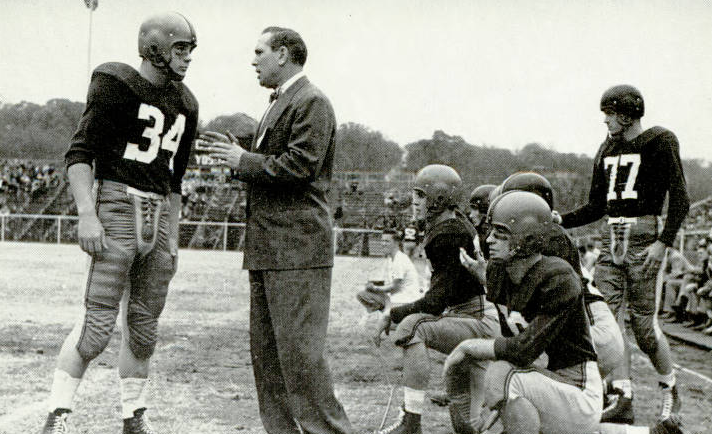 Again, below is further proof of the helmet colors, but I really just wanted to show this because I love sideline shots from back in the day. They literally look like they are taking a break from a war.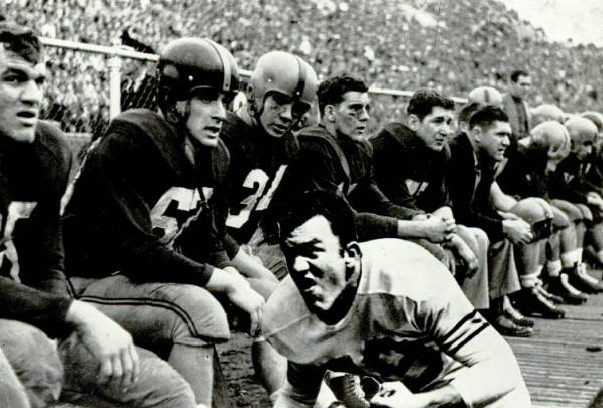 You may or may not know that 1950 is arguably the worst year in Auburn football history. Those Tigers went 0-10 that year and were blown out in almost every game. I'm sure some of you will say that it was because of the blasphemy of wearing blue and orange helmets, but as we saw in the visual history, Auburn hasn't worn what most call the "traditional" uniform for very long. Either way, I thought this was a pretty cool look at a rule and a period of Auburn history that I never knew existed.
You know this isn't the last uniform history blogle I have planned. I'll keep digging and let you know what I find because I think this stuff is awesome. And if page clicks are a good indicator of popularity, then you do, too. If anybody has any information or color versions of pictures from this era, please let me know.
I have a pretty big idea up my sleeve that I will be breaking out in the coming months, so keep your eyes on the 'Blogle.
Thanks to David Bivins for help with some of the research.