We all knew that the addition of Texas A&M and Missouri to the SEC would cause tons of changes. However, the SEC and its member institutions have been pretty tight-lipped on what those changes will be. Well, either that, or they don't actually what the changes are just yet. But who needs them? We have the internet and Twitter to leak info now.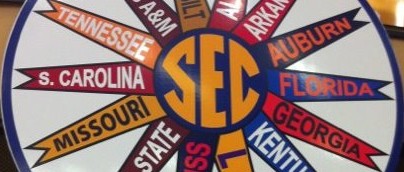 Last Thursday, Billy Liucci of TexAgs.com tweeted this:
…hearing that Ags' 2012 home schedule could include LSU, 'Bama, Arkansas, UF…
Last night, he elaborated:
A&M 2012 SEC schedule is expected to be: Home vs. Florida, Bama, LSU and Arkansas; Road at Ole Miss, Miss St, Auburn, Mizzou.
The untrained eye may look at these tweets and just think about how tough a schedule that will be for the Aggies, but people like me that link everything back to Auburn, while over-analyzing every aspect of every word, may notice something else.
As it was this year, and every odd year, Auburn plays one of the worst home schedules and most brutal away schedules in the SEC. Alabama and the rotating SEC East opponent are usually the only home games that bring any excitement, while Auburn travels to Arkansas, LSU, and Georgia.
So now, according to what Liucci is hearing, it appears that Texas A&M will be added to that odd year road schedule. Think about it: Auburn will travel to Arkansas, LSU, and Texas A&M all in the same year. That's a lot of frequent flyer miles. Oh, but there's more.
Assuming that this scheduling lasts until the years that Auburn picks up Missouri in their rotating intra-divisional game, the Tigers (ours) could actually have to travel to Columbia, MO as well. I don't care how good the teams are, flying to Fayetteville, College Station, Baton Rouge, and Columbia in the same year may wear on a team. I know the ACC has flights from Boston to Miami, but this is the SEC. Road games are hard enough as it is.
One other little wrinkle that was brought to my attention by @dealjon was that if Texas A&M is playing Florida next year, as Liucci states, and if Florida has LSU as their permanent West opponent, then that leaves no room for Auburn on their schedule. Since we know that the SEC will stick with an 8-team league schedule at least for 2012, that means Auburn would not play Florida next year. Well shoot, the streak lives for a years more.
This of course is all fluid and is a bunch of talk right now, but more and more info is leaking daily. I trust that Liucci knows what he's talking about given that he's tweeted virtually the same thing twice in the last week. I guess we'll just figure it all out once the SEC wants us to.