Your two favorite #18's, Wes Byrum and Kodi Burns, will be at Auburn this weekend as part of the "Sports Illustrated Heisman Tour Presented by Nissan." Details are below. Based on a few tweets, it appears that there will be a lot of former Tigers in Auburn this weekend for the game. A lot.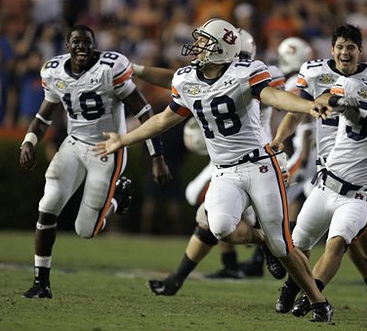 WHO: Meet AU football standouts on game day!
Auburn's all-time leading scorer, Wes Byrum, who kicked the game-winning field goal in the BCS Championship Game to clinch the 2010 national title, will appear from 1:30-3:00 p.m., participating in both an "SI Chalk Talk" session with Dan Patrick Show executive producer Paul Pabst from 1:30-2:00 p.m. and an autograph session from 2:00-3:00 p.m.
2010 team captain Kodi Burns, who hauled in a 35-yard pass from Heisman Trophy winner Cam Newton to score the opening touchdown of the BCS Championship Game, will participate in an "SI Chalk Talk" session with Pabst from 3:30-4:00 p.m., followed by an autograph session from 4:00-5:00 p.m.
WHAT: Sports Illustrated and Nissan have teamed up to celebrate the Heisman Memorial Trophy and the greatest games in the history of college football with a 10-stop national tour at marquee matchups this season. Admission to the tour is free, and fans are encouraged to pick up a Sports Illustrated special-edition magazine that showcases "College Football's Unforgettable Games" … compliments of Nissan.
Get your picture on the cover of Sports Illustrated with the Heisman Trophy
Take a closer look at the 2012 Nissan Maxima premium performance sedan, the original "4-door sports car," and the 2012 Nissan Frontier vehicle, where single-minded ruggedness is married to advanced technology.
View SI covers and images on 52" touch screen monitors
Participate in autograph sessions and photo ops with former football greats
Win prizes by participating in fun, interactive games including a virtual combine and QB challenge with gesture recognition technology
Register for the BCS Championship Ultimate Experience Sweepstakes
Get an RFID bracelet, allowing you to check in and instantly share your experience on Facebook
Keep tabs on the weekend's action by viewing games and highlights on plasma TVs and a custom 16' x 9' LED screen
WHEN: SATURDAY, October 15, 2011 – noon until kickoff
WHERE: Located in front of the Nichols Center, at the intersection of War Eagle Way and Donahue Drive. Look for the big Nissan/Sports Illustrated helium blimp flying overhead!