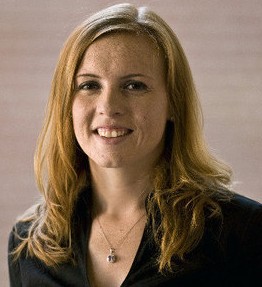 Rachel George (@osgators) is the Florida beat reporter for the Orlando Sentinel, and has the distinction of being the first female participant in the "From the Other Sideline" series. She's honored, I'm sure. Rachel has covered the Gators since September 2010. Before that, she worked for four years at the Star-News in Wilmington, N.C. She is a 2006 graduate of St. Bonaventure.

1. When Florida fans think of Auburn, what's the first thing that pops in their head?
Well, most recently it would be that 2006 loss at Jordan-Hare. It was the only blemish on an otherwise perfect season and a game I sense Florida fans felt the Gators should have won. Going back to the Plains brings that memory up for UF fans.
2. Auburn and Florida have had some pretty fun games in their history which always brings on a pretty high level of excitement at Auburn each time Florida is on the schedule. Is it the same in Gainesville?
I haven't been on the beat long enough to see an Auburn-Florida game in The Swamp but I would imagine it's like any other big SEC game here.
3. What's the overall confidence level of Florida fans that the Gators can come in to Jordan-Hare and get a win?
Probably not very high at this point. UF fans are upset about any loss but are feeling pretty down after the embarrassing losses to Alabama and LSU. Because of the success Florida has had the past 20 or so years, its fans believe it should be atop the SEC each year. Seeing how far the Gators are behind those two schools as UF tries to rebuild has been hard to accept for many. With that being said, I don't think they view Auburn as unbeatable. It will be a tough game, without a doubt, but fans are cautiously hoping UF can win it.
4. Who are two generally unknown Gators that Auburn fans should worry about?
On the offensive side of the ball, I'll go with Mike Gillislee. He's a junior but he hasn't gotten many carries this year behind Jeff Demps and Chris Rainey. He's a more powerful runner than both of them and can gain yards between the tackles. He was the most successful running back against LSU and is expected to get more carries this week.
On defense, I'll go with Lerentee McCray. He's a redshirt junior and didn't become a starter until this year. McCray has filled the hole at strongside linebacker better than expected and also plays defensive end for them.
5. Who do you think will start at quarterback for Florida this week, and what do you think he brings to the table over the other?
Ha, if I knew that I would be very popular right now. Whoever starts seems to depend a lot on the health of Jeff Driskel's left ankle. Jacoby Brissett got his first snaps of his career in starting last week with Driskel out. Coach Will Muschamp said Monday that Brissett would again be the starter but if Driskel's ankle allowed him to practice, there would be a competition for the spot.
So, it really could be either of them. In terms of Auburn's preparation, it likely won't make much difference. Both have similar skill sets in that they have strong arms and the ability to run. Driskel had the advantage in understanding the playbook because he enrolled earlier than Brissett, but that might not be a factor six games into the season.
6. Is there a positional match-up where you see either team having an advantage?
Well, I don't think either team has a huge advantage over the other in any area of the game but a point of emphasis for Florida will be to control the line of scrimmage. Alabama and LSU absolutely just demolished Florida there and I think there's a bit of pride on the line with the Florida players. Specifically, the offensive line needs to get back to the way it played in September as opposed to the last two weeks. If they can do that, it'll give the back some room to run and open up the passing game if the QB isn't constantly scrambling.
7. How is the Florida fanbase handling back-to-back ugly losses?
Not well. On the extreme end, there are already some calls to fire Will Muschamp. They're definitely the minority, but they're out there if you can believe it. Other than that small faction, I think fans are just upset and how lopsided those games were. It wasn't just that Florida wasn't competitive. It was that the Gators got embarrassed. That's not sitting well with a lot of folks right now.
8. Where do you see Auburn and Florida ending up this season?
When the media did our preseason polls at SEC Media Days in Birmingham, I had Auburn as fifth in the West and Florida as third in the East. I think the Tigers could go one spot higher since Mississippi State has not looked good, but it's clear Alabama, LSU and Arkansas are the best in that division. In the East, I could see Florida contending since neither Georgia nor South Carolina have been particularly impressive. I think this week's game will be key for Florida if it can win it. Keeps them in the race and gives them a confidence boost if they win it, but can be rough to take if they lose it. Might not be totally out of the race, but with Georgia's easy schedule Florida would have an uphill climb to win the East.
9. What's your prediction for the game?
I never give predictions in terms of score but I think regardless of who wins this one, it will be close. For Florida, the keys will be to control the line of scrimmage on both sides and be able to run the ball. If it can do those two things, it will have a shot.
10. Lastly, why jorts?
Oh, goodness. I have no earthly idea. I might alienate some readers here, but I'm among those who don't like them.