Although the 2010 version of Auburn's football team included a Heisman trophy winner, a Lombardi trophy winner, and a few more All-Americans, if you were to ask an Auburn fan who their favorite player was, the answer would most likely be Kodi Burns. That's not to say that Auburn fans do not appreciate, pull for, or love the others just same. It's just that Kodi Burns is everything Auburn fans want on their team.
His stats may not be gaudy (a mid-career position change will do that), but what Kodi brought to the team in terms of leadership, heart, and selfless attitude far outweighs yardage, catches, or touchdowns.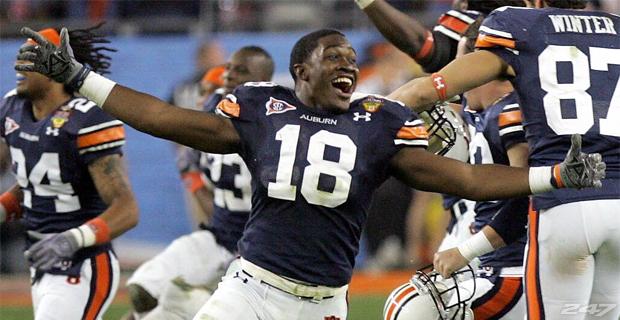 For those that don't know his story, Kodi came to Auburn as a prized quarterback recruit. He ended up splitting time with Brandon Cox in 2007 and Chris Todd in 2008, then in 2009 Chizik and Malzahn gave Todd the starting job while moving Kodi to receiver. He could have left and started at many schools, instead he stood up, told the team he would do anything he could to help, and ended up being a huge reason that Auburn won the National Championship his senior year.
At this point, Kodi has not been signed as a free agent, and it's a shame that NFL teams don't put more emphasis on heart, determination, and work ethic in their evaluations. If that were the case he would have been drafted very early. Hopefully, somebody will wise up and bring him in. He would definitely make any team better.
As if he hadn't already done enough for the Auburn Family, Kodi was also nice enough to answer a few questions for the 'Blogle. I like him even more now, if that's even possible.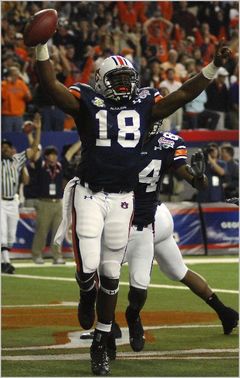 1. What was it about Auburn that made you want to stay once the QB job was given to Chris Todd in 2009?
I mean, I loved Auburn, but it was really more so prayer and talking with my parents. There were several big Division I schools that I could havegone to and started and succeeded at quarterback, but I was halfway done and Auburn was my home.
2. Is there any certain coach or player that played a significant role in your development as a person and a player?
The main three I was familiar with were Coach Chiz, Malzahn, and Trooper. They all played a huge role.
3. What were your favorite team  and personal moments of your Auburn career?
As a team, being able to look at one another in they eye after the BCS game and say "We did it." Personally, scoring the winning touchdown in the Chick-Fil-A Bowl and the team jumping all over me. I had just turned 19 a few days before and it was just crazy that all that happened to me.
4. What did it feel like when you dove into the end zone in the National Championship game?
It definitely did not feel real, but once I got the ball, all I had on my mind was six, and no man was going to stop me.
5. Were there any behind-the-scenes moments last year that showed the strength of the team and made you believe the 2010 tea m was special?
Many people know about the Alabama half-time speech from several of the seniors, but during that Clemson game, the tenacity to not sink our heads early in the season just because we were down a few touchdowns against a great team and pretty much not only come back, but dominate the game. That's when I knew we were special.
6. Who was the best player that never got to show on it on the field?
Me! Ha! I didn't get a catch until the 6th game. I could have been way better. But seriously, I would say Q Carr, he by far has the most ability of anyone on the team.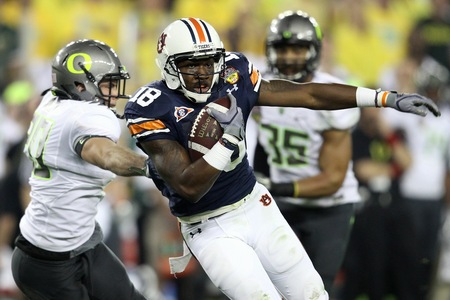 7. Did you have a best friend on the team?
I really don't have a best friend. They are all like brothers to me. One dude that I will say inspires me is Ashton Richardson.
This is a dude that plays ball for free, yet puts in as much time and work in as me and many other scholarship players. He has a 3.98 GPA in Biomedical Sciences and the only B he has ever made in college was in Public Speaking. Go figure.
He is a great spiritual dude that has problems back home (as many of us do), but you would not know it unless he told you because he is that humble and strong-willed.
8. What was it like to prove the world wrong week in and week out last year?
It was great because nobody respects Auburn. I feel like we were an underdog against some of the weaker teams we played. Its like ESPN has a deal with Florida, Texas, USC, Ohio St., and Alabama because they pick them to win just about every game. So when we went out every game and smashed all of these teams, including their so-called savior (Alabama), they feel helpless and it feels great.
9. Have you noticed that one arm is stronger than the other because of the weight of the National Championship rings?
My left arm is definitely a little stronger than the right. I have about 25 pounds of ring that works me out every day.
10. If you could tell the fans of Auburn and Alabama one thing, what would it be?
Obama! Haha, they would hate me for that… but seriously I would say WDE!!!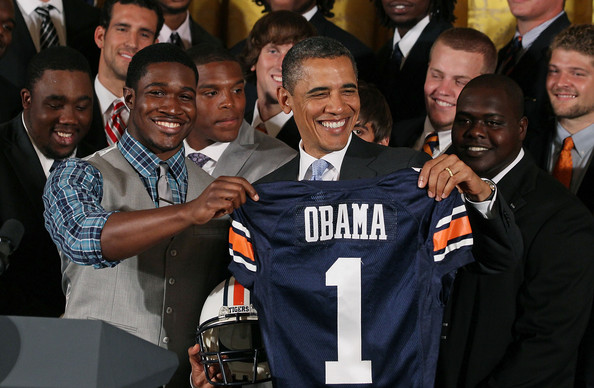 11. What is more gratifying; a block that helps score a touchdown or scoring a touchdown?
Both are equal because with both get you six, and either way I helped. It's a team game.
12. Does Malzahn have to ice his arm after each game?
Not that I know of…
13. Harvey Updyke. Any thoughts?
Joke.
14. What's one talent you have that not many people know about?
Cooking. I love to cook… a.k.a. Chef Burns.
16. Favorite place to eat in Auburn?
Hamilton's.
17. What are your pre-game rituals?
Definitely listening to a few songs of the Inception soundtrack… weird I know, but I really get into symphony music. And that definitely gets me right before the game.
18. What's your jam right now? Do you do the Lutzie to it? Will we be seeing the 'Burns Bounce' in the NFL?
Anything Rick Ross or Big Sean…
Ha! I definitely do not do the Lutzie to it. That was so terrible. I just vibe to it instead. NFL is a toss up, I would love to continue to play but the lockout really killed several peoples chances as well as mine, so we will see.
19. Now that the lockout is over, what are you hearing about your free agency options? What team would you most like to play for?
I have been talking with quite a few teams but no deals yet, its tough because they would rather go with someone with experience all because of the lockout. I would love to play for any team as I am sure anyone would say. It is a business and on this level it's all about feeding your family.
20. Use one word to describe the comeback against Alabama last year.
Ambition.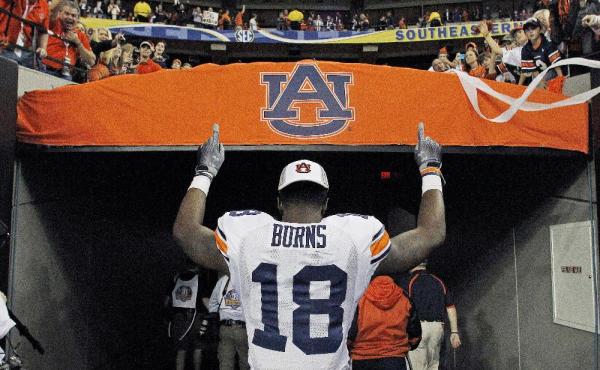 Thank you, Kodi. You're welcome in the 'Blogle household any time.