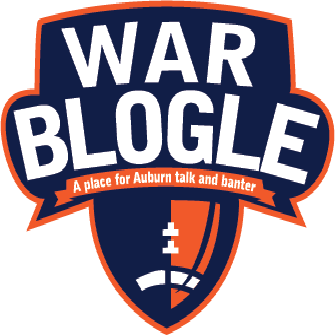 At some point, AT&T and all the other providers are going to find a way to make their service work during a football game right? From two hours before kickoff until an hour after the game, getting a tweet through was almost impossible, which explains my lack of activity. It's probably for the best, though. You didn't want to know my thoughts through most of the game yesterday.
Christmas. Tee time. Auburn Football. #thingsiwakeupearlyfor
It looks like @AUHD is ready. Are you? WE @zalsobrook Gameday! War Damn! yfrog.com/nwf74kj
New Blogle: Roundtable of Tigers Past – Talking Openers, Predictions bit.ly/naXPIX #auburn #wareagle
Just woke @BabyBlogle up. First word out of his mouth: "CHAMPS!" He gets it. #auburn #wareagle
Set it up. WE @jbrannan @WarBlogle is there a Blogle meet-up today?
Last season the tailgate satellite setup worked the first time. This year the same. Expect another championship. You're welcome.
Oh oh oh oh oh oh. Oh oh oh oh oh oh oh oh. Oh oh. Oh oh. WAR DAMN EAGLE! Do it. It will work. #auburn #wareagle
Baby "Trovon Reed" Blogle is ready. Are you? twitpic.com/6fgbkz #auburn #wareagle @BabyBlogle
Lupe Fiasco's "The Show Goes On" was just played during a highlight video. One early rumored tunnel video song.
Aubie just ran to the 50 with the crystal ball while 'All I Do is Win' played. Perfect ending. On to the next. #auburn #wareagle
'All the Above' was played in pregame as the players ran to the student section. Not before the 4th quarter anymore I guess. #auburn
Tunnel video song was a classical piece that fit nicely. Pre-kickoff song was Vox Populi, as I told you. Both videos awesome. #auburn
New stadium cups: twitpic.com/6fibq5. #auburn #wareagle
I demand that all of Auburn's holders wear #19 henceforth. #wareagle
I hear Alabama is leading 24-0. Hehe.
Team runs down the field to a shorter, started in the middle "All the Above" to start the 4th quarter. #auburn #wareagle
Dear World, SUUUCCCCKKKKKKKK IIIIIIITTTTTTTTTTTTTTTTTT!!!!!!!!!!!!!!!!! With love, Auburn
I haven't seen this many "yeah, but"s in my timeline since 28-27. #bammers
I'm at Toomer's Corner w/ @auburnengineer 4sq.com/nDfVey
One positive to take away from today's game is that this team showed that they still have what it takes to win no matter what. #auburn
Just found out that the commentator for today's game was a woman. So THAT was the problem. #wareagleanyway
New Blogle: Pat Dye Speaks at the Utah State Pep Rally bit.ly/preA0F #auburn #wareagle
IT DOES MATTER!!! WE @JHokanson Let's talk about stuff that doesn't matter. What was the consensus on the subtle changes to the Auburn uni?
The back of Gene's jacket today resembled something Elvis would have worn back in the day. I love the AU and 'War Eagle' and all, but no.
Hey @UnderArmour, the tiny names on the back of Auburn's jerseys aren't ethical, prudent, or efficient. They also look ugly. Change please.
Video of Aubie with the crystal ball before the game: twitvid.com/XFL69. #auburn #wareagle
The one with words? "Vox Populi" by 30 Seconds to Mars. WE @sallbrook Anybody know that name and artist of the intro song?
Wait, why is there an XFL game on ESPN right now?
Add @KevinScarbinsky & @ClayTravisBGID to the list of media members that should wait till the clock hits zero before posting snarky tweets.
Who knew that inbreeding in the State of Georgia was so rampant? All of their football players have the same last name.
Good to see @Everett_Duke, @TrueBlueAU, @peggyrossmanith, @murphtl, @WarDamnLegal, and @dmiller1856 at the #WarDrunjEagle tailgate today.
I called the Ole Miss upset and the Twit-Fam correctly picked the amount of points Auburn scored today. bit.ly/o5i7qZ #wareagle
Wait, what about #stopfallweddings? WE @toddcstacy Auburn wins and my baby cousin marries a good man. lockerz.com/s/135606447
WE @powellmap Rice band at half time in Austin. Just formed "SEC", then made the S a dollar sign.
The champs are here… I mean me and @BeautifulBlogle. (@ Quixote's w/ @jeremygolson) 4sq.com/q3XMW0
You did. WE @sarahbeth425 @WarBlogle is at @Quixotes_Auburn?!?!? I HAVE TO MEET HIM!!!!
Thanks Georgia.
Come get a drank from @JHyink and @LuLuHarris at @Quixotes_Auburn. Place is jumpin'.
In Oregon's last two games combined (Auburn, LSU), they have scored 46 points. Last season's average was 54. Level of competition, folks.
So what do you do if you're still mad that Auburn hasn't lost a game since 2009? You talk about the fans who left early today. #endoftherope
Are you ready for your bedtime poetry? #auburn
If you like what you just read, and aren't already, follow the 'Blogle on Twitter.