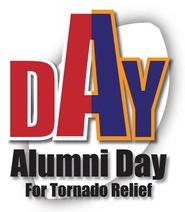 Tomorrow night, in an effort to raise money for the April 27th tornado relief efforts, former Auburn and Alabama football players will take part in a charity flag football game at Spain Park High School in Hoover, AL. You can get your tickets and any other info at AlumniDay.com.
I applied for media credentials for the event in hopes that I could get down on the field and get some good footage and info for you. Remember, I only do this for you. I was granted credentials, so hopefully I can get some good stuff.
The response from former players has been pretty big (roster list). It has to be exciting for them to get back out on the field, and even more exciting for fans to see the greats line up one more time. If you are like me, you were probably wondering how this would work. Are 70-year old guys going to be trying to run down Kenny Irons? How do you fit players from four decades on one field and make it anything more than a playful scrimmage?
This morning I received an email that gave a few more details about the event and answers some of these questions.
ESPN is sending a crew to cover the event.
The gates to the Fan Zone will open at 4:30 pm.
At 6:00p.m. all 175+ players from both teams will leave the locker room/Fan Zone area and will participate in the Walk of Champions to the stadium.
Both teams (175+ players) will be sharing the home field sideline. There will be members of Citadel Broadcasting interviewing players for the fans in attendance to hear, as well as doing trivia games.
The Governor will be attendance for the coin toss. The coin toss will be at 7:00 pm and the game will start at 7:05 pm.
The game will consist of two thirty minutes halves. Players from the 60's, 70's and 80's will play in the first half and players from the 90's and 2000's will play in the second half.
All players will be wearing the same number on the back of their jersey (#1). The players names will not be on the back of their jersey.
We will identify touchdowns, time of touchdowns, players names hopefully, passes and pass completions for each team. No individual stats will be kept.
The game will be over by 9:00 pm.
There will be an MVP from each team and a trophy presentation after the game.
If you're in town, you should definitely go. It's for a good cause and should be fun. I just hope someone says "I tell you, the real winner today is the State of Alabama." Classic Shooter McGavin.