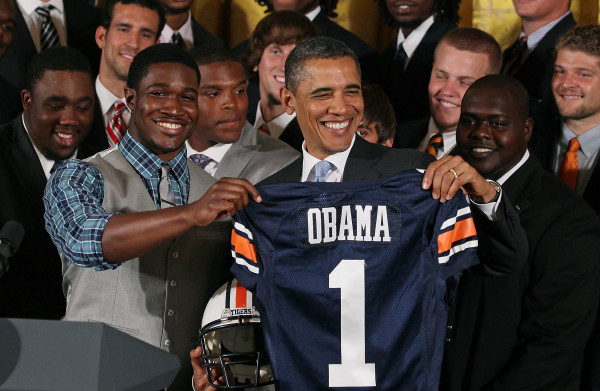 The 2010 Football National Champion Auburn Tigers will visit the White House today. You may remember the previous trip was cancelled because of the tornadoes back in April.
You could watch the team meet the President live (at 2 pm CT) on WhiteHouse.gov, but wouldn't you rather watch it here instead?
Update: The live stream has come and gone, but it appears that the White House posts the old streams to their site. Once that's up, I'll steal it and put it up here. <deadpan>I'm going to steal the video of the Auburn Tigers visiting the White House.</deadpan>
Update 2: I'm tired of waiting on the White House to post their video. Here's one that someone posted to YouTube.
Here's the full transcript from Obama's meeting with the team.
Picture ganked from @SportsCenter's Twitter account.