Look, you know that I'm hoping that Auburn goes the distance in the SEC Tournament. You know I actually expect it to happen. Similar things have happened with teams similar to this year's Tigers. This hasn't been the best of seasons, but nobody expected it to be. The exciting thing is that the team has started to play leaps and bounds ahead of where they were just a few weeks ago. Multiple double-digit comebacks and last-second losses against "better" teams have not only given us hope for next year, but have given us a little hope for what remains for this season.
I guarantee you that if you asked every coach in the SEC who they do not want to play in the opening rounds of the SEC tournament, a very high percentage of them would say Auburn. The Tigers have proven time and time again that no lead is safe, and that with good coaching and defense, it doesn't matter what the talent level is on each team. Auburn is peaking at the right time, and are definitely poised to make a little tournament run. Who knows…maybe even pull a Georgia from 2008?
I know that what I think when it comes to Auburn sports is not always what's going to happen, but since this is my 'Blogle, this is what my heart says (with a few game previews below):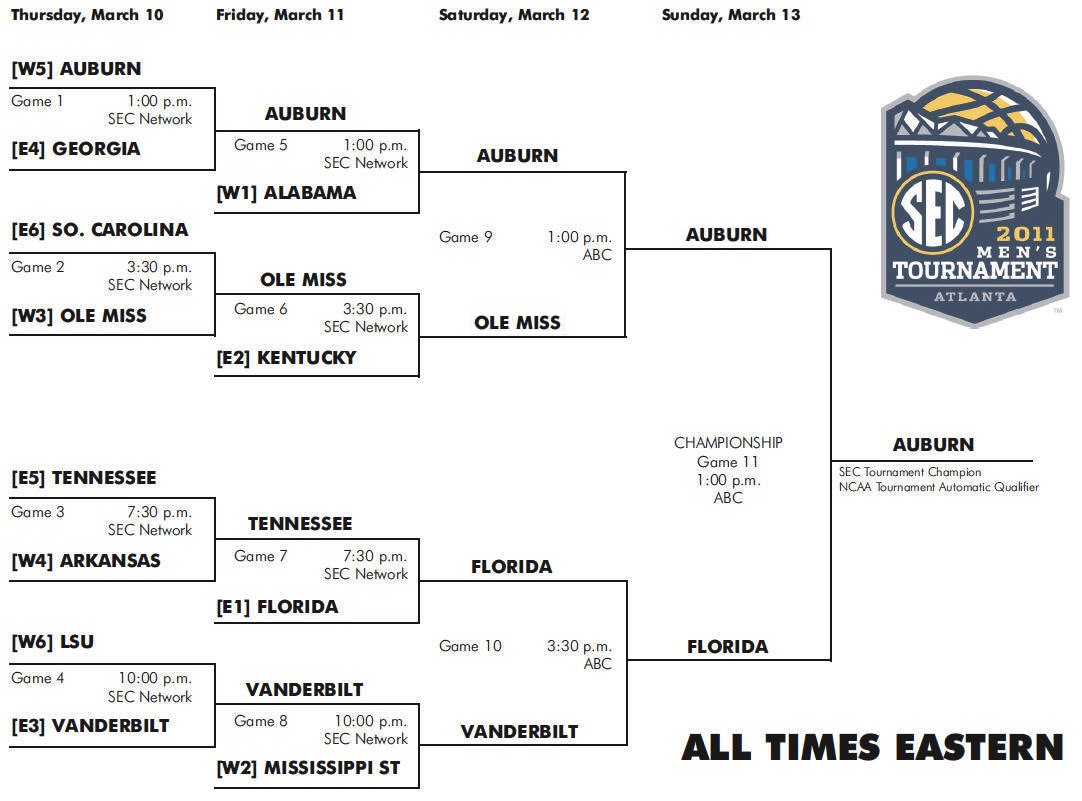 Game 1 (vs. Georgia) – A few weeks ago, Auburn made one of their first semi-comebacks of the season with Earnest Ross scoring 4 points in 3 seconds to tie the game at the end of regulation. Georgia went on to pull away and win in OT, but it showed that the gap in the level of play was closing between Auburn and the teams near the top of the league (at the time, UGA was a lock for the tournament).
Georgia's last three games have consisted of wins over South Carolina and LSU (two of Auburn's four SEC wins), and a loss to Alabama, who as we all remember beat Auburn on a last-second tip in. If you compare Auburn and Georgia's performances against Alabama, the Tigers definitely played the Tide tougher than Bulldogs did. Auburn seems to be playing to prove themselves while Georgia seems to be playing just to stay afloat.
Given the turnout of the first game before the Tigers began to play as well as they are now, and the current style of play, I just have a good feeling about their chances of knocking off the Bulldogs in the first round.
Auburn 67, Georgia 61
Game 5 (vs. Alabama) – I've never been more sure about a win in my life. Well, I probably have, but not in a while. We all know that Alabama had no business beating Auburn in Tuscaloosa a few weeks ago. 28, yes 28 fouls called against the Tigers did them in, regardless of how inept Alabama looked on offense. Even though the Tide was putting on one of the most horrendous scoring displays in basketball history (I think they had 4 points that didn't come from the free throw line after 15 minutes of play), the stripes caused four Auburn players to foul out with two minutes left in the game. I challenge you to find another game where that has happened.
Alright, but enough about the refs. Alabama is not that good, and Auburn is obviously good enough to beat them. What goes around is going to come around in this game. Let's just hope it gets to happen.
Auburn 58, Alabama 49
Game 9 (vs. Ole Miss) – This match-up assumes that Ole Miss beats Kentucky. It has already happened once this season, but after seeing Ole Miss blow a 20-point lead to Auburn last week, it's hard to believe they'd be able to knock off the Wildcats twice in one season. However, my heart says it will happen, giving Auburn the easier road.
Last week, Ole Miss could have blown out Auburn for the second time this season. Instead, as I just mentioned, they let the surging Tigers back in and killed any NCAA dreams they may have had. It's tough to beat a team twice in a two week span, especially when it took a little magic for the first win to happen, but obviously I'd much rather Auburn play Ole Miss than Kentucky.
If Auburn makes it to the 3rd round, they'll be riding high; high enough to easily take down the Rebels once again.
Auburn 70, Ole Miss 58
Game 11 (vs. Florida) – Florida has obviously been the most consistent team in the SEC this year…well, besides that disgusting 45-40 win over the Tigers way back in January. Look at it this way, Auburn was picked to win zero SEC games at that point and they held the eventual SEC regular season champions to 45 points. If the Tigers could have hit the broadside of a barn, it could have been a blowout.
So if, and that's a big if, this game happens, Auburn has already proven they can play with the Gators, and it would be fun to see what this new, energized team can do with a chance to go from "the worst team in the history of basketball", as labeled by Jerry Palm, to an NCAA tournament team. Hey, stranger things have happened.
If you care, here's what my head predicted, but I'll still go with my heart: