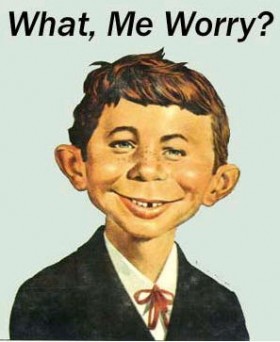 Now that the 2010 football season and all national championship celebrations have ended, it is time to look ahead. We can always look back at videos and articles about this great season, and there will always be the banners that are hung for us to gaze at until the end of time, but as we all know, college football is all about looking to the future. It can actually get pretty ridiculous sometimes (see 2011 preseason polls the day after the national championship game).
Recruiting and national signing day always give college football fans something to think about, and in the case of every team but one, something to help them forget the fact that they were not the best team in football that year. That's the reason people give rankings, talk about next year's Heisman candidates, and make other crazy predictions as soon as the season is over. It's because they want to forget about what just happened and get back to where all teams are equal and all have a shot.
Well this year I'm not doing that. Auburn is the national champion for 2010 always and forever, and I'm going to sit back and enjoy it. However, I'd like to blog a word or two about those that have already written the Tigers off as repeat championship contenders for next season.
Let me start off by saying that I in no way expect Auburn to win the national championship next year. I want them to, I think they could if the ball bounces the right way, but I don't expect it (I never really do for jinxing reasons). Everyone can easily look at the talent that is leaving, as well as the brutal schedule, and see that it will be tremendously harder to win next year than it was this season.
However, I've seen some talking heads pick the Tigers to win around four games next season, which is ridiculous enough that they're already making actual record predictions before we have any idea what any team will look like seven months from now. Why do we continue to listen to people's preseason opinions when nine times out of then they are completely wrong? Anyway, needless to say, the 2011 Auburn Tigers aren't being given a chance to even have a competitive year. We might as well just sit out the season, right?
Although it may not be a championship season, next year will not be a wash. It will not be a lost cause. It will not even be considered a bad year once all is said and done. I don't expect you to read my prediction and accept it any more than other guy throwing out opinions, but where mine differs is the fact that I'm using actual logic, rather than seeing that the two best players in the nation are leaving and assuming the rest of the team has never played football.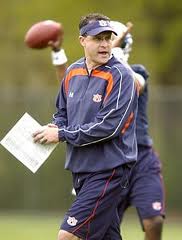 If there is one reason why Auburn will not have a bad season next year, at least on the offensive side of the ball, it would be Mr. Gus Malzahn. Auburn was extremely fortunate to keep him around for next season, and I wouldn't mind if he actually got paid the same as Chizik to keep him around forever. That's nothing against Gene, but he is by far the most important coordinator to his team when compared to any other coordinator in the nation.
All season, people said Cam made Auburn what they were, and that is a valid argument, but I believe it was Gus who made Cam make Auburn who they were. Why? One name: Chris Todd.
Nothing against Todd. I pulled for him 100%, but he was not Cam Newton, and I'm sure he would tell you the same. The fact remains that in Gus Malzahn's offense, Chris Todd broke all sorts of Auburn passing records, was responsible for one of the highest scoring and yard-amassing offenses in school history, and responded to an abysmal 2008 with a very strong 8-win 2009 in Chizik and Malzahn's first year.
Obviously, as we saw this year, a dual-threat quarterback definitely takes Malzahn's offense to another level, but again, an almost immobile Todd still had an amazing year with Gus calling the plays. I'm almost convinced, given the system, that as long as you have someone who can complete a pass, and know when or when not to give the ball on a zone read, then things will be just fine. I know it's not really that simple, but there was a major difference in quarterback talent the last two seasons and the stats were almost the same. In fact, the Chris Todd-led 2009 Auburn Tigers took the "best team in Alabama history" down to the wire. I'm telling you, it's all about Gus. We're going to be fine.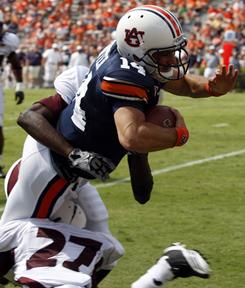 Unless something major happens, Barrett Trotter will be the starting quarterback next year. From a few mop-up duty appearances this year, he definitely looked more than able to run the offense. He had a long run against South Carolina in the SEC Championship game, and albeit the game was over and the Gamecocks had given up, it showed that Trotter has somewhat of a threat to run the ball just when the other team thinks he's just another slow white guy. Trotter was a big recruit coming out of high school and probably would have started this year if Cam had not come along. I am completely confident with him being behind center this year and think he will, like the past two quarterbacks, succeed in Gus's system.
Other than the zone read, more pressure is taken off the quarterback than in other systems because there is so much motion the defense really never knows who's going to get the ball. With the aforementioned slow-white-guy perception, Trotter will be able to pick up a few unexpected yards on the ground each game.
If we want to just look at it straight up, Cam Newton won fourteen games and a national championship game, and Chris Todd won eight games and an Outback Bowl. I think Trotter will be right in the middle. He is somewhat of a dual threat, which Todd was not, but obviously not as quick as Cam.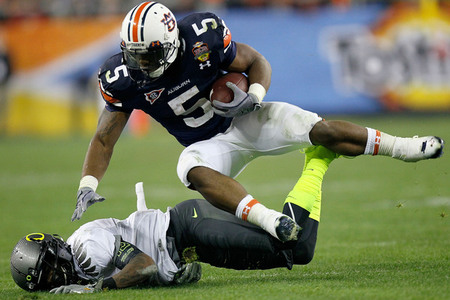 Let's not forget about Mike Dyer, who emerged as a guy that we're going to love to watch for the next 2-3 years. We will definitely see a healthy dose of him and McCalebb early to break Trotter into regular playing time. I have a feeling, like I'm sure most of you have, that Dyer is going to be one of the best to ever play at Auburn, but next year the target will be on his back. Teams will know that he's going to touch the ball more and more, and if he can shoulder that load, it's just another reason to be optimistic about next year.
Darvin and T-Zac are gone, but Emory Blake has already shown that he has what it takes to be the go-to guy next season. A healthy Trovon Reed will also help. Losing Cam is huge, very huge, but this offense definitely has weapons. Of course, that all hangs on the shoulders of an almost entirely new offensive line, which brings me to another point.
Auburn had a top-5 recruiting class last year, and I do understand that losing seniors is big, but with the amount of playing time that some of the new guys got this season, especially on defense, we could almost be to the point where each year's additions and subtractions are considered reloading rather than the rebuilding season that most are anticipating (hoping for). Not to mention, Auburn will have another top-5 recruiting class this year. The best players in the nation have taken notice, as if the national championship wasn't enough, and they want to come and play at Auburn. The fruits of the recruiting classes showed in filling a few holes this year and now it's time for those that chose Auburn when the future was uncertain to shine.
This season should be reason enough to prove that we know nothing at this point of the year about what will happen the following season. We don't even know anything after the first few games of the season. I know I'm a homer and an ultimate Auburn optimist, but I just don't see a major step back this year. There may be growing pains, but the excitement and swagger from this year's championship should push the Tigers through early struggles on to a great a season.
Auburn is on top, and it's time for them to stay at or near the top every year. With this coaching staff and the players they are bringing every season, there's no doubt in my mind that the Auburn Tigers will be looking down at the rest of the college football world for many years to come.