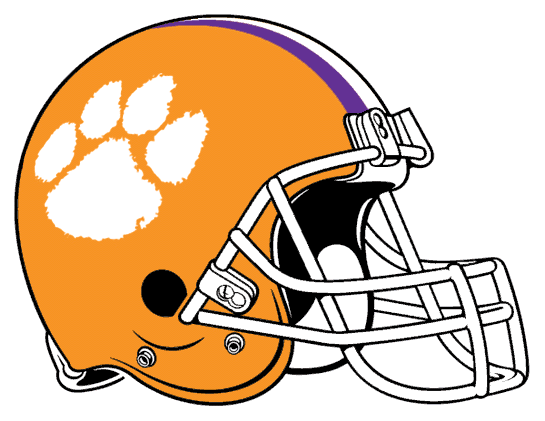 When Auburn runs out on the field to face the Clemson Tigers tomorrow night, many questions will be, or at least begin to be answered. The first, and most intriguing, but least important question centers around Auburn's uniform situation. Blue helmets? Blue pants? Blue eye black? Wait…how would that work. Anyway…
In terms of things that actually matter, will the offense get back to the quick, fun offense that we saw in Week 1, or will they play like they did in the 2nd half against Mississippi State? Will the defense be able to continue to play well, or will Clemson QB Kyle Parker show us that the Bulldogs offense was just that bad? We should be able to find out the answers to these questions pretty soon.
I've talked enough about the possibility that Auburn will come out tomorrow night in all blue, so I won't continue to bother you with more rumor talk. As I've said all week, most of me doesn't want it to happen, but some of me does. We'll just have to wait and see, but if you ask me if I think it's going to happen, I would say "no", while shaking mY hEad "yeS".
We all know what the Auburn offense can do. We've seen it. For whatever reason, that offense went away last week. Some say Malzahn got conservative. Some say Chizik made him. Whatever it is, it won't win many road games, especially in Tuscaloosa. This offense is made to work at a fast pace. Half of the success of the plays is due to the surprise factor. When you give the defense a chance to set up and see what you're doing, the craziness of the Malzahn playbook becomes a little more normal. Again, I don't know for sure why that mentality went away last week, but it needs to come back for Auburn to be successful against Clemson.
Given the level of talent that Clemson has played in the first two weeks of the season (North Texas and Presbyterian), I'd be willing to bet their defense hasn't had to face an offense with 1/10 of Auburn's talent, let alone the wizardry and magic of Malzahn. I don't think Auburn will score 52, as they did in Week 1, but I look for the Tigers to get back on track. With the national stage, the crowd, and the blue uni…I mean the atmosphere, I see the Tigers having fun and looking unstoppable again on offense.
Auburn's defense probably has the most to prove this week. The strong performance a week ago only added more pressure to Ted Roof and the defense. Now that they've shown a glimpse of what they are capable of, the defense will need to stay at the same level at worst. They will definitely face their toughest passing attack so far this season in Kyle Parker. He's also able to run with the ball a little bit, but the defense runs around chasing Cam Newton all week during practice, so it shouldn't be that tough to lasso Parker.
The unit that has yet to majorly step up is the secondary. If they can lock down on Clemson's young receivers and get an interception to gain confidence, I think the defense will shut down Clemson pretty quick, and give the offense many opportunities to score.
Clemson hasn't played a team with a pulse, so we don't have much to go on other than sifting through their stats and remembering who they came against. The bottom line is that this is Clemson's first test of any kind this season, and it just happens to be in front of the biggest crowd that any Clemson team as played in front of. On top of that, Chizik has the students foaming at the mouth, Gameday is in town, and campus is buzzing. This is the biggest hype for a non-conference game that I can remember, and it all just came out of nowhere. Let's hope that that's how Clemson feels after the first quarter, like Auburn just came out of nowhere and punched them in the mouth.
Rocking stadium or not, Auburn is better either way. Tigers, the Good Tigers, win.
Auburn 41, Clemson 17