It seems as if there is a forgone conclusion by most sports journalists that Tony Barbee, Sam Mitchell, John Brady, and others have all been named as possible choices for Auburn's next basketball coach. Jay Jacobs openly stated in his letter to the Auburn Family that rumors will be rampant, but that no names will be released, just like the football coaching search. Will Muschamp and Steve Spurrier were all but hired by most writers when Tuberville resigned, but when it came down to it, Gene Chizik was the choice. Chizik wasn't on anybody's list.
Sure, a few journalists have some inside sources, but I believe that since we never heard Chizik's name until he was hired, the same will ring true during this search. The fact is that most writers know about as much as I do regarding candidates, so I figured I'd throw in my list of coaches that Auburn should consider.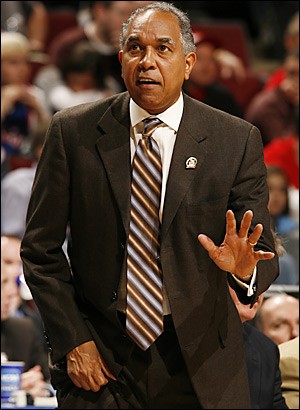 1. Tubby Smith – I'm kicking myself for not posting this days/one year ago when the idea of Tubby Smith taking over as Jeff Lebo's successor crossed my mind. Instead, CBS's Dennis Dodd got the rumor mill pumping when he posted this last night.
If the rumors are true, then Jay Jacobs is obviously following me on Twitter, like you should, and could possibly be interested in talking to Tubby pretty soon. Minnesota's AD has said that no one from Auburn has spoken with him though, and after his team's 1st-round loss today, Tubby stated that he hadn't been contacted and is happy at Minnesota. Of course he is.
Why it would work: Auburn basketball needs excitement. Tubby Smith's name is exciting enough. A national championship and a reputation good enough for Kentucky (for a time) would definitely attract fans, and more importantly, high-profile players.
Those against the hiring of Tubby aren't happy with his age, or his career status. To that I say a) he's the same age as…gulp…Nick Saban…and as much as I hate to say it, he seems to have the energy to be successful, and b) he left Kentucky because Sweet 16's weren't good enough. I think that will be just fine at Auburn.
I don't care if he stays three years. Tubby Smith's reputation will bring back the excitement that Auburn basketball has generally lacked over the past 6 years. His presence alone would do enough to rebuild the program and give Auburn basketball the stature to attract a younger big name once Tubby decides to ride into the sunset. Some say he's gone downhill since leaving Kentucky. Not true. He got Minnesota to an at-large bid this season, and every year the Gophers' record has been better than the last.
The SEC West looks to be wide open for years to come, and Tubby would definitely put every team in the West on their heels.
Why it wouldn't work: I honestly can't think of anything. He's 58, but I beat that down.
Could it happen? At first, this was just a wish. I never thought Tubby would do it, and I definitely never thought Jacobs would do it, but now that this story is all over Twitter and the blogosphere, there's no way Auburn can't at least say they reached out. Tubby also has no buyout on his current contract. All I want is a reach. Can't you just give me a reach?
Tubby can't be overly excited about coaching/living in frigid Minnesota, and some sources are saying that the University is currently under a salary freeze. If Auburn can offer Tubby anything higher than what he's currently making, the allure of a new arena and the SEC may be enough to bring Tubby to the Plains.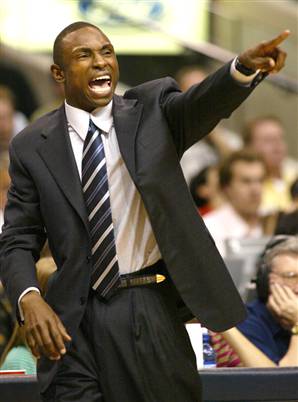 2. Avery Johnson – The "Little General" has been out of coaching since the 2007-2008 season when his Dallas Mavericks were eliminated in the 1st round of the NBA playoffs. He has been an NBA analyst for ESPN ever since.
Why it would work: Like Tubby, Avery Johnson is recognizable. You lead a team to the NBA finals and people, especially recruits, will know who you are. Auburn needs a coach who can recruit with his reputation. He may not have college experience, but high school kids will follow a guy who coached guys like Dirk Nowitzki,  if not just for the cool factor alone. He has coached former-Tiger Marquis Daniels as well. That counts for something, right?
Why it wouldn't work: Although his Mavericks teams were successful, the four seasons he spent in Dallas were the only years of his coaching career. Like I mentioned before, he has no college coaching experience. Recruiting is they key to all college sports, and his name would help with that, but mastering and tolerating the relentless pursuit that it takes to be a good recruiter could take longer than a college fan base would like, especially Auburn's, considering Lebo's inability to recruit any big name players.
Could it happen? I haven't heard or seen anything about this even being a possibility, but that means nothing in a Jacobs-lead coaching search.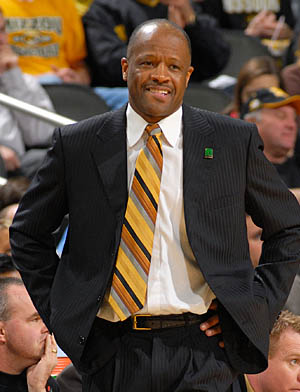 3. Mike Anderson – Anderson is currently preparing for the 2nd round of the NCAA tourney after his Missouri Tigers knocked of Clemson in a minor upset. Auburn supposedly picked Lebo over Anderson during the last coaching search, infuriating Charles Barkley. Two days ago, Barkley still had something to say about it.
Why it would work: If you haven't noticed, there has been a theme with my first three choices, and it's not just the big name factor. If you aren't privy, look at the pictures. It will definitely help things, and it's time. That's all I'm saying.
Now that we're done with all that, Mike Anderson is a very good coach. He had UAB on the college basketball map, and took Missouri to the Elite 8 last year. Missouri isn't exactly high-profile basketball, and Auburn is definitely closer to his home of Birmingham, AL. The new arena and full rein of rebuilding a program you grew up following has to be tempting.
Why it wouldn't work: Mike Anderson might want to stick it to Jacobs after being spurned when the job was open before. Plus, Georgia offered him over 2 million dollars last year, and he turned it down. If Auburn offered Anderson anything bigger than that number, Gene Chizik might get a little jealous. It wouldn't bother me though. I want Auburn to have a good basketball team, regardless of who makes more.
Could it happen? Auburn is prepared to offer a competitive salary to Anderson, which may be enough to bring him close to home. If Jacobs can do lots of apologizing and give him what he wants, Anderson may forget the whole thing ever happened.
4. Bobby Knight – It would never happen, but I'd take it to get back on track. That is all.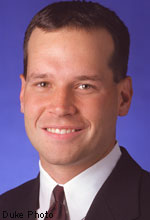 5. Chris Collins – A 10-year assistant at Duke, Collins would be the only guy with unproven head coaching experience that I would consider. Auburn really isn't in need of an up-and-coming, hopeful, wishful, maybe coach that might be the next young stud. That's what Lebo was supposed to be. Arkansas isn't looking so hot with Pelphrey. Georgia's Mark Fox is realizing the SEC isn't the WAC. Sometimes it's good to take a chance on a guy who's torn up the lower ranks, but Auburn isn't at that point. We need a proven guy.
Why it would work: All that being said, if you have studied and played under one of the most successful coaches in basketball history, you are more than likely going to pick up a few good coaching tactics. He may not draw as much excitement as a big name, but if he's half as good as Coach K, the excitement will come after the first big win that would be sure to come.
Why it wouldn't work: I'm really against anything unproven at this point, and he is definitely that. Coach K or not, we still have no clue what would happen, and Auburn doesn't need that.
Could it happen? I've been told Coach K pushes his assistants to and from coaching jobs. Auburn basketball probably wouldn't get his blessings. I don't see a guy leaving Duke to come to Auburn, when the Duke job could be open in the next 5-10 years. This probably won't happen, but I'd take it if everyone else on this list turned the job down.
What do you think of this list? Who do you want?