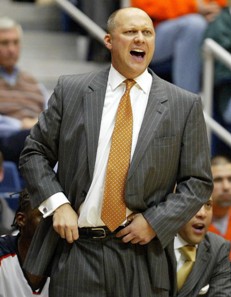 Much to the delight of some and the chagrin of others, Jeff Lebo was fired today. He ended his Auburn coaching career with a 96-93 record including a 35-61 record in the SEC. I will have more thoughts later, but for now here are the initial reports:
Jeff Lebo dismissed after six years on Plains, Evan Woodberry
Jeff Lebo is out as Auburn basketball coach, Charles Goldberg
Auburn coach Jeff Lebo fired, Orlando Sentinel
Auburn says search for Jeff Lebo's replacement will begin immediately, Charles Goldberg

Statement from Jay Jacobs:
"I want to thank Coach Lebo for all that he has done for Auburn University over the past six years. Coach Lebo has worked hard and has always represented Auburn with character, class and integrity. However, we feel like the time has come for Auburn basketball to move in a new direction. We deeply appreciate. all that he and his staff have done for Auburn, and we wish each of them and their families nothing but the best."
What are your thoughts? Did Auburn make the right decision? Who would you like to see hired?