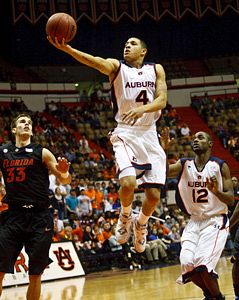 I spoke with senior forward, Lucas Hargrove, last night and he was more than happy to answer a few questions about his past, this year's basketball team, and the star he shaved in the side of his head. Lucas and the rest of the basketball Tigers take on Florida tonight at 6pm tonight on ESPN. Watch.
Who was your favorite NBA player growing up?
Kevin Garnett.
Which NBA player's style is most similar to your's?
I think I play a lot like Joe Johnson or Carmelo Anthony.
What other sports did you play in highschool?
I played baseball, football, track, and basketball in highschool.
Was basketball your best sport? Do you think you could have played anything else in college?
I was pretty good at wide receiver, but basketball was where my heart was.
What position did you play in baseball?
I played pitcher.
What is another talent that most people may not know you have?
I can dance pretty good.

What is something about Coach Lebo that most people don't know?
He can actually play.
We all noticed the star you shaved in the side of your head earlier this season. Why a star? Do you have any other shapes you plan to use later this season?
I picked a star just to jazz it up a little bit. I may do a little something for the SEC tournament.
Who is the best player on the team not named Lucas Hargrove?
I'll have to go with Frankie Sullivan and DeWayne Reed.
Who's one player that's on the bench right now, but we'll definitely know his name in two or three years?
Definitely lookout for Andre Malone.
What do you have set to repeat on your iPod right now?
Right now I'm listening to Lil' Wayne – No Ceilings. The whole CD.
The team has definitely shown that they can play with anybody in the SEC. You could have beaten Kentucky. You should have beaten Ole Miss and Vandy, but just couldn't hang on at the end. What do you think the team can do to get over that hump and finish out games?
I think we just have to say more poised in the second half when the other teams make their run. If we can stay together a little bit better, I think things will work out for us.
Lately I've seen you step up in tough situations and take over, which I think helps to motivate the team and gets them going again.
Yeah, I agree. These last couple of games I've been trying to step up, as a senior, increase my points and rebounds. I think I've done that.
Although we only won one of the last two, I think we're playing a lot better as a team. If I can do better in my leadership role, then I think the rest of the team will follow.
During the Georgia game, the announcers mentioned that there were NBA scouts in attendance to look at a few of Georgia's players. I would say that game was one of your best. Did it motivate you a little more to know that there were scouts in the crowd?
Yeah, definitely. You always want to play to the best of your potential if you know that scouts are in the stands.
I went to almost every home basketball game while I was in college, and try to make it to every game I can, given that I don't live within an hour of Auburn (the only excuse to miss a home game if you call yourself an Auburn fan). Nothing makes me more angry than to see a small crowd, especially for a SEC opponent.
Mmm…mmmm.
Does it bother you, or the team, at all when you see a small crowd for an important game?
It really doesn't affect us at all. I mean it's great when there is a large crowd, but if there's not a crowd there, we still play hard and to our maximum potential. It really doesn't affect us that much.
Which teams do you enjoy playing the most?
I like playing South Carolina, Florida, and Bama.
Where do you want to be this time next year?
Definitely in the NBA.