Another week in the books and Auburn is still on the undefeated train with San Diego State. The Tigers got two home games this week against Vanderbilt and rival Georgia. One game was close and the other was not even a little, and it's not the ones you think they are! Let's dive into another week of basketball and see who stepped up.
Game 14 vs. Vanderbilt
My dad and I have had season tickets for Auburn Basketball for five seasons now, it's really what we bond over the most. I'll try and let my mom go from time to time if we think the game is going to be a blow out. So naturally I let her go on Wednesday night against Vanderbilt because in my mind I didn't think we'd have too much trouble.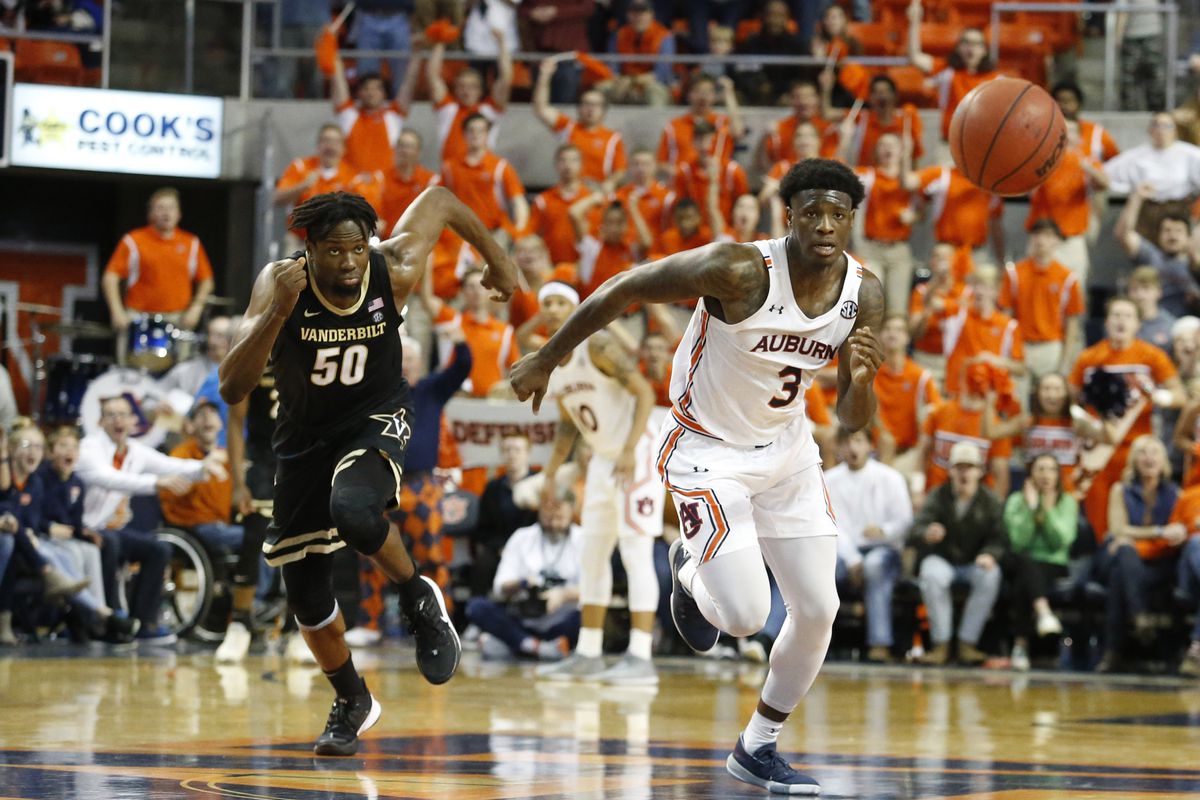 Needless to say, I got a call the next day asking why we only beat Vandy by 4. But hey, a win is a win, right? Let's give a ton of credit to the Commodores, they almost played a perfect game, shooting 50% from the field and almost 60% from three. Free throws and offensive rebounds really hurt Vandy, but all in all they played a great game and Jerry Stackhouse has this team going in the right direction.
But enough about the Commodores, let's take a look at what the good guys did! Even with only shooting 25% from three as a team, Auburn pulled out another close win. Free throws are slowly becoming a strength of this team again, like it was last year. This is going to be massive in conference play, especially on the road. We have a pretty nice sample size at this point in the season to say that this team starts slow on offense. Free throws will help counter balance those slow starts before the team heats up.
It was also nice to see Auburn being so aggressive on the offensive glass. For what feels like the first time in the Bruce Pearl era, we have size, length, and depth!! It's truly incredible to be the team that gets offensive rebounds than the team that struggles with giving them up.
Let's talk about Austin Wiley, aka the birthday boy first! It was awesome to see the entire student section singing happy birthday to Austin during warmups. Believe it or not, Wiley did most of his damage at the free throw line, going 9-10 against Vanderbilt. He also had 12 rebounds to bring his double-double total to 6 on the year. Austin's been playing extremely well so far this season; all of his hard work is really paying off. His minutes are up, his defense is getting better, and he really might be the best free throw shooter on the team.
It might have been Austin's birthday, but it was Isaac Okoro's night. The true freshman had by far his best game of the season against the Commodores, pouring in 23 points, and murdering a man live on television. It was one of those dunks where you can't believe it happened in the moment, but then you see the replay a few times and notice something new every time. Okoro's head was literally above the rim at one-point mid-flight.
Once Isaac realizes that he's the best player on the team, and the best player on the court most nights, the rest of the conference needs to be put on notice. Not only can he lock up anyone one on one, but Okoro's first step on offense is so good that it's really tough to stay with him. Once his outside shot gets more consistent, he could be a 20 point a game type of player in this league.
Game 15 vs. Georgia
 There are few things in this life that bring me more joy than beating Georgia. After a slow start, Auburn gained control in the first half and never looked back, beating the Bulldogs by a score of 82-60 on Saturday. Projected top 5 NBA draft prospect Anthony Edwards really struggled from the field against the relentless Auburn defense. Edwards ended the game with 18 points, a majority of those coming in garbage time when the game was already decided.
The Tigers didn't seem to be bothered by the earlier start time, holding Georgia to less than 40% shooting from the field, and only make 5 three pointers. The combination of Isaac Okoro and Allen Flanigan proved to be too much for Anthony Edward to overcome.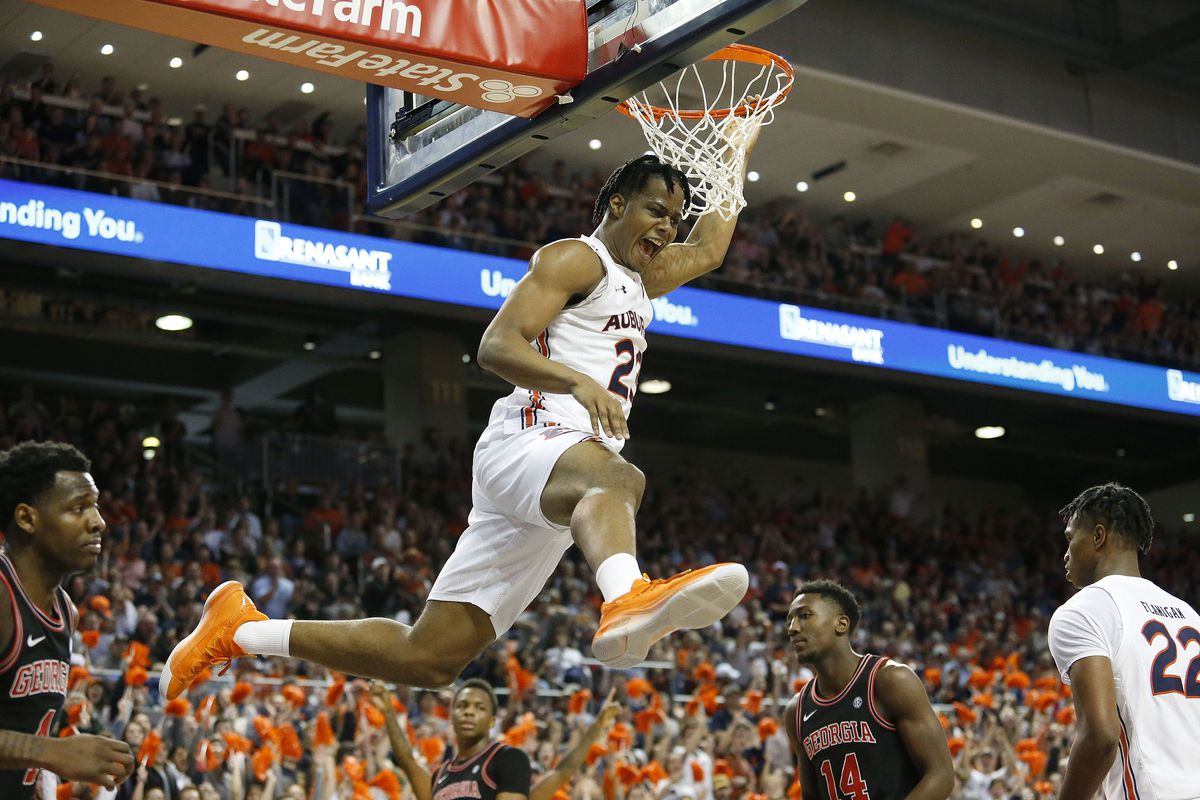 In a reversal of the norm, Auburn received a lot of scoring help off the bench on Saturday against Georgia. Anfernee McLemore had arguably his best game of the season, scoring 12 points and grabbing 6 rebounds in only 20 minutes of action. The senior also played great defense and provided a great low post presence.
But it's now time for the star of the game…I know Samir was the high man with 17 points, but Saturday was Allen Flanigan's coming out party. I loved watching Allen's tape coming out of high school, he reminded me of an old school basketball player the way he would bully himself to the basket. Ranked only a three-star prospect, Bruce saw that Allen could be special, and now we have yet another diamond in the rough in the Pearl era. Flanigan scored a career high 12 points on Saturday, while also going 2-3 from deep. If Allen adds that to his game, Bruce will have no choice but to get the freshman more minutes. The defense against Anthony Edwards was also noteworthy, not giving the future NBA lottery pick any room to breathe at all.
Week 12 Preview
This week is going to be a tough test for Auburn. On Wednesday the team hits the road to head to Tuscaloosa for a game against the Tide. Alabama has really started to play well over the past month, even though the numbers in the win column don't show that, and even some people are on the side of Bama for their college basketball picks against the spread. Alabama can really get up and down the floor, so It's going to be a tough test for Bruce and company to slow down that attack.
After the Alabama game the Tigers head to the swamp and play the Florida Gators…hopefully with a better result than in October. Florida has struggled this year and Mike White's seat is suddenly getting a little warm. A win against a top 5 team is just what his Gators need, and Auburn hasn't historically played well in Gainesville. I would personally be happy with splitting the games this week, but if the Tigers can come away with two victories this week the quest can continue to be the last undefeated team in college basketball.