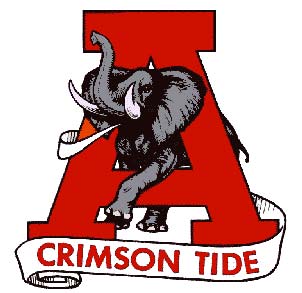 When the Iron Bowl rolls around each year, my first thoughts are always very nostalgic. I think about Pat Dye, Bo Jackson, and basically anything to do with 1980's Auburn football. Maybe it's because my first memories of this rivalry began in that era. Maybe it's because I've watched the "Auburn's Decade of the 80's" VHS tape more times than any one person should.
Either way, today's players and today's stats almost mean nothing to me as I try to predict, analyze, and ponder what the outcome of that year's game will be. That being said, I will now predict, analyze, and ponder what the outcome of this year's game will be.
Keep in mind that this preview is being written after two Thanksgiving meals and a little over six hours before I plan on being at my tailgate spot. Needless to say, it may not be the best or most factual and objective, but most of you probably won't read this until next week anyway.
Chris Todd, like in most games, is the key to Auburn's success. If 5-0 Chris Todd shows up, then this game could be very fun to watch. If LSU-game Chris Todd shows up, these could be another bad 365 days. Of course, a lot of Todd's success hinges on Alabama's stout defense and the offensive line's ability to give him time.

This brings up the point that I was going to try not to make. I am not saying at all that you can "throw the record books out" because that has been overused more than any football cliché know to man, but it really is entirely too hard as an Auburn fan and as anyone who has watched an Iron Bowl to believe that things will happen as they should.
Is Alabama the better team based on the two teams' records and rankings? Absolutely. When the two teams lace it up in about 12 hours, will that be what shows on the field? Maybe, maybe not. Don't forget that although this is the greatest rivalry in college football, this is still an SEC game, where anything can happen.
For instance, LSU blew out Auburn, Ole Miss beat LSU, but Auburn handled Ole Miss. Auburn beat Tennessee, Tennessee blew out Georgia, but Georgia beat Auburn. Anything can happen in this league and as much as we don't want to say it because it seems to take some of the luster off of the game, the Iron Bowl is an SEC game.
Since I can't get into stats and who has the better players and whatnot, I'll give you a few reasons why Alabama could lose, since the national consensus is that they will not:
Nick Saban is 0-4 in Jordan-Hare.
Nick Saban has a losing record when playing a team coming off a bye week.
Auburn usually pulls off at least one big Iron Bowl upset every 20 years. The last coming exactly 20 years ago (1989, 30-20).
Auburn is playing with no pressure other than that they could lose the Iron Bowl (although that should be some pretty big pressure). They know their bowl destination will not include the letters B-C-S. Alabama has all the pressure in the world on them as they try to stay unbeaten.
In like-wins such as Tennessee and Ole Miss, Auburn pretty much dominated both opponents. Alabama had to block a game-winning field goal against the Vols, and had to kick about seventeen field goals against Ole Miss because their offense couldn't punch it in.
Alabama has appeared to be the better team in the second half of the season. Auburn has faltered in a few games that they should not have lost. We all know that depth and injuries have killed the Tigers having to play eleven straight games.
The bye week had to do wonders for the team, mentally and physically. The Tigers can come out and have fun, play in front of the loudest crowd either team will play in front of all season, and try to shock the world. Although it won't, or at least shouldn't, be a shock to anyone wearing orange and blue.