There is way too much Bama talk in this post, but it does share my sentiments about Les Miles and does mention two Alabama losses, so I'll give it a pass. Try not to puke though.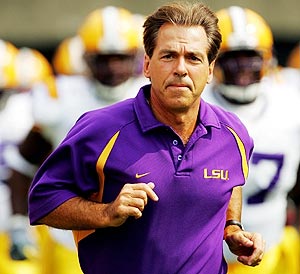 Season 2, Week 10 – The Robot vs. The Gambler
by FireWillHeath
The alleged "rivalry" between Alabama & LSU, of course, went to another level prior to the 2007 season, when Nick Saban came to Tuscaloosa. It cut LSU fans because, of course, Saban is the man most responsible for LSU's claim to SEC Program of the Decade. More than that, though, Saban's arrival in Tuscaloosa meant, essentially, that Alabama was done screwing around with "feel-good" hires — Mal Moore and the Board of Trustees essentially said, "Screw it, let's throw a ton of money at at a proven hired gun and fix this thing for good." Saban's hire at Alabama meant the Tide would no longer lose out on recruiting battles in-state (like they did with, say, Jamarcus Russell) and that they would no longer be out-prepared, either mentally or physically. Party time in Baton Rouge, essentially, ended when Nick Saban showed up here.
Few coaching dichotomies are as fascinating as the one between Les Miles and Nick Saban. We've covered this before, but Nick Saban's teams, when they're playing the way he wants are a boring lot: they pound the football, play solid, well-disciplined defense, don't turn the ball over and slowly kill your will to resist them. It's been most evident in big games away from home — a season ago, traveled to Arkansas, Georgia, Tennessee and LSU. In each of those games, Alabama followed the same formula: take an early lead; weather the storm from the opposition; extend the lead; extend it a little more; leave town with an easy win (note: Nick Saban said this week that he wants to throw the ball downfield more for more big plays, which could just be for fun). This season, thus far they've been to Kentucky and Ole Miss, winning by a combined score of 50-23. They just don't let the other team's crowd get into it. Ever.
Just in case you think this might be confined to his tenure at Alabama, think back to Saban's best LSU teams: 2003 (13-1, national champs) and 2004 (9-3). That 2003 team was an ideal Saban team: no-name quarterback (Matt Mauck, and yes, I had to look that up); big tailbacks, mean, physical defense. They were challenged exactly four times all season, losing at home to Ron Zook's Florida team in a game in which they turned the football over three times. The game that stands out among those is their trip to Tuscaloosa that November, to play an outmanned Alabama team that was a) suffering from a rash of injuries both physical and mental (including quarterback Brodie Croyle, playing with a separated left shoulder and broken ribs); b) playing with Mike Shula as its head coach. Alabama fans wanted desperately to play spoiler for LSU's season, to give them some kind of hope in the midst of that dreadful
run.
So what happened? LSU scored 10 first-quarter points, outgained 'Bama by more than a 2-1 margin and simply would not let the Tide or its one-armed quarterback breathe all night. The final score: LSU 27, Alabama 3. No drama involved. I remember walking out of Bryant-Denny Stadium thinking I'd never seen a more complete whipping of an Alabama team than the one LSU delivered. It's great if you dig well-played, well-coached football, but its not entertaining if you're a casual fan. .
Les Miles' LSU teams, on the other hand, are nothing if not stress-inducing, something that began before he even coached a game in Baton Rouge — the team's 2005 opener against North Texas got postponed because Hurricane Katrina. When the team finally did open its season, it was in a "home game" in Tempe, Ariz., and Jamarcus Russell had to throw a picture-perfect pass across his body to pull out a 35-31 victory in that one. In fact (and I've written about this before) maybe the ultimate Les Miles game happened when his 2007 team — also the eventual national champs — came to Tuscaloosa to play another outmanned Alabama team (this one wasn't poorly coached, but LSU had an advantage in talent at every position on the field except for perhaps punter). Once again, there was a national audience, tuning in for the drama of the Miles-Saban dynamic; once again, Alabama fans were desperately looking for a reason to believe and at a fever pitch.

So what happened this time around? LSU once again scored 10 first-quarter points, once again outgained Alabama by a 2-1 margin … only this time, they had to score 17 fourth-quarter points to rally for a 41-34 victory. How is that possible? Well, LSU was flagged an incredible 14 times for 130 yards. That's ridiculous. And the Tigers turned the football over three times, all of which led to 'Bama scores. Furthermore, in a tie game midway through the fourth quarter, um, this happened.
Now, why under God's heaven was LSU kicking to the most dangerous player on Alabama's team in that situation? You got me. But since it worked out and the Tigers won the game — thanks to a defensive lapse by Arenas on the ensuing drive and John Parker Wilson's bone-headed fumble — and the Tigers eventually won the SEC & National championships (with 2 losses, thanks to a curious set of circumstances too lengthy to describe here), Les Miles didn't have to answer questions about those things, just like he didn't have to answer for why he went for it on fourth down repeatedly down the stretch vs. Florida (when everything about conventional wisdom screamed "Punt the ball and hold them") or why he bled the clock dry and threw an inexplicable pass into the end zone vs. Auburn (when a field goal would've won him the game).
It keeps happening for Miles in 2009: the Tigers had their backs against the wall twice this season — against Mississppi State and Georgia, both on the road — and managed to pull it out both times. If two things happen differently that day — like, State gains a yard at the goal line or UGA doesn't get flagged for a celebration foul after its go-ahead TD — then this upcoming Saturday is another big SEC game in Tuscaloosa. Instead, it's the Game of the Century. Again.
My favorite analogy for Les Miles: a guy sitting at a blackjack table, staring at a 19, saying, "Hit me. Hit me again." If you do that, and the dealer turns over an Ace, and then you say, "Hit me AGAIN," and the dealer turns over ANOTHER ace … does that make you a genius? Or just insanely lucky?
Obviously, I'm biased on the subject. But I'm betting on the guy who built both championship teams, and is in the process of building another. Then again, it's hard to bet against a guy who's proven time and again that he's one of the luckiest (expletives) on the planet.