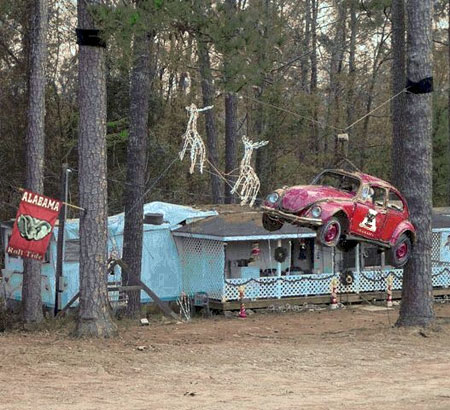 Season 2, Week 9 – Dude, I'm Tired
by FireWillHeath
Most people walk around tired all the time. In fact, a typical office conversation first thing in the morning goes something like this:
"Mornin."
(Grumble)
"How are you?"
(Note: We actually don't care how people are.)
"Tired."
So very few of us want to hear about how tired our favorite football teams are. After all, we wake up at ridiculous hours, fight all kinds of traffic, pay exorbitant fees for tickets and fight all day with various appliances (for concessions or tailgating). All they have to do is eat their specially-made food and play a lousy game for our amusement.
I said all that to say this: our two favorite teams (in the case of this case, Alabama for me and Auburn for the 5 of you who read this blog) look tired.
On Saturday in Tuscaloosa, Alabama faced its fifth SEC game in as many weeks — Arkansas, Kentucky, Ole Miss, South Carolina, Tennessee. The Vols looked fresh — coming off a bye week — and hungry; Alabama looked like a team that just wanted to get out of there with a win (and the Tide did, though I'm still not quite sure how). After the game, even Nick Saban — rarely one to make excuses for poor performance — remarked how the team is "tired, and played like we're tired."
For Auburn, the same truth holds. The Tigers are already thin, especially on defense. And they're also tired. Why shouldn't they be? Saturday will mark THEIR fifth conference game in successive weeks, not to mention a grueling non-conference game vs. West Virginia and the early-season matchup with Mississippi State (now much better than anyone ever realized).
Unsurprisingly, an LSU team — playing at home, off a bye — looked much sharper than Auburn, nearly running the visitors out of Baton Rouge in the first half (not to mention running themselves back into sneaky, super-secret darkhorse title contention). Blame Gene Chizik if you wish. Or Gus Malzahn. Or even Tommy Tuberville: the main reason Alabama survived the last two weeks, in spite of the fatigue, is increased depth on defense, something Auburn simply lacks due to attrition and ghastly recruiting.
Is there light at the end of the tunnel? Well, next week's game against Furman will allow everybody a little breathing room, and the trip to Athens doesn't look nearly as daunting as it once did. And, of course, there's Auburn's bye week, which finally, finally comes … the week before Alabama.
Of course it does.