It was supposed to be the scariest of Auburn's 4 "easier" game stretch before the Iron Bowl. Arkansas had just fired their offensive coordinator and immediately beat Florida a few days later for their first SEC win. The Hawgs were pumped and they got Auburn in Fayetteville. The Tigers were ripe to be knocked off after a 2-game win streak over Mississippi State and Vanderbilt.
Somebody forgot to tell Auburn and Hugh Freeze that.
Auburn took the opening kickoff and went down the field without many a hitch. It ended with Payton Thorne running over a dude at the goal line. Arkansas has a lot of history with that.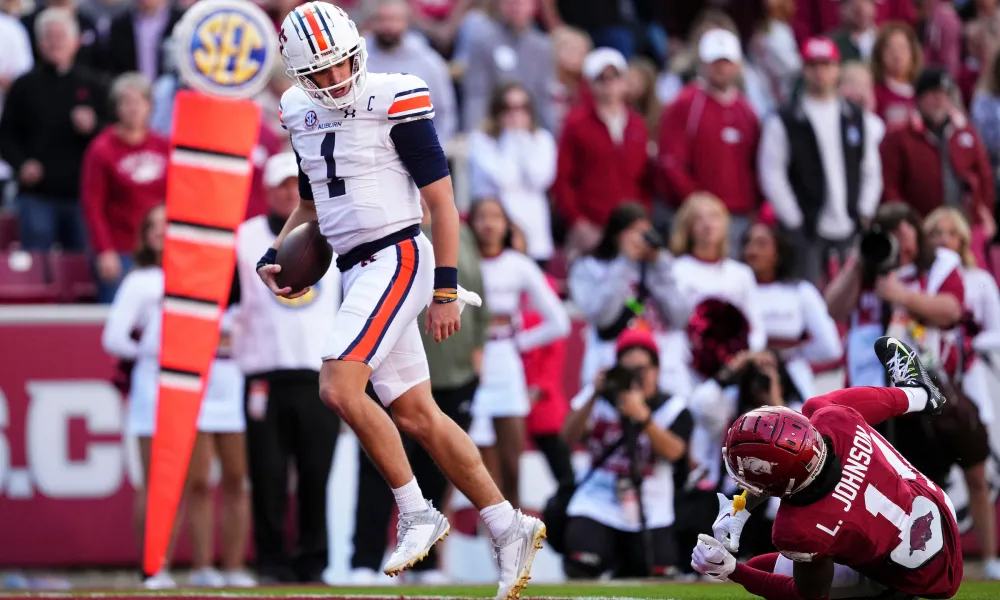 After Auburn's defense caused their first of about a hundred 3-and-outs, Keionte Scott took the punt to the house. Two things:
1) it was the first punt return for a touchdown for Auburn since 2014. I believe it was the Tennessee game. I was there.
2) he jogged for about the last 10 yards and it almost got a little hairy. Can we just run as hard as we can and hold the ball until we get to the back of the endzone?
After another quick touchdown and a bad interception that only yielded 3 points for Arkansas, the Tigers were up 21-3 after one quarter.
The 2nd quarter wasn't anything special. Auburn finally punted. Arkansas finally got a 1st down. Auburn did get close enough to kick a field goal with about a minute left in the half. It looked like the halftime score was going to be 24-3, which was fine, but seemed low for how the first 10 minutes of game time went.
However, the Hawgs were not content with going into the half down 21, so they decided to run real plays, which ended up allowing a fumble that gave Auburn a few seconds to try and scratch out a few more points. After an incompletion and a good run by Jarquez, Auburn only had enough time and timeouts to kick another field goal. The score was 27-3 at halftime.
There used to be this thing about Auburn not scoring points in the 3rd quarter. Well, Auburn has scored a combined 35 points in the 3rd quarter of the last two games. So maybe that narrative is done.
Auburn started the 3rd quarter holding the Hawgs to another 3-and-out and then scored. Then Arkansas did hit a few good plays, but fumbled again, which allowed the younger Wooden brother to pick it up and almost run it back. It felt a little weird like Keionte's run. I'm guessing he was tired, but it was also like he didn't realize there would be people chasing him.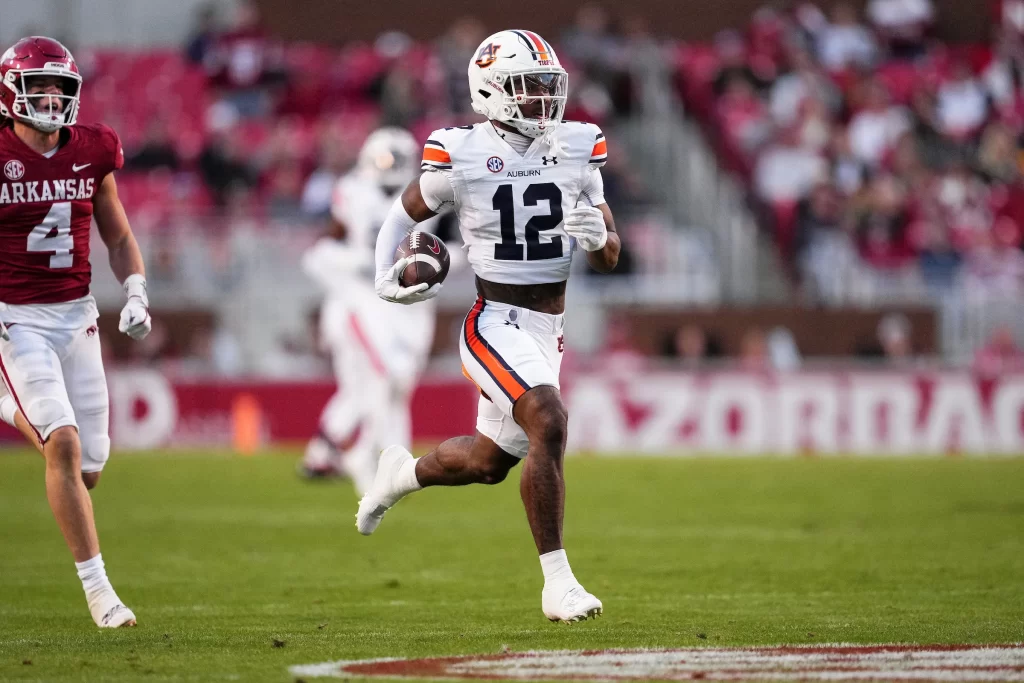 No worry, Auburn scored the next play to make it 41-3 with tons of time left in the 3rd quarter. After yet another punt, Auburn ran the ball 8 straight times, with 3 different running backs, ending in Brian Battie's first score of the year. It was 48-3.
Arkansas did have one big play on the next drive which ended with their only touchdown of the game. Robby Ashford was put in and threw an interception, but Arkansas punted again. Holden Geriner came in after that and handed the ball off a few times.
The 4th quarter was a formality. The game was over in the 2nd quarter. It was the most complete game of the season against a team that had shown a little hope and a little momentum, and they were taken out of it within the first 10 minutes.
Auburn is done with road games. Now they come home for what should be an easy win against a not-terrible New Mexico State. Then it's the Iron Bowl. But we'll worry about the Aggies for now.
The Tigers are 6-4 and are now bowl eligible.