What a great Saturday. I think it was the first time in weeks that halftime came and I wasn't stressed, angry or confused. I mean, I was watching a real, honest-to-God complete football team and they were wearing an Auburn uniform. We were running, passing, defending… all was right with the world.
And look, I know the second half has been our kryptonite this season. That third quarter was trying to get to in my head, I could feel it. But those boys just kept playing and those coaches kept coaching and my Auburn Tigers convincingly won themselves a genuine, real-life S-E-C football game. It was a proud moment.
So, then that got me thinking and I realized that was the FIRST Auburn win since I started writing these articles. These guys really had me in a confused place there for awhile, but after my fifth review I could now, for the first time, easily give you three good things that I witnessed. Heck, I could give you thirty. But now, things had changed. Was there anything bad to even write about anymore? Do I dare to say that "we're back" again? Is it too soon? Ehhhh, maybe… maybe not, but that's enough chitchat for now. Let's begin.
Let's Start With The Good…
1. The questions have all been answered when it comes to Auburn's quarterback dilemma. Payton Thorne's performance, especially in the first half, was beautiful. 20 completions, 230 yards, 3 touchdowns and ZERO interceptions. I'm pretty sure it's been real, actual, multiple years since we've seen that. Robby's a nice guy and all and he does some exciting stuff every once and awhile, but he simply can't do what Payton does. Thorne has more passing yards AND more rushing yards, so it's way past time for everyone to start believing what their eyes are actually seeing and join the Payton-party.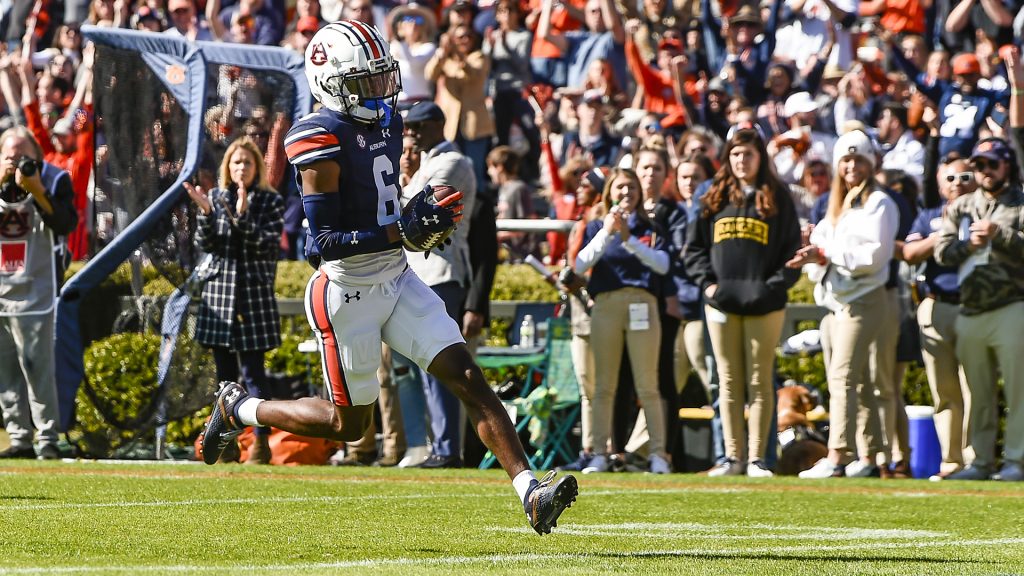 2. We've really struggled with lackluster pass-catching this season, but NOT TODAY folks! Eleven different players caught passes. We caught short passes, long passes, pretty passes, and even some questionable passes. And maybe I'm biased because I played tight end for 2 years in elementary school, but watching Rivaldo Fairweather lead the team in catches the last two weeks excites me in ways that it should not and I'm okay with it. It was just really exciting to see a real, honest-to-goodness air attack in Jordan-Hare. Now we've seen it and we know it's possible. No more excuses, there's no turning back now.
3. This last thing is something I kind of assumed, but didn't get confirmation on until Coach Freeze's weekly press conference Monday morning. He finally intervened and began to inject his style into the game plan. He made decisions on what plays and packages would be available. He made decisions on the planning for player rotations on both offense and defense. More importantly, he gave us a glimpse of what we hope is our blueprint moving forward. Haters can hate all they want, Hugh Freeze is the real deal.
And Now For The Bad…
1. I would have liked to see us push the tempo and pass the ball a little more in the second half. I understand WHY we didn't, but I'm selfish and I wanted it anyway. I'm not sure if it was a conscious decision by the coaching staff to go away from the pass or if they felt it wasn't working anymore. I guess for me, I felt our offense could have really benefitted from more game-time experience working with tempo and working on passing. At some point this season, when a game is on the line, these boys are going to have to play a complete four quarters on offense to get the win. Saturday could have been some good practice.
2. The defense played well, but gave up far too many explosive plays, considering the competition. Mississippi State's offense is simply not good in it's current state. Arkansas held them to 205 yards of total offense last week. Our performance? We allowed 345 yards, with 198 of those coming in the second half as our offense slowed down. We held them to 2 of 12 on third down conversions, but simply allowed too many big yardage plays on early downs.
3. Ball security has been an off and on issue this season, we were just fortunate it didn't hurt us on Saturday. There were two separate fumbles that were luckily recovered by the good guys this time. Unfortunately, those situations aren't always going to go our way. I'm not going to make too big of deal out of this because this time it really wasn't one. Next time, it could be.
Looking Ahead…
Our next 3 games are extremely winnable. There's no obvious reason that we couldn't have a 7-4 record as we close the regular season out in the Iron Bowl. We'll begin that journey this week as we travel to Nashville and take on Vanderbilt, looking for our second road win of the season.
Personally, I think we win out. I think we beat Alabama, finish 8-4 and go to a decent bowl game. I think we finish strong in recruiting. Next season? I think next season we are going to be REALLY good.
Maybe we really aren't quite back just yet, but I swear I think we're pretty close.