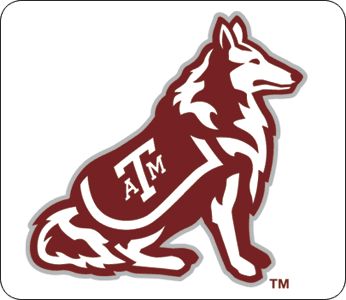 Texas A&M joined the SEC in 2012. The first SEC battle between Auburn and the Aggies was a beatdown at the hands of Johnny Manziel in Jordan-Hare Stadium. Nick Marshall and Dee Ford returned the favor the next year (2013) in College Station. A phantom fumble and ill-timed snap beat Auburn back at home the next year (2014), but Jeremy Johnson knocked off Texas A&M at Kyle Field the following season (2015).
I remember nothing about it, but Auburn fell to Texas A&M back at home the next year (2016), but Auburn went back and thumped Texas A&M in their place in 2017.
It wasn't until 2018 that the home team (Auburn) won a game in this series. Auburn came back late and Bo Nix found Seth Williams in the corner of the endzone. But Auburn got the road-win streak back on track with a 28-20 win that I remember weak people freaking out about. I told people to grow a backbone. It's weird the things you remember.
Then Texas A&M continued the new road team win streak with a Covid win in front of a light crowd, but Bo Nix did this.
Then future Auburn quarterback, Zach Calzada, beat future former Auburn quarterback, Bo Nix in a really boring game in front of a Kyle Field crowd. It was the first time Auburn had ever lost in College Station. It was also the last time Auburn played in College Station.
If you hadn't noticed, Auburn is 4-1 when they enter the home of the 12th man. That's not very 12th-manny if you ask me. On top of that, Auburn has never lost an 11AM game in College Station. When is the game played this weekend? Oh, that's right. 11AM.
Let's go back to last season, when 3-win Auburn played 3-win Texas A&M. Auburn had fired their coach and was getting through the end of the season with an interim coach. Texas A&M was playing with literally the best signing class of all time. Auburn's offense was basically Robby left, Robby right, and maybe a hand-off for 1-yard, and they still won.
Jump a a little less than a year later, and Auburn has a head coach, 2 quarterbacks, and are a 3-win team again, but this time those 3 wins have come in September. Texas A&M still has Jimbo, still has the same 5-stars they had last year, and hasn't hit 3-wins yet. Their only difference is they added Bobby Petrino.
Hugh Freeze has played and beaten a Jimbo team. Hugh Freeze has played and beaten a Petrino team. Hugh Freeze has athletes that are better than what he had when he beat those teams. They just need to show it.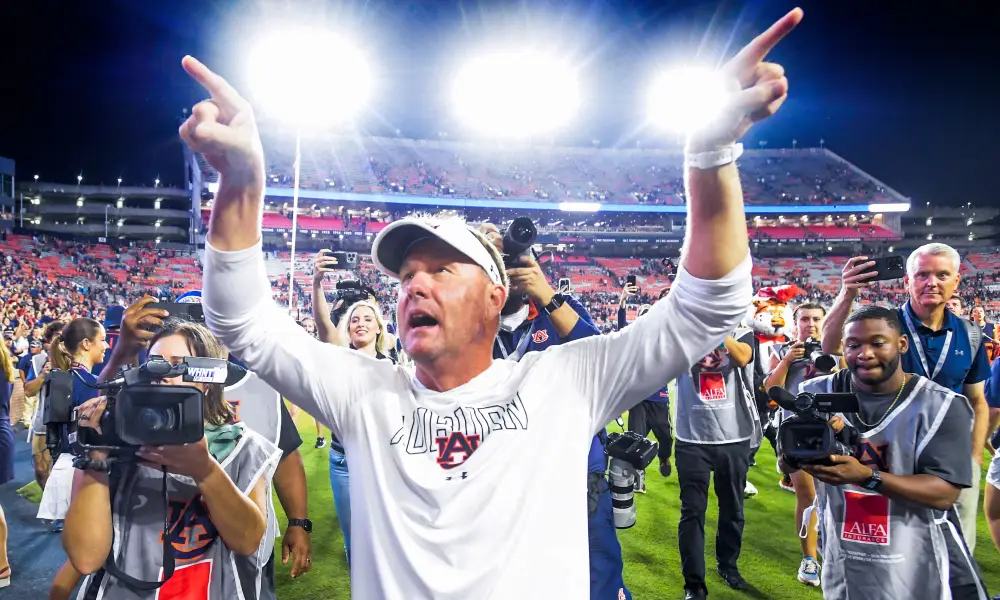 Going on the road in the SEC is never easy, but Auburn going to Texas A&M, especially in a morning game less than 12 hours after their fans were learning how to yell has seemed easier than your regular SEC road trip.
It was Samford, yes, but Payton Thorne hit a different gear last week. He unlocked something we have been waiting to see. His brain is freed. His legs are loose. A tad of cockiness showed up.
The receivers that look like Hugh Freeze receivers have started to show up. They are large targets and have hands. Thorne has identified them and should be able to expose an Aggie secondary that has been suspect.
Aggie fans are ready to give up on Jimbo. His buyout is all that's talked about. They lost by 15 to Miami and the ball is rolling. All they need and frankly are expecting to see is a program that rolls into College Station and sends them to the drill field unhappy on the regular.
Thorne will build off his strong performance and have an SEC version of it. That means a little less success, but definitely enough success to get the win. Jarquez will finally bust a long one. The defense will continue to hawk balls.
Auburn takes the crowd out early. It will be a little shaky in the 3rd quarter, but in the end, Auburn will return home 4-0 with Georgia on the horizon.
Auburn 31, Texas A&M 21