Football is back. College football is back. It's time to hate some of your friends, hate some of your family members, and love your team. We finally have something to do on Saturdays besides walk around the Home Depot, guys!
Last Season: 118-56 (67.8%)
This Week: 13-2 (86.7%)
Last year wasn't awful in terms of my picks. 67.8% overall with bowl games included isn't something to write home about, but I don't see you up here doing this! Every SEC team is playing out of conference, meaning there's a ton of these, so let's get to it. And as always, leave your picks in the comments.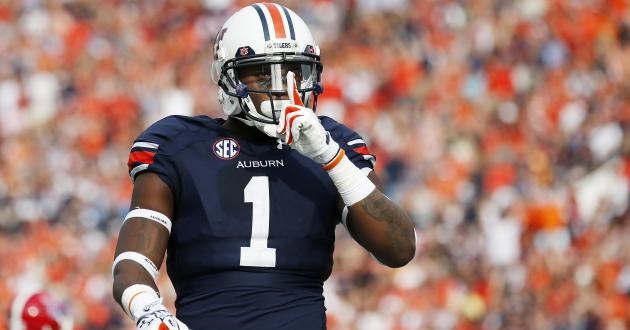 9/3
North Carolina at South Carolina (Charlotte, NC) – It's a good thing this one isn't being played in Columbia because I've had just about enough of watching Brice-Williams Stadium get live to Ric Flair's music to start off the college football season. Chizik, now UNC's DC, will be doing his best to stop the Ol' Ball Coach. He's done it before and he'll do it again.
North Carolina 27, South Carolina 21
South Carolina 17, North Carolina 13 – FAILURE
Western Kentucky at Vanderbilt – It's been said that Western Kentucky won't think this is an upset if they are able to knock off the Commodores? Able? Their 6th year QB threw for like 6,000 yards last year. They will obliterate Vandy in what will likely be Derek Mason's final year in Nashville.
Western Kentucky 38, Vanderbilt 10
Western Kentucky 14, Vanderbilt 12 – SUCCESS!
9/5
Louisiana-Monroe at Georgia – You know what would be awesome? If Auburn could rub Louisiana-Monroe in both of their rivals' faces. But being able to just rub it in Alabama faces is plenty good. Georgia wins big to start another 10-win season.
Georgia 45, Louisiana-Monroe 13
Georgia 51, Louisiana-Monroe 14 – SUCCESS!
UT-Martin at Ole Miss – It's already becoming apparent that the rest of the SEC didn't get the memo sent out by league giants Auburn and Alabama. We're just gonna play practice games early in the season? Didn't realize that. I always have a soft spot for UT-Martin because they totally wear Auburn's uniforms with an occasional orange jersey, but even Ole Miss will beat them.
Ole Miss 35, UT-Martin 7
Ole Miss 76, UT-Martin 3 – SUCCESS!
UTEP at Arkansas – Yep. UTEP. That rhymed. It also reeks of Bert remembering last year's opening game when he laid out the schedule this season. Like Bert with his eye on a buffet, the Arkansas will be unstoppable against a hapless opponent from El Paso.
Arkansas 38, UTEP 17
Arkansas 48, UTEP 13 – SUCCESS!
Southeast Missouri State at Missouri – The Missouri Tigers like to pretend they still aren't in the SEC because it takes them about a month to play a team from the SEC. This year is no different. Southeast Missouri isn't even a state.
Missouri 41, Southeast Missouri State 7
Missouri 34, Southeast Missouri State 3 – SUCCESS!
Bowling Green at Tennessee – Everybody wants Tennessee to be good this year. It's because Tennessee hasn't been good in a while, and anytime they show hope, the media wants to jump on the bandwagon. And their freshman QB last season wasn't awful, which was surprising, so it means they think he's 1000x times better than he actually is. It's simple media math. Tennessee will win, though, because Bowling Green is actually orange and brown. WHAT?! Yeah, I know.
Tennessee 31, Bowling Green 20
Tennessee 59, Bowling Green 30 – SUCCESS!
Arizona State at Texas A&M (Houston, TX) – What's this? Are these two teams with a pulse? Arizona State is ranked. Herbstreit picked them for the CFB Playoffs. Texas A&M probably will be ranked soon, and Desmond picked them to win the SEC. Both are way wrong, but at least the teams are something. Texas A&M in their like-new stadium playing a semi-home game in Houston will get a big win because Arizona State's coach wears a Garth Brooks headset. There will be points.
Texas A&M 45, Arizona State 38
Texas A&M 38, Arizona State 17 – SUCCESS!
Louisiana Lafayette at Kentucky – I think Kentucky might be slightly decent this year, but unlike their softball team, Louisiana Lafayette is not. Kentucky, also in their like-new stadium will put on a show and get the basketball fans excited.
Kentucky 34, Louisiana Lafayette 17
Kentucky 40, Louisiana Lafayette 33 – SUCCESS!
McNeese State at LSU – McNeese State is in Louisiana, so LSU has to play them. It's part of bayou law. Well it may not be, but they definitely do seem to play them early in the year every year. Some are high on LSU. I am not. But they will win.
LSU 35, McNeese State 10 – CANCELLED
New Mexico State at Florida – Florida will probably take a little while to get back to where Spurrier and Urban had them, and New Mexico State is the team to start on. The Aggies are historically one of the worst teams in football. Proof: in 2012, Auburn beat them 42-7. That's bad.
Florida 42, New Mexico State 14
Florida 61, New Mexico State 13 – SUCCESS!
Wisconsin vs. Alabama (Arlington, TX) – Ticket sales for this one are pretty low. I'm not really sure why they thought Wisconsin would excite anybody. I'm not sure why they thought people from Wisconsin would come to Texas to watch their team play in an opening week game. It's pointless, and this one just screams boredom. And all homer aside, I think Alabama will lose. They have more questions than they've had since Saban's first year.
Wisconsin 27, Alabama 24
Alabama 35, Wisconsin 17 – FAILURE
Mississippi State at Southern Miss – A few years back Mississippi State played UAB in Birmingham. Going to Hattiesburg isn't as bad as that, but it's close. This is like Auburn going to Troy. This like Alabama going to South Alabama. Wait, Mississippi State did that, too. Stop, just stop. If Favre was tossing the pigskin for the Golden Eagles, I'd go with them, but he isn't, so I'm not.
Mississippi State 27, Southern Miss 17
Mississippi State 34, Southern Miss 16 – SUCCESS!
Louisville vs. Auburn (Atlanta, GA) – Check my game preview tomorrow, but SPOILER ALERT: as it was during Auburn's last coaching search, Malzahn > Petrino.
Auburn 42, Louisville 17
Auburn 31, Louisville 24 – SUCCESS!
Other Games of Note
Texas at Notre Dame – This game is only here because of the names. Texas will be bad again, and Notre Dame is being overhyped again. But the Golden Domers are much better than the Longhorns. Rudy on top.
Notre Dame 34, Texas 14
Notre Dame 38, Texas 3 – SUCCESS!
Ohio State at Virginia Tech (9/7) – Virginia Tech was Ohio State's lone loss last season. After that, Virginia Tech ended regulation with Wake Forest in a 0-0 tie before losing the game 6-3 in OT. There's your national champion, folks. The team that lost to that is your best team and will stay your best team all season because they play nobody. This game is played Monday, so we'll have to wait around all weekend to see if the Buckeyes can get out of the top spot early. Wait, it didn't work last year, so why would it this year?
Ohio State 38, Virginia Tech 20
Ohio State 42, Virginia Tech 24 – SUCCESS!
Now that you know who will win, head on over to the 2015 War Blogle Pick 'em and get your picks in. There will be weekly prizes and and overall winner at the end of the season. It's easy. Do it.