WHERE TO WATCH
Kickoff – 11:00 PM CT, October 16th 2021
Watch –  ESPN
Listen – Auburn Website
Gamecast – ESPN
TEAM HISTORY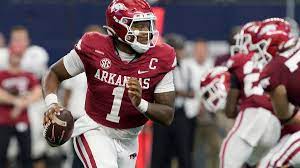 Outside of the 60s and 70s, Arkansas has been relatively…nothing. They're just kind of there. Most people forget of Arkansas's existence until is game week. Spending most of their existence in the SouthwestConference, Arkansas joined the SEC in 1992 with South Carolina. in the almost 20 years Arkansas has been in the SEC, they've only gotten 9 or more wins 6 times, and 10 or more wins 3 times.
SERIES HISTORY
This is a ridiculous series. Auburn is clearly a better program than Arkansas, but Arkansas has won enough games to keep this series relatively close. Auburn has one 5 in a row. Auburn has won 8 of the last 11. Auburn has the series lead 18-11-1. Arkansas loves to remember Fred Talley running free in the early 00's, yet they want to forget the beat down Eli Stove and the gang put on them in '16.
WHAT TO WATCH
Arkansas is fraudulent. They're not nearly as good as people are making them out to be. They're not nearly as good as their wins say they are. They beat teams that were not playing well. Arkansas has peaked for the season. There is enough tape on them and teams have caught up with them. 11 am favors the road teams. I think Auburn is going to win this game. 24-21.