It's hard to believe that Week 16 has come and gone. This time in a few weeks we will know which bracket Auburn will be in (guess what, it's probably the West). I would encourage everyone to not look ahead to the conference tournament and march madness and really just be in the moment. It's been a great season, and before you can blink it will be gone.
It has been a great season, but it wasn't the best week for Auburn. After losing at Missouri on Saturday, the Tigers dropped to #13 in the latest AP Poll. I actually don't have an issue with #13, that seems fair after a host of other ranked teams lost this week as well. As long as Auburn gets Okoro back healthy, I don't see any reason the Tigers shouldn't be a 3 or 4 seed come bracket time!
Game 23 vs. Alabama
Beating Bama, having the Iron Bowl trophy presented at halftime, and watching the Alabama SGA sort of singing the Auburn fight song at halftime. You could say it was a pretty good way to spend a Wednesday night. The Cardiac Cats were back at it again, this time beating the Crimson Tide inside Auburn Arena by a score of 95-91.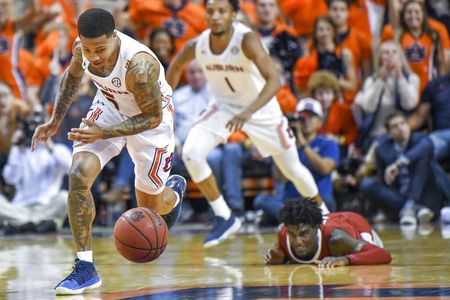 To give credit to Alabama, making 22 threes in a game is pretty remarkable. Part of the reason they took so many is because Auburn had 8 blocks as a team, nothing was working inside the paint for Alabama. Still, to take an SEC record 59 threes in a game and still lose has to be heartbreaking!
Welcome to the Isaac Okoro show everyone, the freshman star looks like he's ready to make the leap, scoring 19 points and grabbing 9 rebounds before going down with a hamstring injury late in the second half. Alabama had zero answers for Isaac, and guess what, not many teams do. Okoro's first step is so quick and powerful that he can blow right by you, or just barrel through you. Once he gets back, I expect this Auburn offense to gain a new wrinkle.
Austin Wiley had himself a career night, scoring 18 points and bringing down 17(WTF!!!!) rebounds, oh and also 5 blocks to go along with everything else. If there's any debate on who the best center in the SEC is, it's coming from a fan wearing Kentucky blue who's never attended a game in Rupp Arena.
Game 24 @ Missouri
One of my favorite and least favorite post-game activities is checking fan interaction on social media. Over the course of the season, you can really get a sense of who's a smart fan and who's not. I'll be the first to admit, the loss against Missouri is not great, the other Tigers were missing two of their top five leading scorers and still won by double digits.
Having Okoro out really hurt on defense, considering Smith and Pinson combined for 56 out of Missouri's 85 total points. That doesn't happen with Isaac out on the court. Reports are that he's now walking without a crutch, and will make the trip to Georgia on Wednesday. Would I play him? Probably not, that seems really quick for a hamstring injury, but if Bruce thinks he's ready to go then let's see what he can do.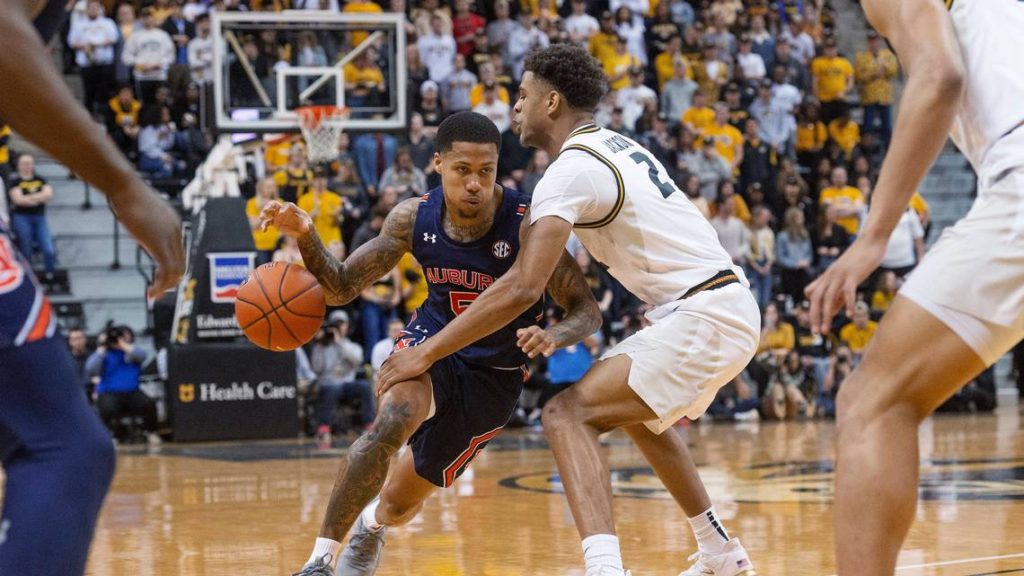 What really hurt after the fact was Auburn only got 7 points from its bench. That's just not good enough. I know they were playing short-handed with Okoro out and Cambridge getting ejected, but it's still not enough to win on the road. Side track on Devan, what he did wasn't great, but I'm not going to scold a 19-year-old because he got caught up in the emotions of being in a hostile environment. Was it dumb? Absolutely! He'll learn from it and we can all move on.
Hear me out, it's not all bad. The 85-73 loss against Missouri was actually the best lost all season in terms of point differential. Auburn shot 5.9% from beyond the arc. You don't have to be an analytical genius to know that's not going to win you many ballgames. Side note, if you're one of those fans on social media that doesn't understand why Auburn doesn't shoot well on the road… you haven't been paying attention. As a team, Auburn shoots 30.5% from three, that's good for 308th in the country! We don't shoot it well as a team, it's not going to miraculously get better this season, and thinking it will is only going to lead to frustration. Missouri shot 53.8% from three, now we can talk about if that's because of the zone Auburn ran, or if they were just getting lucky, but that percentage is over 20 percentage points higher than normal. Simple terms, Mizzou hit shots, Auburn did not.
Fun fact: Auburn actually outscored Missouri in the second half!! And a big part of that was because Austin Wiley and J'Von McCormick put the team on their shoulders when nothing else was working.
Wiley arguably had his most efficient game of the season on Saturday, shooting 9-12 from the field to go along with 10 rebounds. Austin has been on an absolute tear the past four games, hopefully he's getting hot at the right time to really elevate this team.
For all the talk of J'Von's woes on the road, myself included in that, he really played well against Missouri. 21 points, including 9-13 from the free throw line!! 4 turnovers to 2 assists isn't great, but with as well as he shot it, I'm willing to overlook the turnovers.
A Look Ahead
This week suddenly becomes pretty important to Bruce Pearl and company. The team heads to Athens on Wednesday to play Anthony Edwards and the Georgia Bulldogs. Then Tennessee comes to Auburn Arena on Saturday for an early morning showdown on CBS.
Auburn needs to at least split the week, I know that's a tall order with Okoro out but this Georgia team has really struggled at times, but so did Missouri. With Auburn still in the top 4 of the conference and very much in the conference championship race, the Tigers need all the wins they can get before heading to Lexington in a potential championship showdown with Kentucky.
Wins aside, the most important thing Auburn needs to do this week is get Isaac Okoro healthy. He made the trip to Athens but is still questionable for Wednesday night. If it was me, I wouldn't play him at all. The last thing we need is for Isaac to tweak it again against Georgia and be out until the conference tournament. If Isaac says he's good, and he's cleared by the doctor, then that's a different story. But, with an NCAA bid locked up, I'm hoping Pearl just focuses on getting this team healthy before the important games begin.