Auburn baseball opened their 2020 season with a 4 game series against reigning Horizon League Champion University of Illinois-Chicago. The series was 4 games over 3 days (Saturday Doubleheader) and the Tigers took all 4 games in convincing fashion.
GAME 1 –
Auburn knocked off the off season rust with a 5-3 win. Auburn started off fast with 2 runs in the first. UIC answered with 2 in 3rd, and Auburn quickly quieted them with 2 runs in the bottom of the 3rd. Both teams added one more run and Auburn walked away with their first win of the series. Highlights below.
GAME 2 –
In the first game of a double header, Auburn started quickly with 3 in the first. Auburn wouldn't let their foot off the pedal and tallied up 18 runs. Judd Ward hit for the cycle as Auburn cruised to a 2-0 record on the season.
GAME 3 –
In what I hope to be a season long trend, Auburn lead off the game with 4 runs in the first inning. Auburn would add 3 more to go up 7-0 before giving up 3 runs in the top of the 9th.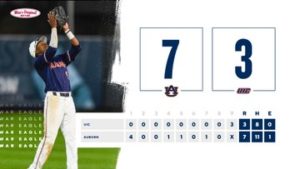 GAME 4 –
Auburn lead off the game again with 1 run in the first. It took a couple innings for the bats to come alive. The Tigers scored 11 runs in the 4th and eventually went up 14-0. The game was called in the 8th.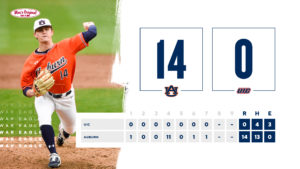 Solid start for the Tigers as they ease into the season 4-0. Auburn will host Oakland on Tuesday at 5:00 on SECN+