I am now 37 years old and I don't get as physically amp'd for games as I once did. That doesn't mean I'm not amp'd. I just don't show it. I typically enjoy the gameday atmosphere, walk to the stadium around an hour before kickoff, watch the eagle fly as I have done for every single pregame eagle flight ever, and wait mostly quietly for Auburn's first points. It is not until that happens that I open up, relax a little, and get physically get into the game.
I need to see that Auburn is going to at least contend that day before I can let go and release the thoughts that it's going to be a bad day.
Yeah, I was pretty quiet last Saturday for about 50 minutes of gametime. That's because Auburn did not score until there were 10 minutes left in the game. There were a few reasons why. There was a missed field goal on the first drive. There was a fumble inside the Georgia 40-yard line. There were dropped passes. There was ONE PLAY that should've been audibled or had a timeout called to change, but don't tell those that played 3rd-string TE in high school!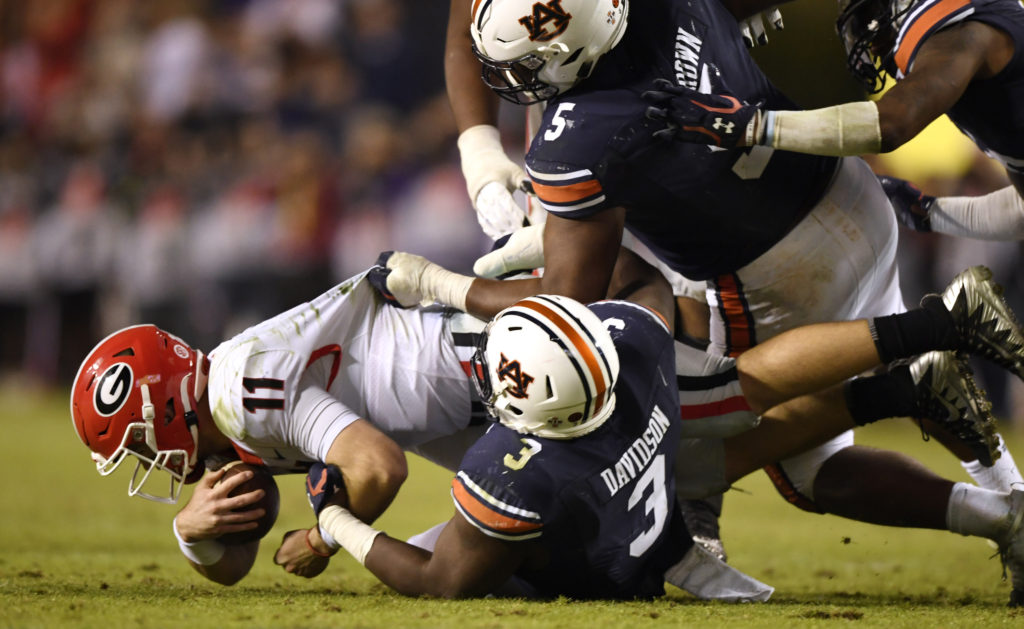 Execution was not there too often. That's going to happen when you're playing statistically the best defense in the SEC. The defense that hadn't given up a rushing touchdown all year. I'm not sure how that happens 10 games into the season, but it ended in the 4th quarter.
But the reason Auburn was down for most of the game was because of the 1st quarter, 2nd-drive bomb given up. I saw some people that are paid to write about sports say that's been an issue for Auburn this season. Really? I think I remember like one semi-deep thrown pass against Auburn by LSU, but does anybody remember any other 60-yard bomb touchdown passes? Anyway, the secondary got beaten and Georgia made the play. For most of the game that would've been enough.
A lot has been made of Gus Malzahn's decision to call timeout before halftime while Georgia had the ball with around a minute to go. Apparently nobody has watched Gus Malzahn do this anytime the opposing team has the ball back in their own territory with enough timeouts to get the ball back. He literally does it every single time. Some people hate it because they think it's just a waste of time. But this time, the only time ever, it actually came back to bite Auburn.
Instead of running the clock out, Georgia set up a few plays and drove down the field in a minute and scored. Again, the defense gave up a touchdown-scoring drive. The timeouts seemingly allowed it, but the drive happened because Georgia went 81 yards in one minute. I'm not trashing the defense. I'm not defending one decision. I am just typing the things that happened.
But why does Gus always do that? Because the likelihood of them going down and scoring in a minute is less likely to happen than almost anything else on the field. What's more likely to happen is a turnover, or you cause them to punt, get the ball back, and see what happens. OR if you remember last year's game at Texas A&M, it was a close game before halftime. Gus called timeout, Texas A&M was forced to punt, Auburn blocked the punt, and scored a touchdown. After that the game was completely different. Auburn ran away with it.
Those things are more likely to happen than for the other team to go 81 yards in a minute on your elite defense. But go off.
The 3rd quarter was mostly more of the same. Auburn's offense didn't do much and Georgia had a long, methodical drive. It was 21-0 right as the 4th quarter started. And other than a few people in the top corners of the student section, nobody really left. I was sort of surprised. 21-0 after 3 quarters with no points will usually cause some people to get ahead of the traffic. But most stayed.
Then Auburn moved the ball. How? Apparently they did the same stuff they were doing all game, but it was working now. Less dropped passes. Good play calls. All that.
12 plays, 75 yards, touchdown. 21-7.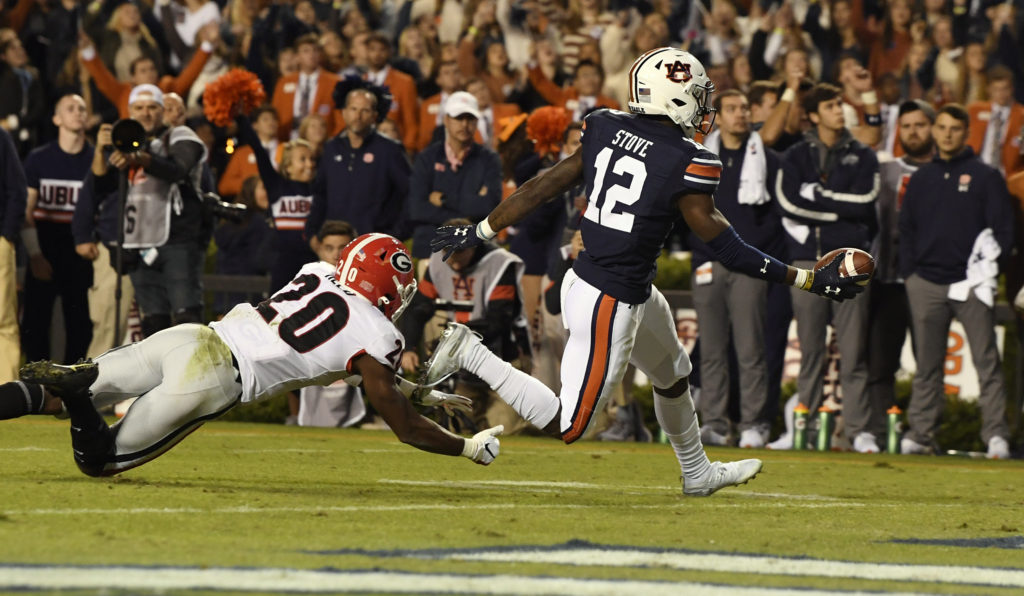 The defense held Georgia to another 3-and-out, and Auburn got the ball back. Wait, that was after Auburn kicked a perfect onside kick, recovered it, and then somebody decided to review it, and in that review they found a penalty. Apparently Anthony Schwartz blocked a guy before the ball went 10 yards. I didn't know that was a rule. I also didn't know you could review something and then find a penalty in it. Was it because Alabama didn't seem to be in the CFB Playoff anymore because of Tua's injury? Hmmm… that's a mystery.
But like I said, Georgia went 3-and-out and Auburn got the ball back.
5 plays, 57 yards, touchdown 21-14.
The defense held Georgia to ANOTHER 3-and-out, and Auburn got the ball back again.
Then more voodoo. A Seth Williams catch was reviewed and was reversed. It was a catch. Convenient. Another thing that rarely happens in reviews happened.
But no worries, Auburn got the ball back again. Georgia pinned their ears back. Auburn had no timeouts and had to go 70 or so yards. But while pinning their ears back they came in and grabbed Bo Nix's facemask. This would've given Auburn better field position and a first down. Uncalled and convenient again.
Is it why Auburn lost? No. But a lot of convenient things happened that don't ever happen. And they happened right about the time Auburn figured things out.
Auburn could've won the game, but they didn't execute. Scream all you want at all the unprovable things, but what I saw on the field is mistakes that cost Auburn the game. The defense played well, but they gave up 21 points to Georgia. Georgia scored 21 on Kentucky. Georgia scored 27 on Missouri. Georgia scored 17 on South Carolina. The offense could've scored 21 in the 4th quarter alone, which should've been enough. But miscues and Birmingham (did I say that?) had other plans.
Samford is up next. It's an 11am game. It's a good chance to continue to find what works with a freshman quarterback that is showing that he could be a great. 9-3 is still there. 9-3 is better than anybody expected. Time to take it.