College football is a beautiful thing. These plays were almost 30 years apart, but they are so similar. Not to mention the fact that it's a father and son creating these plays.
Did you think I wasn't going to plug the best play from the best game of week 1?
Tulane has Gus's attention. Ahh Tulane, a charter member of the SEC. A traditional rival of Auburn that has the all-time series edge on Auburn (17-14-6). As embarrassing as that is, remember that these teams have played once since the 1950s. Actually, Auburn is 4-2 over the last 6 games.  Outside of Auburn, I think Tulane has a really cool logo: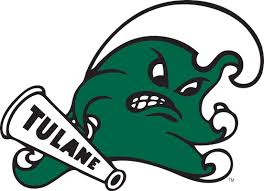 it even looks cool on their helmets: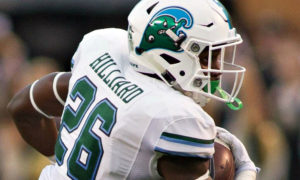 I dig it, other than kind of looking like a holographic Bulbasaur pokemon card (ask your kids if you don't know what that is). As Gus prepares for his first fight with colored water this year, let's take a look at Tulane and see what we can expect from them on Saturday:
1. EXPERIENCED
While Tulane doesn't have the talent that Auburn does, one thing they do have is experience. Not just experience from CUSA or American or whatever conference they're in. Tulane has 4 grad transfers from Power 5 conferences. QB Justin McMillan (LSU), WR Jalen McCleskey (Ok State), G Ben Knutson (Virginia), and LB Malik Lawal (Arizona State) bring experience aplenty. Couple them with 2 grad transfer linemen from the Ivy League, you've got smart guys that have played a lot of football. All told, this team has 27 players with at least 4 years of experience headed into this season. Having experience doesn't guarantee anything. However, it could keep them close, and if they're close 1 play can change the outcome of a game. *cough* Nix to Willaims *cough*
While Justin McMillan didn't play much at LSU, that doesn't mean he isn't a good player. He had a decent game in his first outing this season. McMillan went 14/18 with 199 yards and 2 touchdowns. He added 9 carries for 51 yards and this touchdown: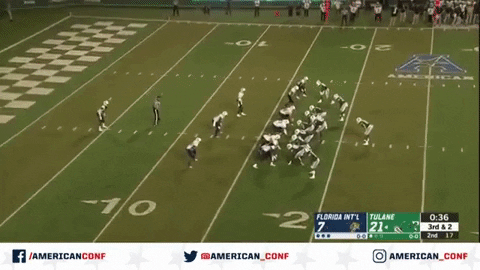 The dude is elusive. FIU's speed and tackling aren't on the same level as Auburn's, however, if Auburn doesn't respect McMillan's ability to run he could be dangerous. Early in the game, he was given time and a busted coverage resulted in this:
I show all of this to say that Tulane shouldn't be slept on. They have playmakers, they have players with Power 5 talent. Tulane's defense stepped up big vs FIU and made some big turnovers that helped Tulane get ahead early. They have a good enough team to give Auburn and true freshman Bo Nix a scare.
@AUBURNEINSTEIN's PREDICTION
Maybe I'm just getting lazy. Maybe Tulane is just nothing. I don't know. I don't care enough about them to have an opinion one way or the other. However, I can't come up with more about them? They have some talent, but the talent couldn't cut it at some average power 5 programs. Auburn is an above-average Power 5 program. Auburn knows what they will have to do. Auburn still feels like they have something to prove. Will Auburn dominate every facet of the game for the full 60 minutes? Probably not, Tulane is talented enough to score on Auburn. However, if Auburn avoids making dumb plays, they can go vanilla and get the win easily. That's what I think they'll do. They have a big game at the end of the month and the name of this game and the next one is don't get anyone hurt and get the offense to midseason form. The rest will take care of itself.
Auburn wins this one 31-7.