Anytime you play two quarterbacks and both have a passing and rushing touchdown, anytime you rush for nearly double the total offensive output of your opponent, and anytime you have scored 56 points in three quarters, you know you've had a good day. That's exactly what Auburn did and exactly what Auburn needed.
Auburn played one of the toughest Septembers in the country and was able to get by at 2-2. As the weeks pass, both of those losses look better and better. Or if you prefer to look at it in a negative way, they feel worse because you know that Auburn should've won both and should be sitting at 4-0. You see, thinking that way means you think Auburn is actually good and will be better against their competition later this season.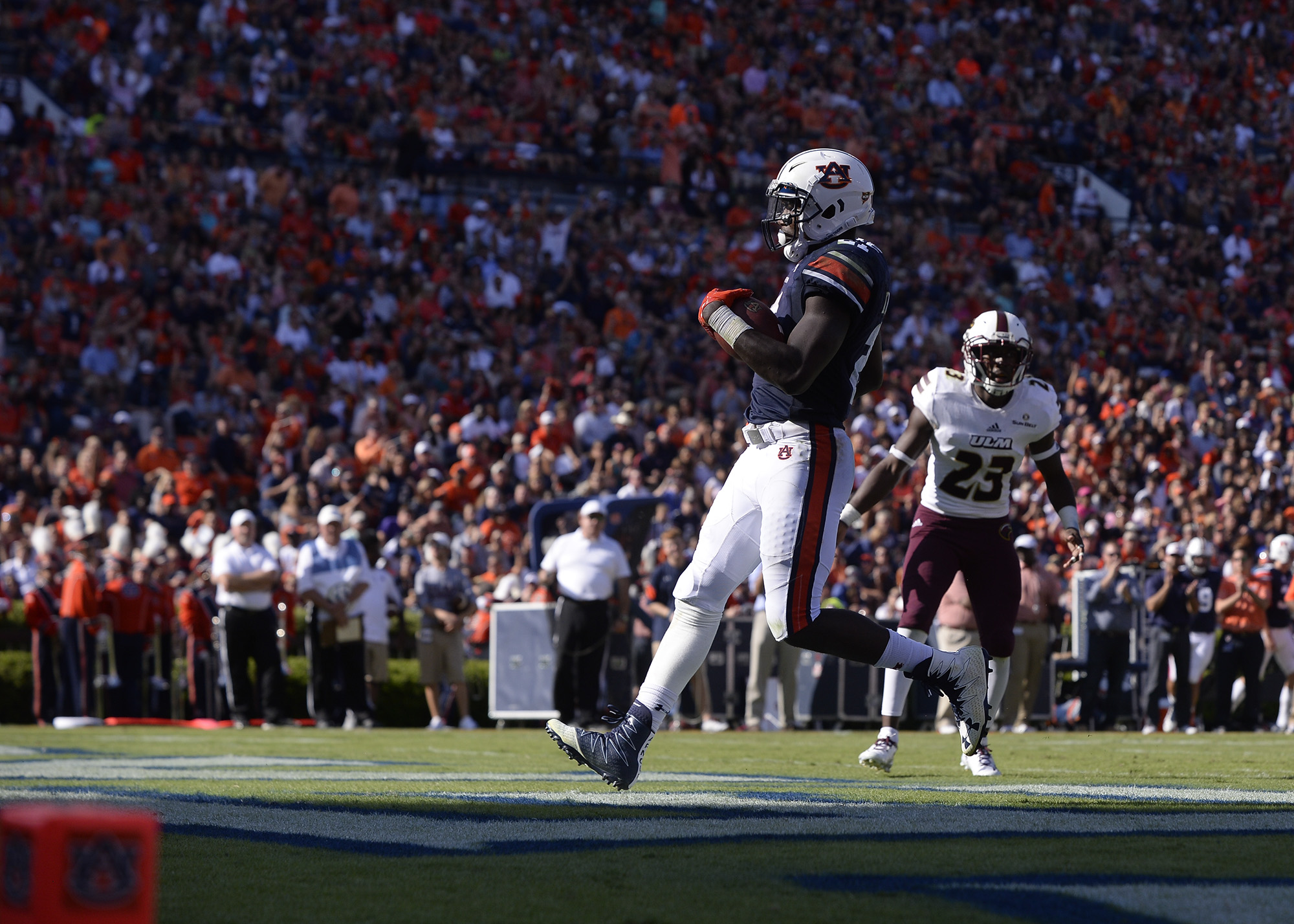 Auburn's #1 goal going into the game was to work out their red-zone inefficiencies from the previous weeks. Four of the five rushing touchdowns Auburn scored were from inside the 5-yard line. Yes, it was against UL-Monroe, but there were different looks and a few of them allowed the ball-carrier to walk untouched into the endzone. It was good to see, but the bigger point was to get the monkey off their back inside the 20s. I think that was done.
Also, John Franklin III is fast.
Also, John Franklin III laid out one of the prettiest passes of the day Nate Craig-Myers's first touchdown of the season. But before all of that, Sean White was nearly masterful. He threw the deep ball really well. It helps when the receivers have worked to get wide open. But outside of that, his passes were pinpoint, as he's done all season when he's given time. A shift on the offensive line due to an injury to Xavier Dampeer may have had something to do with that.
There isn't too much that's negative to say about the defense. They were dominant. They nearly killed the quarterback a few times. They blocked a field goal (I'm giving credit to the defense on that because Montravius Adams basically walked through the line and just caught the ball), and they even caused a safety.
The ONLY thing I didn't want to see was the Warhawks lone touchdown that was setup by a deep pass that was badly covered. But who cares? It was 58-7 and UL-Monroe only had 251 yards. They probably had less than 200 on the starters.
I am trying to get the rule changed so that a deflected field goal doesn't count as a missed field goal, but nobody is listening. Therefore, Daniel Carlson did "miss" his first kick of the season, making him 12-for-13 on the year. We can't all be perfect.
All in all, aside from the injury to Malik Miller (his knee injury did require surgery), the game was exactly what Auburn needed. They got to work out the redzone problems. They got to impose their defensive will. They got to get the first missed field goal out of the way (I was honestly mostly worried about this one).
It was a perfect setup for their first road game of the season. It was a time to continue the good and fix the bad, and that's exactly what happened. Bring on the Maroons.