LSU comes to Auburn with a 2-1 record, after a season-opening loss against Wisconsin at Lambeau (the Badgers just beat Georgia State by 6), a struggling win against Jacksonville State, and a near-collapse against Mississippi State. They swapped quarterbacks to a Purdue-transfer in week two, and the natives are even more restless than they were last year.
Although the records aren't the same, and the quarterback situation appears to be a little more stable at Auburn, the stigma around these teams is very similar at this point in the season.
Almost all of the LSU fanbase wanted Les Miles fired last season. For whatever reason, they rallied the troops that liked him and the support caused the administration to keep him. Even after returning nearly the same team, and losing their defensive coordinator, the Tigers were ranked very highly in the preseason.
A lackluster loss in Lambeau, and the two lackluster wins over Jacksonville State and Mississippi State have those that wanted him fired at a fever pitch and looking justified. That being said, Leonard Fournette has not been 100%, and only really played in the Mississippi State win. He'll be 100% this week, but otherwise, everything seems to be in shambles and the fanbase is bored.
A small, but vocal contingent of the Auburn fanbase was waiting on one loss this season before acting like Gus had to go. The offense was weird in the first game and just didn't perform well in the 3rd game. The quarterbacks have been shuffled a little, but it's Sean White's show. The losses have been close, and Auburn should've won them all. It's not as dire as some want to believe, but the excitement around Auburn right now is not at it's highest either.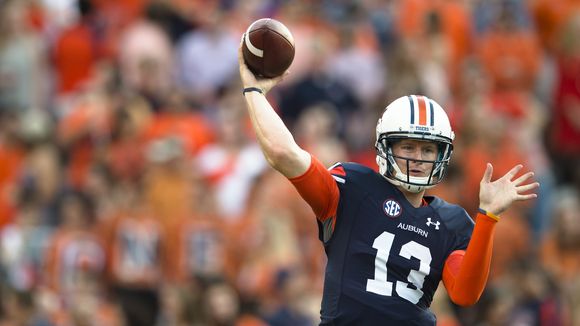 If both teams played the other's schedule, the records would probably be the exact same. I think Auburn would beat Wisconsin right at this point, but again, if Fournette played the whole game, I think LSU would, too. Auburn has definitely been more tested with two top-10 teams. LSU was beaten by unranked Wisconsin, and the Badgers are currently ranked #11 (despite their near-loss by Georgia State). But that's it. That's their toughest test.
Auburn's task is clear: stop Fournette. That's it. Yes, that's it. And I'm saying it like it's a normal football task. Because it is. He's not unstoppable. He's been stopped this season, and Auburn has the best defense he's played this season.
A Purdue-transfer isn't going to throw the ball all over the place. I'm sure Brandon Harris will eventually trot out at some point, but let's remember what happened the last time he played in Jordan-Hare. Let's remember the last time Fournette played in Jordan-Hare. It was one of the biggest beatdowns in Auburn-LSU history.
As we know, stopping the other team's offense hasn't been the problem this year. It's been scoring points against good teams and putting them away while their offense continues to not score points. Other than Arkansas State, I think this will be the easiest chance to do it all season.
This is Auburn-LSU in Jordan-Hare. The crowd will be LIT. The defense will keep the excitement going, and the offense will get it in gear. Auburn's offense has seen the things that two good defenses can do to them and they know how to get around it and stop it. They've been there, the coaches and the players, gathering info. It's gathered.
Auburn is the better team. Auburn is the team that hasn't given up. Auburn is coached by a man that has given you something.
LSU has done nothing. LSU doesn't want to do anything. LSU is already dead. It's time for Auburn to make them deader.
Auburn will, and then you will see me way-lay on those who hate. Get ready. It happens. Air it out, Auburn. Do it.
Auburn 31, LSU 21