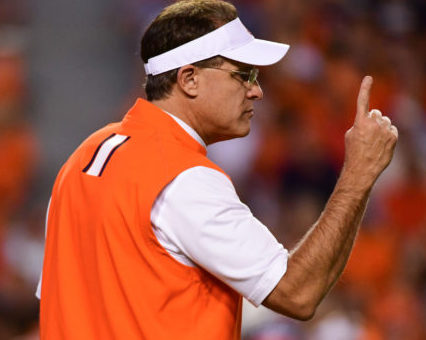 The 2nd-ranked Clemson Tigers came into Jordan-Hare Stadium last Saturday night as a 7-10 point favorite to beat the Auburn Tigers, but if you talked to most fans of any SEC team, Auburn probably didn't have much of a shot.
Over the course of the week, a few people softened on the idea that it would be a blowout, but it was obviously due to them reading my preview and realizing that blowouts are rare under the lights in Jordan-Hare Stadium. Even still, nobody, even the strongest of homers, thought an Auburn win would be very possible.
But it was, and we'll start with why…
1. The defense is good.
For the first time since around 2006, the Auburn defense played a nearly dominant game against a supposed high-powered offense. They didn't give up huge gains. They tackled extremely well. The longest rush they gave up was 20 yards and it came in Clemson's last drive that ended with a turnover on downs. They caused a fumble at a pivotal point, and Josh Holsey, who balled out, had probably one of the best catches of the game in his pivotal interception.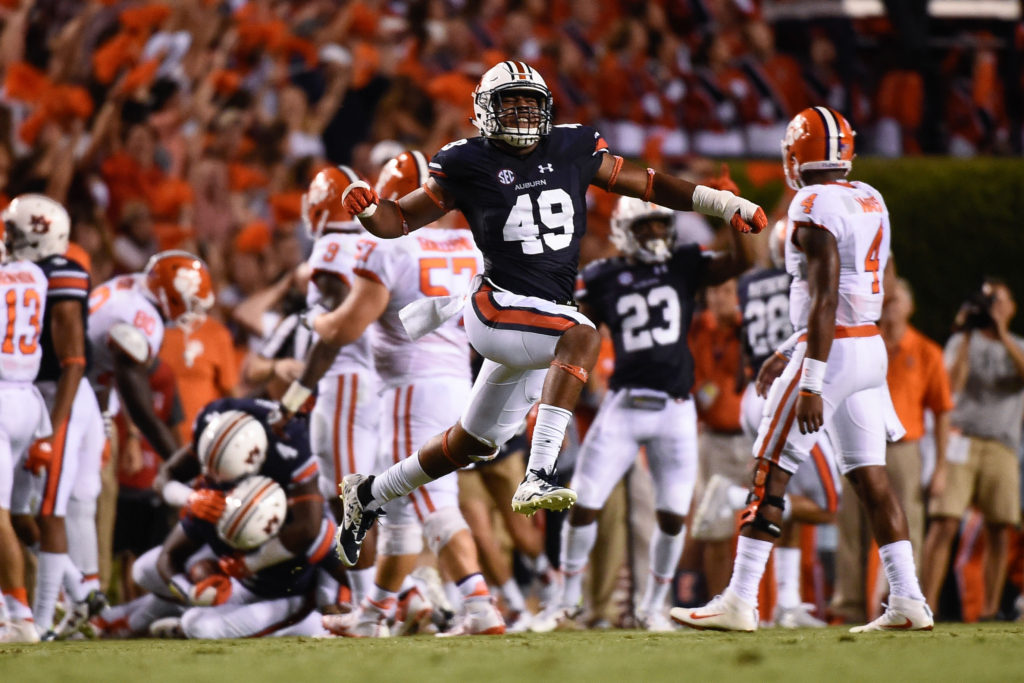 Most importantly, they stopped Heisman finalist Deshaun Watson. As far as I remember, he maybe ran for one 1st down. He did have a few pinpoint back shoulder throws, but that had more to do with the receivers' execution.
The linebackers stuffed the run. The ends kept it inside. The defensive backs, for the most part, held their own with a great quarterback and a few great receivers. What ended up being the winning touchdown pass was nearly indefensible.
I am not trying to get too excited yet, but as we thought, this unit may carry the team for a few games. Because…
2. The offense is still looking for answers, but the answer is there.
Let's start with this: the first 2-3 drives of every game are scripted. So when you saw Sean White go in for a few plays, then John Franklin III trot in and throw a bubble screen, and then Jeremy Johnson come in for a few plays, that was the plan all along. As I said in the opening paragraph, nobody gave Auburn a chance to win, and Auburn knew that Clemson had been watching film from 2015, so why not give them the opposite of what they saw? Why not throw it all out there at the beginning and see what works?
After the scripted drives were over, it was honestly clear that Jeremy Johnson had moved the ball a little more. He had a few drive-extending passes downfield and led Auburn to their first 1st down. You may hate it in hindsight, but they stuck with what had worked so far.
Once Jeremy threw an interception inside the 5-yard line, he didn't see the field as much in the 2nd half. Auburn played better in the 2nd half. There was the one play where Auburn needed two yards inside the five and they put Jeremy in with an obvious running situation, and he fumbled. Most people didn't see that. They just thought he got stuffed because it was an obvious running situation. No, he fumbled. That's why the play didn't work.
Would you put the 6'6″ guy in to run two yards or the other guys who are not? And no, kicking a field goal isn't an option for this rhetorical question. They had just traveled down the field in a 12 play drive. Kicking a field goal would be demoralizing after that drive, and a 6'6″ guy should be able to get two yards by falling forward. Again, he fumbled.
As I've said all offseason, Sean White is the safest option, and until John Franklin III learns more of the offense and gains the coaching staff's trust, Sean White should be the starter with Franklin sprinkled in. I don't think Jeremy should be benched for all of eternity. I do think he should run some goal-line situations when they need 1-2 yards, but Sean is just the better, safer option.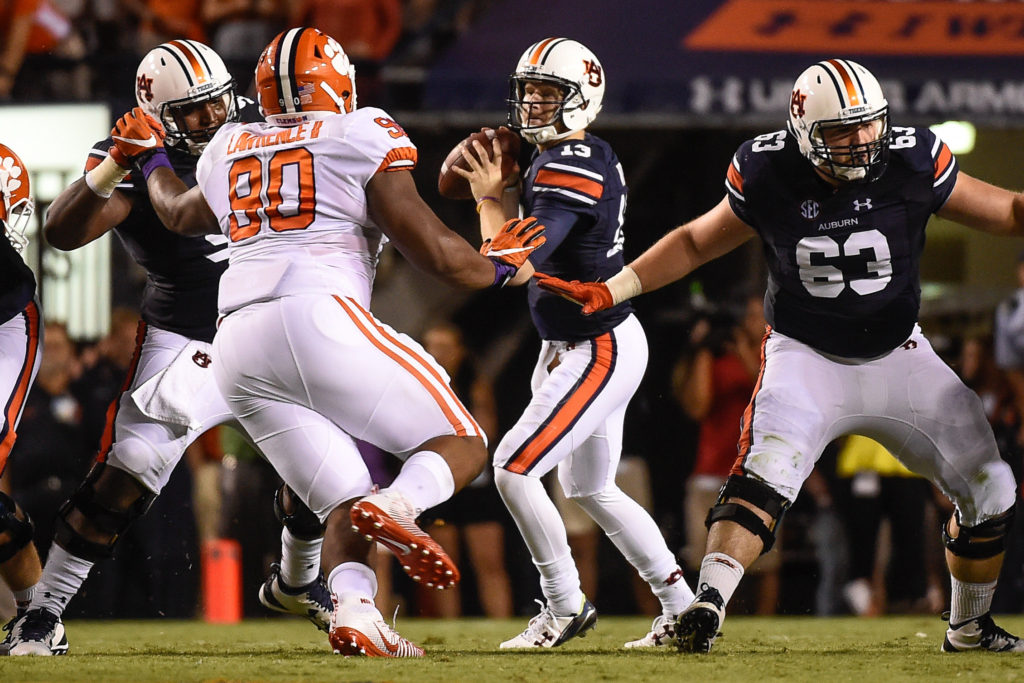 You can complain about the quarterback switching all you want, but the true problem in the 1st half wasn't momentum-killing switches. It was the lack of time and opened holes provided by the offensive line.
The Clemson defense did a good job of jamming everything up all the way across the line, so it didn't matter who was back there. Kerryon had nowhere to go. The wildcats had nowhere to go. The quarterbacks had no time to throw and nowhere to go.
No, I don't think swapping three quarterbacks is the greatest idea for the duration of the season, but I don't think it's the only reason Auburn lost on Saturday. Two picks inside the 5-yard line, a fumble inside the 5-yard line, and no time to do anything for an entire 1st half were the true problems. Killing momentum is just speculation. The others are cold, hard reasons why drives were ended and points weren't scored.
And on top of that, it doesn't matter if they play 65 quarterbacks in the 1st quarter of the 1st game…
3. Booing is never good.
I take that back. Booing the opposing team when they run on the field is okay. Booing a terrible call like both that extended Clemson's first scoring drives that gave them 10 points is fine. But booing anything related to the team you claim to pull for in the 1st quarter of the 1st game is ridiculous.
I don't care how much you think you know about football. I don't care if you can throw a football over them mountains. When you are booing a quarterback switch or seven in the 1st quarter of the 1st game, you shouldn't be at the game.
I know you are going to say you are booing the coaching staff and that's the only way to make a change, but you're wrong on multiple fronts there.
a) Gus Malzahn, or any coach in the nation for that matter, does not care nor will he change anything because they hear fans booing. They have worked up a game plan. They have put in hundreds of hours studying film and the talent on the team. They are working their plan. If you don't like the decision to kick a field goal instead of going for it in the 3rd quarter of a game, maybe a smattering of boos is harmless, but a first quarter quarterback switch? Stupid.
Malzahn said in his postgame that it was his plan all along to play all three. When it was a good situation for Sean, he put him in. When it was a play that Jeremy excels in, they put him in. When they wanted to get John some game experience, they sent him in. He wasn't swapping based on performance, and your boos affected nothing.
And if you think booing sends a message to Jay Jacobs, you're wrong as well. Unless Auburn goes 3-9 this year, which they won't at all, Jay isn't even considering firing Gus. And if you think that your booing is sending a message above Jay… nope.
You were booing a quarterback change in the 1st quarter. All your boos will now fall on deaf ears. Sorry.
b) Booing the coaching staff when Jeremy Johnson runs on the field? Hmm, what does that translate to in the mind of a player? "I'm running on the field, and these fans that I am playing for are booing. Maybe they are booing coach for putting me in, but that means they are booing me going in."
Do you want the player currently holding the keys to the offense to hear spoiled "I bought my ticket so I can do what I want" fans booing them? How do you think that will turn out? Remember 2012 when pretty much the whole team just packed it in? Was that fun?
You're booing the idea of a guy going in the game in the 1st quarter of the 1st game. I can't write anymore about how stupid that is. Buying a ticket does not give you the right to be an awful fan. And booing a quarterback change in the 1st quarter of a game where multiple 5-star recruits were in attendance and crowd noise was never more important to give an Auburn a shot is beyond dumb. Instead you used crowd noise to try and tell your coach you didn't like something in the 1st quarter. Good job, armchair.
The ones most angry and screaming that Auburn's play-calling and quarterback switching lost the game were the ones also claiming Auburn had no shot to begin with. So why do you care? You knew it would happen, right? The truth is you got in the stadium, became a fan, began to believe, and then got mad they lost. You can't do both.
So… I honestly feel better about the season after the game than I did before it. Questions were answered on defense, and the answers were good. The offense will not be run the same way for the rest of the season. I say that, but they will run three quarterbacks against Arkansas State. Auburn should win easily and it's the perfect situation to really nail it all down. Oh, and you knew this but Auburn's kicking game is probably the best in the nation.
In a month this will look like what it was: a close loss to the #2 team in the nation that's blowing out ACC teams. The offense isn't being thrown together because the starter imploded like last season. There is a plan. It was a first game loss against a non-conference game. It was the first game. It will be alright.