After two weeks of predictions in 2015, I'm averaging two misses a week. That's not too bad, I guess. It's probably better than you, but I wouldn't know because none of you put your predictions in the comments like I've nicely asked you. Do it.
Last Week: 13-2 (86.7%)
This Week: 8-4 (66.7%)
Overall: 31-8 (79.5%)
This week has two great SEC matchups, one okay SEC matchup, one okay non-conference matchup, and the rest are just embarrassing. Why doesn't Auburn ever get to play what should be an easy win? Oh… they did.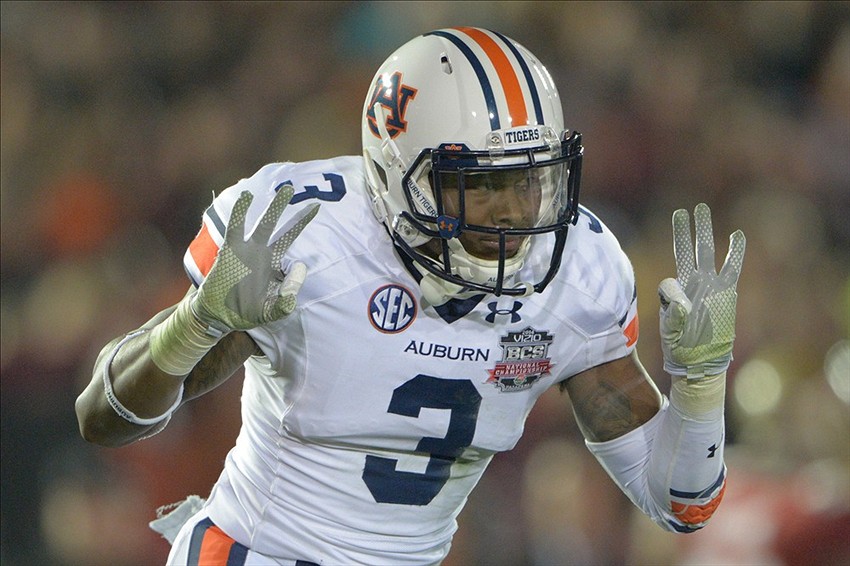 9/19
UConn at Missouri – What is this? Why do I even bother? Every single week, Missouri is somehow playing some bad non-SEC team. I said the same thing before they lost to Indiana last year and before they almost lost to Arkansas State last week. But I won't pick against the SEC East champ just yet.
Missouri 38, UConn 17
Missouri 9, UConn 6 – SUCCESS!
Nevada at Texas A&M – I wonder who Johnny Manziel will be pulling for in this one. See, he played at Texas A&M, but when he's not on a football field, he's usually in Las Vegas. Las Vegas is in Nevada. I'm sure he's got some bros playing for the Wolfpack.
Texas A&M 49, Nevada 24
Texas A&M 44, Nevada 27 – SUCCESS!
Northwestern State at Mississippi State – Really?
Mississippi State 51, Northwestern State 10
Mississippi State 62, Northwestern State 13 – SUCCESS!
Austin Peay at Vanderbilt – Multiple times this week, I said that Jacksonville State would beat Vanderbilt easily. Austin Peay is in the same conference as Jacksonville State, but they are also really bad. It's the Commodores vs. the Governors. Is this football?
Vanderbilt 17, Austin Peay 7
Vanderbilt 47, Austin Peay 7 – SUCCESS!
South Carolina at Georgia – South Carolina is done. Georgia didn't blow away Vanderbilt. But South Carolina is done. Done, I tell you.
Georgia 38, South Carolina 14
Georgia 52, South Carolina 20 – SUCCESS!
Texas Tech at Arkansas – Well this is interesting. Arkansas can't beat Toledo. Can they beat Texas Tech? They beat them last year, but the Red Raiders appear to be better this year. In fact, Arkansas beat UTEP 48-13 in week one, and Texas Tech beat UTEP 69-20 in week 2. Go Red Raiders.
Texas Tech 34, Arkansas 24
Texas Tech 35, Arkansas 24 – SUCCESS!
Western Carolina at Tennessee – Tough loss for the Volunteers last week. As a consolation prize, you get one of the worst teams in football history.
Tennessee 63, Western Carolina 7
Tennessee 55, Western Carolina 10 – SUCCESS!
Florida at Kentucky – The Wildcats were somewhat gipped out of a win over the Gators last year. This year, they will get revenge and scare us Auburn fans a little more. But don't fret. Florida isn't that good.
Kentucky 27, Florida 20
Florida 14, Kentucky 9 – FAILURE
Ole Miss at Alabama – Ole Miss was able to knock off the Tide in Oxford last season. Alabama still made the playoffs. Ole Miss has scored 70+ points in both games this year. They won't this week. Alabama will get some get back on the Rebels, but this time they won't make the playoffs.
Alabama 34, Ole Miss 20
Ole Miss 43, Alabama 37 – FAILURE
Auburn at LSU – Check back tomorrow for my game preview, but SPOILER ALERT: gotcha!
Auburn 31, LSU 17
LSU 45, Auburn 21 – FAILURE
Other Games of Note
Louisville at Clemson (9/17) – In 2010, Auburn fought tooth-and-nail with Clemson and got the win. It made us think Clemson was going to be good. That ended up being incorrect. In 2015, Auburn fought tooth-and-nail with Louisville and got the win. It made us think Louisville was going to be good. That has seemingly ended up being incorrect. Clemson won't Clemson in this one.
Clemson 31, Louisville 17
Clemson 20, Louisville 17 – SUCCESS!
Georgia Tech at Notre Dame – Gold on gold. Georgia Tech is still running the option and still tricking folks. Notre Dame lost their quarterback and nearly lost to Virginia. I think the Irish may be done this year.
Georgia Tech 37, Notre Dame 24
Notre Dame 30, Georgia Tech 22 – FAILURE
Now that you know who will win, head on over to the 2015 War Blogle Pick 'em and get your picks in. There will be weekly prizes and and overall winner at the end of the season. It's easy. Do it.