As you all know by now, ESPN's College Gameday will be on campus for the MOTHER OF ALL IRON BOWLS this weekend. This will be the 8th appearance by the show in Auburn, and 14th involving an Auburn game. It will be Gameday's 5th Iron Bowl, and the 3rd on Auburn's campus (1995, 2011). Gameday has never been to Tuscaloosa for an Iron Bowl.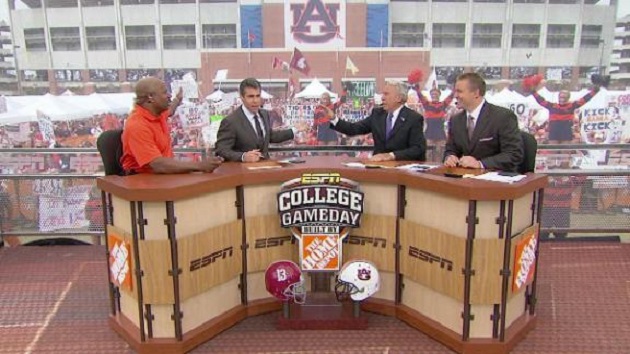 Since the only thing that matters in football games are past records and if Gameday is in town, here are a few numbers to compare against Auburn's current situation (Gameday in Auburn, lower ranked team, Iron Bowl, etc.)
7-6 record in games when College Gameday is in the citaayyyy where they are playing.
4-3 record when College Gameday is in Auburn.
The lower ranked team in 7 of their 13 College Gameday games. This year makes 8 of 14.
The lower ranked team in 5 of the 7 College Gameday games in Auburn. 2-3 record in those games.
1-3 record in Iron Bowls with College Gameday in town (2 in Auburn, 2 in Birmingham)
1-1 record in Iron Bowls with College Gameday in Auburn.
The lower ranked team in all three Iron Bowls played in Auburn when Gameday is on the Plains.
As for Alabama…
18-10 record in games when College Gameday is in the citaayyyy where they are playing.
6-2 record when playing on another team's campus with Gameday there.
5-2 record in away games as the higher ranked team.
So yeah, who cares about numbers and past records? All pointless and stupid anyway, right?
One of my favorite parts of College Gameday is the guest picker. To be honest, though, the only one I remember in Auburn is Bo Jackson in 2011. I know there wasn't one in 2010 for the Clemson game, but this year there are many new and likely candidates. Here are the ones I can think of in order of likelihood that they could be used.
Jason Dufner – Duf is the very likely choice. He's in Auburn, he's become a superstar in the golf world, and people like him because they can relate. He's somebody the whole country would enjoy.
Bo Jackson – Bo will most likely be at the game. It will be his 51st birthday. He's done it before, so why not?
Tim Hudson – Huddy tailgates literally 50 feet from where Gameday will be setup. He was on the set last time Gameday was there, but Bo got the nod.
Charles Barkley – I'm not sure why Barkley never does this. Maybe it's his contract with TNT? He would be entertaining.
Jeff Foxworthy – Jeff's daughter is a student at Auburn. He told me 'War Eagle' once. He'll probably be at the game. He's a national name. Just think about the redneck jokes he could come up with on the spot.
Big Boi of Outkast – He has a kid going to Auburn or about to go to Auburn, and he's a big name. Plus, Outkast is planning a reunion, so he needs the publicity. Think about that street cred, y'all.
Mallory Hagan – The former Miss America briefly attended Auburn and lives in Opelika now. She should still be the current Miss America if they hadn't changed the schedule. Still bitter.
Tim Cook – This might be the most awesome person to remind the nation why Auburn is great in every facet, but I highly doubt Tim has time for silly football. He's got paper thin iPhone 6's to build.

Loading ...
So to recap, the numbers aren't completely in Auburn's favor if you care about past records when a certain TV set is outside the stadium, and Auburn has many viable, eclectic, and really cool options for the guest picker. We'll see how it all shakes out Saturday.
If you're interested here are the vlogles from when I attended Gameday, and like really attended Gameday for the 2011 Iron Bowl and the GAME OF THE CENTURY.