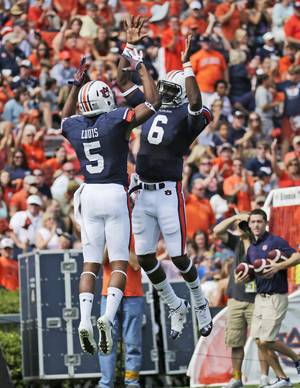 It was everything it was supposed to be. Auburn was the superior team. Western Carolina was the inferior team. Auburn beat the outmatched Catamounts in every facet of the game. As they should have.
Jeremy Johnson looked like a three year veteran in his first start at quarterback. Yes, I know it was Western Carolina. Yes, I know most of you could have completed some of those passes with the time he had back there. But that guy knew the offense. He looked like he knew everything about everybody on the field. He looked that way because it's true. He knew where every person was going to be.
He made one mistake, if you can even call it that. After standing in the pocket for three minutes, taking a nap, and standing there for three more minutes, he threw up basically a Hail Mary that was picked off. It was underthrown and the defender just camped under it. No big deal. It was 3rd down and basically turned into a punt. See, even when he messed up, it still worked out.
But yes, it was Western Carolina and we can't base a ton of what what we think we know about him on this game. But we at least know he gets it. He knows what he's supposed to do and he's athletic enough to do it.
The defense did what they were supposed to do as well. I can only remember two semi-explosive plays from Western Carolina. One was a pretty athletic scramble by the quarterback that led the drive to their only points of the day, and one was a pretty decent pass late in the game against the walk-ons. That was it.
I didn't hear Carl Lawson's name, but maybe I just missed it. I was wandering around the stadium and looking at things you never get to look at during a close game.
The best part of the whole thing was letting guys like senior scout team running back Chandler Shakespeare get some playing time. He ran ten straight times before Auburn mercifully turned the ball over on downs late in the 4th quarter, already up 59 points. He was tired, but you know he loved it.
As I said, the game went exactly like you want a game like this to go. Too many times, especially last year, Auburn has struggled in games like this. It felt good to watch them do what they are supposed to do.
Good teams pound bad teams. Auburn looks like they are good team, but last Saturday won't be enough to say that. This week's date with Manziel will be the deciding factor on that at this point in the season. From then… good to great?