Bad news, guys. Yeah, Auburn didn't make the tournament this year. I know. It's tough. Thought we had it this time. Fortunately, the WarBlogle.com Bracket Challenge doesn't have to change its motto for the first time in a decade. It's still "No Auburn means no pressure." It's so right, isn't it?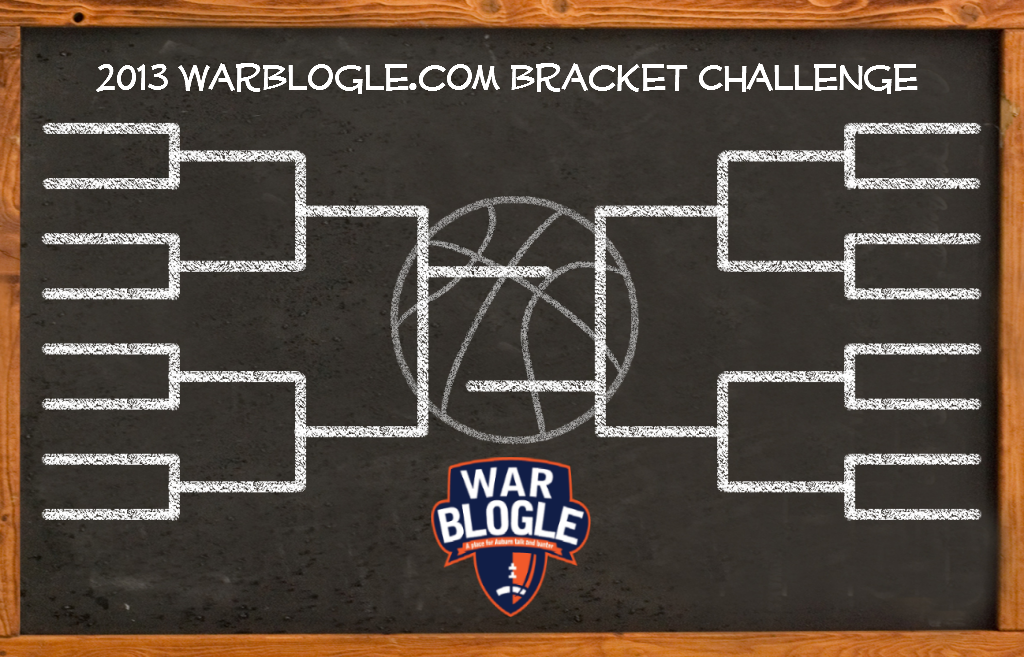 However, there will be a slight change in the format this year. We will still have the standard bracket setup (details at the bottom), but I'm also throwing in a little twist to keep this thing fresh (as well as offering three great prizes from AuburnArt.com).
Like all bracket groups, the WarBlogle.com Bracket Challenge has taken a hit in participation over the last few years due to the uprising of "I don't do bracket challenges because everybody asks me to do bracket challenges" hipsters. We get it, bros, you did bracket challenges when they were cool. So let me make them cool again.
This year, I'm partnering with PickorPlay.com to spice things up. Think of it as a Facebook-style handicapping helper. No, it's not a betting site. If you like betting sites, you can use it to help with your "for entertainment purposes only" wagering, but it's not a betting site.
Basically, you create an account, you find games (of almost any sport), you pick the winner, you set a confidence rating from 1-20, and let it go. Over time, your rating will be tallied up by your picking accuracy. After that, if things go well, other users will have the opportunity to buy your picks. So if you got game-picking skills, it might pay off, literally.
So this is how it's going to work with the WarBlogle.com Bracket Challenge:
1. Sign up at PickorPlay.com.
2. Join the WarBlogle.com group by clicking the Groups link and searching 'warblogle', or just go here.
3. Start picking NCAA Tournament games (all tourney games will be designated with this icon). You must pick at least 35 games to be eligible to win. That means you could technically only pick a handful of the first round games, as long as you pick the rest, and still win the Bracket Challenge. This format allows you to pick as the tournament goes rather than than picking all 64 games from the start. The play-in games don't count.
4. Give each pick a confidence level from 1-20 based on how confident you are in your prediction. That's it.
5. Oh yeah, the picks are against the spread. If you don't know what that means, ask your uncle or read this.
IMPORTANT: The winner WILL NOT be chosen just by their correct number of picks. The winner WILL be chosen by the most number of units. Units are calculated by your pick and its confidence level. If you pick a game and give it a 20 confidence level, you will get more units than if you gave it a 1 confidence level. If you miss that pick, a 20 confidence level will hurt you more than a 1 confidence level. Choose your confidence level wisely if you want to win.
There are 32 games in the first round. CBS calls it the 2nd round because they want you to believe the 1st round consists of the play-in games, but those games do not count on WarBlogle.com. So if you pick all 32 games in the real first round, you only have to pick 3 more to be eligible. But if you stink up most of those games, then you can continue to pick as the tournament goes on, in hopes to make a 28-27 style comeback.
You can follow the standings for the WarBlogle.com Group on PickorPlay.com throughout the tournament. They are also a good way to figure out how or if you need to make more than the minimum 35 picks. I will give regular updates via Twitter as well.
As I mentioned above, we have actual prizes this year. Good stuff. The top three finishers will all receive a piece of Art from AuburnArt.com.
1st place: Framed "Winner Wonderland" Photo
2nd place: Canvas Panoramic of Jordan-Hare Stadium
3rd place: 11 x 14 Matted Cam Newton Photo
Now if you want to do the typical bracket format as well, you are more than welcome to do that. You won't be up for those grand prizes above, but if you take part in the PickorPlay.com version and don't win it, but do win the normal format, I will give you a WarBlogle.com t-shirt.
You need a CBSSports.com login to join, and if you are asked for a group password after going here, it is 'warblogle'. Have fun. Pick responsibly.