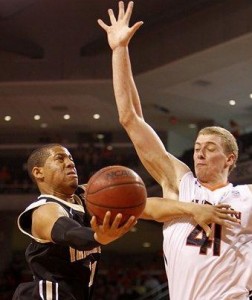 Alright, let's talk about basketball. No, I'm not going to go over the mishaps of the season, or the one big giant mishap that was this season. I want to talk about SEC Tournament possibilities. Why? Because I love hypotheticals and I love brackets. Always have.
I don't care if Auburn ends up being in last place, a tournament is new life. A bracket is like one big Holy Grail. One drink from it and you are a new person, but with only possible everlasting life if you go on to win the championship.
So I wanted to look and see who Auburn would play in the first round of the SEC Tournament (empty bracket), which now features an extra day (Wednesday) for the last four teams to battle it out to get into the usual 12-team format, depending on what happens this last weekend of the regular season. No, I won't call the Wednesday games of the tournament play-in games, but that's sort of what they are.
It turned out a little better than expected in that Auburn still has a chance to not be in last place, and not even in next-to-last place. They can actually be in 12th place. And thanks to Texas A&M and Missouri joining the SEC, that's not last place anymore! HOORAH!
Here are the scenarios for what it would take for Auburn to be in each seed it has a possibility of taking. It's not as confusing as it looks, but it took a little calculating.
Auburn would be the #14 seed with a loss at Mississippi State and would play the #11 seed:
Texas A&M (if Vanderbilt beats South Carolina OR Texas A&M loses to Arkansas)
-OR-
Vanderbilt (if Vanderbilt loses to South Carolina AND Texas A&M beats Arkansas)
The winner of the #11/#14 game goes on to play the #6 seed, which could be a few teams.
Auburn would be the #13 seed with a win at Mississippi State if South Carolina beats Vanderbilt. Auburn would play #12 seed South Carolina.
Auburn would be the #12 seed with a win at Mississippi State if Vanderbilt beats South Carolina. Auburn would play #13 seed South Carolina.
The winner of the #12/#13 game goes on to play the #5 seed, which could be many teams.
Bottom line: if Auburn beats Mississippi State this weekend, they will play South Carolina in the first round. They may be the #12 seed or they may be the #13 seed. It doesn't matter. The winner would still go on to face the #5 seed.
I didn't want to waste a day to try to figure out who that would be, but at a glance, and without worrying about tie-breakers, it could be anyone of these: Kentucky, Missouri, Ole Miss, Alabama, Tennessee, LSU, Arkansas, and Georgia. That's probably a stretch for a few of those, but at this point almost all of them sit with 11 conference wins, and one of them is going to have to be at the bottom after Saturday.
If Auburn loses to Mississippi State, not only will they be the first team to finish 14th in SEC basketball history (remember Auburn tied for last with Kentucky in football this year), but they will play Vanderbilt or Texas A&M. Those two are currently tied, but Vandy holds the tiebreaker, so all they have to do is win Saturday to avoid the first day of the tournament. Were Auburn to beat Texas A&M or Vandy, they could play one of a few of those teams I just mentioned for the #5 seed.
Alright, that was a lot of talk about a team being no better than the #12 seed in a tournament, but that's fun for me to figure out. Hope you enjoyed it as much as you'll enjoy Auburn's football national championship next year. Peace.