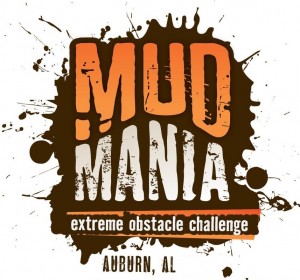 If you like mud, if you like helping good causes, and if you like mud, do I have the event for you! Mud Mania (Auburn, AL) returns for its 2nd year this March 23rd with an all new course and even more mud. Basically, it's a 5K around an old horse farm with obstacles that are centered around the mixture of dirt and water. Mud. Mud. Everywhere. Mud.
But don't let "5K" scare you. It's not really a race. It can be if you want it to be, but you're not going to win anything for being 1st in your heat (heats start every 30 minutes throughout the day). You can take your time. You can wear a dress. Yes, some people do that, and the guy in charge of the race actually encourages costumes. But really, it's only as hard as you make it.
It's a lot of mud, it's a lot of climbing, it's a lot of crawling, and it's a lot of fun. I ran it last year, and then got a muddy picture taken with Aubie. How fun is that?! Fun and mud! What's better? Winning football games, that's what, but that's for another day.
If you want to run it, you need to hurry and register. You only have a few days left. Registration ends at in the wee hours of this Thursday, March 1st. Update: registration as been extended until Friday night at midnight. The run costs $45, which includes a t-shirt, a medal, the run, and other goodies. Oh, $45 is too much you say? Well, I gots a promo code for you. Enter 'warblogle' during the checkout process and it will knock five bucks off the price. Isn't that nice?
Speaking of money… a portion of the proceeds will go to former Tiger/current Brave Tim Hudson and his Hudson Family Foundation. So there, now you have more reason to run. Don't hate on good causes.
All other information about the run is available on mud-mania.com, @Mud_Mania, and their Facebook page. Do it.