Auburn beat LSU 68-63 in basketball last night in front of a raucous student section and half-full old folks crowd. It could have even been more raucous, but students who had already been granted their (free) admission were turned around and led out the door. The 1500-seat free student section was full.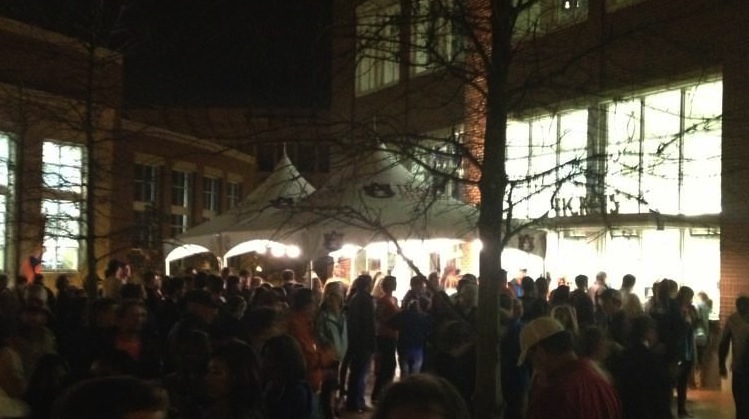 An Auburn official responded to these reports on Twitter stating that the policy has always been that the first 1500 students are let in free, while the remaining students can purchase $5 tickets if Auburn Arena is not sold out. Some of the students that were shown the door said they were told no such price, prompting them to leave instead of paying for the $15 ticket.
Tony Barbee was asked about the situation after the game, and his response was basically "Don't tell me that. We've got to change the culture around here." Today he tweeted that he would handle it. Moments ago, Jay Jacobs emailed the students with a newer policy. I guess Barbee handled it.
Dear Auburn students,

I am pleased to announce changes to our student admission policies for men's basketball games. I instructed our staff to make the changes this morning based on your input following last night's home opener against LSU.

Thank you for the feedback you provided through social media. It was instructive and helpful in our efforts to allow as many students as possible to support our basketball team.

We will continue to admit the first 1,500 students free of charge for all home games. We are now making an additional 500 free drink rail tickets available to students for the upcoming game against Kentucky, which we expect to be a sellout.

On a game-by-game basis moving forward, we will admit all students free of charge until the arena is filled to capacity. We will no longer charge $5 to students for admission after the student section fills up. This was a policy we put in place before the 2010 season as an incentive for students to show up early and support the team. Until last night, it worked well and did exactly what we intended it to do.

It is important to remember that prior to opening Auburn Arena, only the first 500 students were admitted free of charge at men's basketball games. After hiring Coach Barbee, we changed our policy to admit the first 1,500 students free of charge. That change was made to enhance the atmosphere at Auburn Arena and increase student attendance.

I hope this new change makes it clear that student support at basketball games is of the utmost importance to our team and to me personally. We designed Auburn Arena to put you as close to the floor as possible. A student-only entrance and student concessions were added to make your gameday experience as good as it can possibly be.

I want to thank the 2,000 students who helped create a great atmosphere for last night's win over LSU. As the games get bigger, I would encourage you to become a member of The Jungle, the official student section of Auburn basketball, so you can get into the arena 15 minutes prior to the gates opening. You can join The Jungle by visiting www.auburntigers.com/jungle/.

Thanks again for your support. Let's keep Auburn Arena rockin' the rest of the year. War Eagle!

Jay Jacobs

Director of Athletics
It's good to see the Auburn administration respond to an issue in a positive fashion. There are many other issues with the way basketball ticketing is handled, but I'll save that for a later blogle.
So now students you have no excuse. The team appears to be the best in years and the school is making it easier for you to go the best they can. Go to the games.
Picture from @RPKII. Email from @WarDamnSouthern.