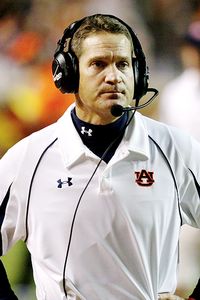 As you know by now, Coach Gene Chizik was fired earlier today from his position as the head coach of the Auburn University football team. There is plenty of time to talk about this in later blogles, but for tonight, I give you the last email that Chizik sent to Auburn students just moments ago.
Once reading it, you will no doubt feel a little less anger than you may have felt over the last few months. He's just a guy, albeit a millionaire, that was doing his best to win football games at Auburn. For the most part, he did that.
To the Auburn Family:

I am very grateful for the opportunity that I had during the last four seasons to serve as the head football coach at Auburn University. I'm extremely disappointed with the way this season turned out and I apologize to the Auburn family and our team for what they have had to endure.

In my 27 years of coaching, I have gained an understanding of the high expectations in this profession. When expectations are not met, I understand changes must be made.

While we experienced a tremendous low in 2012, I will always be proud of the incredible highs that we achieved, including three bowl victories, an SEC championship and a national championship.

I want to thank Dr. Gogue and Jay Jacobs for the great opportunity they gave me. I'm confident in their leadership ability to continue to move this football program forward.

I feel blessed to have been surrounded with so many great coaches, players and administrators that have worked relentlessly and dedicated themselves to this institution. I will miss not being able to continue to mentor these players on a daily basis. I'm confident these young men will continue to excel both on and off the field. They are a great group and I wish them nothing but the best.

I've been fortunate to spend seven years of my coaching career at Auburn, which is an incredible place to work and live. My family and I have been blessed to call Auburn home and look forward to remaining in the Auburn community.

I have said this many times, but the Auburn fans are the best in college football. They have an incredible passion and love for their school and I want to thank them for their support in good times and in bad times.

As I said four years ago when I arrived, Auburn was great way before we got here and it will remain great long after we leave. My sentiments about Auburn have not and will not change. I wish the next football coach all the best and I anticipate a smooth transition.

I encourage the Auburn family to continue to be 'All In' and support this great university and its athletics programs.

War Eagle!

Gene Chizik
War Eagle, Gene.