If you're already chalking this game up to a huge loss for Auburn, then don't go. If Auburn wins, don't cheer. You're not allowed. If you want to live in that pessimistic world to try to maintain credibility with your bros, then don't even watch. It's okay to be a fan. Stranger things have happened in football, and much stranger things have happened this series.
Remember when Auburn grabbed four interceptions in the 2nd half to come back and beat LSU in 1994? I bet you said that game was lost, didn't you? Remember when Auburn completely shut down #1 Florida on a Saturday night in Jordan-Hare in 2001? I'm sure you pegged that one for an L. Did you feel bad afterwards? I hope so.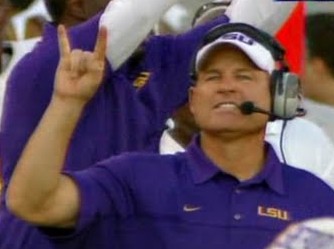 I'm not saying be blind, but thinking that Auburn could win this game is not being blind. It's being a fan. It's ok to think it's a longshot. It's ok to say things will have to be nearly perfect for Auburn to pull off the upset. But don't write them off and say that you know without a shadow of a doubt that they will lose.
If you do that, then you are not a fan, and I will fight anyone who disagrees. Now that I've got that off my chest, let's get back to our normal "It's <insert team here> week…" posting structure.
There are PLENTY of reasons to get up for LSU. Things have always been crazy with this game, and for the most part has always been close. For a while there, the winner represented the SEC West in Atlanta, so there was always a lot riding on the game. While Auburn was going through six straight wins over Alabama in the early part of this century, LSU was easily Auburn's biggest rival in terms of the importance of games.
Since Les Miles has arrived, bringing the Devil with him, the hearts of us Auburn fans have been broken by plays packed with voodoo and other mysteries of the unknown. How or why that pass was ever completed in 2007, I will never know. How nearly the same thing happened the next year also blows my mind.
Since these posts are all about making you feel terrible in hopes that it turns to rage, let's take a look at both of those plays and remember the feelings they gave us.
I don't know about you, but I feel terri… raRARARRAFDAGDAFGAAGZSDGASFDAFSAFDHF!!!!!!
Sorry about that…
There have also been plenty of reasons for Auburn fans to gloat in this series. We've already talked about 1994, but how about 2004 when Bret Eddins loosened Marcus Randall's wisdom teeth, and then Jason Campbell connected with Courtney Taylor for the win. How about 2010 when Cam ran all over the field? Let's take a look at those to remind you that good things do happen to good people.
Now don't you feel better? I know, I know, Auburn does not have Cam Newton this year. Ask any LSU fan and they'll remind you like we've just been sitting here thinking Cam has had a bad start to his 2012 Auburn season. Auburn also doesn't have Jason Campbell or Courtney Taylor. That's not the point. The point is, well I don't know what the point is, but just watch those videos and remember good times, man.
Most LSU fans, as we all know, have a reputation for being some of the most vile people on the planet. They revel in that fact. They want you to be scared that they will actually kill you any time you visit Baton Rouge. I'm actually not kidding about that. With that vile attitude comes an an attitude of cockiness only rivaled by those in Tuscaloosa. It's like cockiness mixed with cornbread batter, gingivitis, and a chicken foot (you know, voodoo and all…). You want an example? You want something that will really make you punch a wall? Sure you do.
Recently, a writer for And the Valley Shook, an LSU blog run by a few LSU fans that can read and write, posted a piece entitled "Hating Auburn Is Like Breathing." Yeah, here's how it starts:
You know what I hate about Auburn?

Everything.

I hate your colors. I hate you stupid bird named "Tiger" which I'm sure is causing no confusion whatsoever in the animal husbandry department.

I hate the Plains. I hate Toomer's Corner. I hate the toilet paper thing, though I'd likely let y'all borrow a roll so you can celebrate beating the mighty Warhawks of Monroe.

I hate Gene Chizik. I hate Trooper Taylor and his stupid towel and his backwards baseball cap. You're a grown man, turn that thing around like a normal person. I hate whatever corrupt as hell booster you have paying your team this year.

I hate your band. I hate your cheerleaders. I hate your lame piped-in music which you've incorporated to your pregame. Welcome to the Jungle? Really? Y'all ain't Guns 'n Roses, unless you're the sad version with Buckethead and Fat Axl.
You can read the rest here. It gets worse, so be sure to read it in a padded room.
There's also that guy LSUFreek who is a master of gifs and photoshop works. Last week, he posted a nice little image he created that involves Mike the Tiger and Kiehl Frazier. I won't post it here because this is a family-friendly environment, but if you want, you can view it here. My only comment is that I guess it shows us which way Mike swings.
So remember, don't go to the game if you don't think that Auburn can find a way to win. How many times has it happened before? A lot. Tiger Stadium isn't the only intimidating stadium in the country. Jordan-Hare has won the Tigers quite a few games.
I'll get into football specific details in my game preview on Friday, but LSU is coming in to their first road game, their first SEC game, and they are missing a good amount of players, including one of their top running backs. This is also Mettenberger's first road test of his career. If you don't think a hostile crowd can effect a n00b, then you're crazy. The media and fans of a team playing like Auburn put way too much on these teams at the top. We act like the teams that seem to be the best after three games could beat the 1989 49ers on their best day.
Let's calm down a little bit. They are just kids like the kids on our team. They've just been in a system that's been running for a little bit longer than ours. It's a well-oiled machine, but even a Bentley breaks down. Ok, enough rah-rah. I just wanted you to be hating LSU by the end of this. Have I done the job?
Oh, and one last thing: before you finalize all of your tailgate plans, and before you set out for the Plains, just remember…