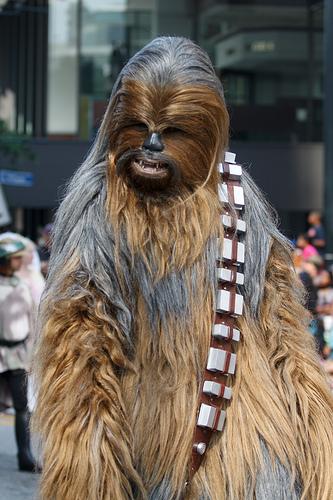 The city of Atlanta is going to be one busy place this weekend. On top of the Chick-Fil-A Kickoff doubleheader on Friday and Saturday night, the Phillies are in town to take on the Braves, with Lynyrd Skynyrd performing after Saturday's game. There's also a NASCAR race and a Black Gay Pride convention going on. I'm serious.
However, as many people as those events will bring to the ATL, none will bring as many as "the largest multi-media, popular culture convention focusing on science fiction and fantasy, gaming, comics, literature, art, music, and film", also known as Dragon*Con. In short, it's one of those conventions where celebrities from the sci-fi world come to do interviews, sign autographs, etc. for the type of people that like to live our their favorite books, movies, and tv shows in costume.
The convention takes over all of downtown and most of the larger hotels in the area, which means that anybody traveling to Atlanta for the game this weekend will no doubt run into these "spirited" fans of legend and lore.
Back in college, there was a girl in my major named Katie who was one of these people that I speak of. She just so happened to reach out to me and asked to use this platform to help you better understand what you may encounter while you walk the streets of Atlanta. She's encountered a few other SEC fanbases in her past visits to Dragon*Con and just wanted to let Auburn fans know how they should act if they see Chewbacca walking down Peachtree.
Ah, Labor Day weekend in Atlanta. For some, it means the start of football season as more than one SEC team will take part in the Chick-Fil-A kick off game this year including Auburn. For others, it means that moment every year when our seams are finished, our props are painted, and our wigs properly styled.

Confused? Fear not! It's just Dragon*Con, a yearly pilgrimage for geeks and nerds across the country. And some of us are thrilled that Auburn will be playing merely a mile away at the Georgia Dome that Saturday night because for once, we won't have to choose. War Eagle!

For the uninitiated, Dragon*Con is a four day "multigenre" convention that happens in downtown Atlanta on Labor Day weekend every year. It takes place at the Hyatt, the Marriott, the Hilton, the Sheraton AND the Westin. Yep, five hotels…filled with geeks. And I do mean FILLED; reservations for most of the hotels sold out in less than a month after they opened IN OCTOBER. The Marriott was sold out in about an hour.

So if you were thinking that this was a small time event, you're wrong. It's huge. There will be a line wrapping the block of the Sheraton that Saturday morning. And speaking of Saturday morning….there's a parade. And you should check it out.

You see, as I mentioned, this is a multigenre convention….which is a fancy way of saying "anything and everything you can think of". There's even wrestling. People will wear costumes running a gamut of Disney Princesses and My Little Ponies to obscure comic book characters and suits of armor from your favorite video games. It feels like Disneyland exploded and most of the costumes you'll see were handmade by their wearer…and can often be more detailed than Disney's.

And before you think "Oh, it's ComicCon? That con that was just on G4 out in San Diego!", there's a key difference: Dragon*Con doesn't close at the end of the night. It goes from guests checking in and picking up badges (which cost more than a ticket to the Auburn game if you get it on site) on Thursday to the tearful goodbyes on Monday. No one ever seems to want to go home despite the fact that we haven't slept since Wednesday night.

But don't freak out when you see a wookie walking down the street. Or Lord Voldemort. Or a cadre of ghostbusters. Well, okay, freak out a LITTLE. Costumers generally love having their picture taken. In fact, we like it better when you stop us and ask. It makes us feel like you appreciate us and in return, we'll pose for you giving you a far more epic picture than the one you thought you'd snap just to show your buddies that didn't get a ticket and won't BELIEVE what you just saw.

Through the years of the Chick-Fil-A kick off game, we've had some problems. And I've tried to educate both my fellow nerds and my Auburn family about the differences between the two….in that there are none. We're all just groups of people that like to see our passions enacted live, dress up in paraphernalia that shows our support, get together with like minded folks and get super excited to meet the people that make our passions possible.

But we've had to deal with LSU fans and Bama fans. And like all fandoms, not everyone is as classy as they should be. I've assured everyone that Auburn is different. I even showed them pictures of Trooper's Troopers from a game last year. Don't let me down, Auburn family! Don't be that guy…from LSU…that thought a girl in spandex meant instant consent to grab her ass…and didn't know she was an MP by day. He got his nose broken.

You see, we may be nerds, but we're lawyers and cops and doctors and every other profession you can imagine. Just like I tell my nerdier friends "ask them what they are drinking, ask them how the game went" I'll tell you, my football brethren, feel free to ask those in costumes what they are wearing, where it's from and if they made it. I personally enjoyed letting some non-SEC fans last year ask me questions, including all about the costumes that passed us.

And seriously, come to the parade. You won't want to miss it. It starts on Saturday at 10am and runs past the Hyatt, turns the corner and ends behind the Marriott. Get there early to get a good seat because it always seems like Atlanta turns out in force. If you loved Avengers or Dark Knight Rises…you'll love the parade. And so will your kids.

If you like what you see at the parade, I encourage you to buy a ticket for Sunday to check it out in all it's glory.
So there you have it. If you see Chewbacca, give him a "War Eagle" and he'll give you a "RADSASGAEFAGSAFASFSAAFRARRRRR" right back. I'd just stay away from Alien, though.
Is anybody else taking in the Con and the game this weekend? Tell us about it in the comments, and if you have any Auburn-themed costumes, you better send pictures.