Kenny Gabriel (@DaBoyKG22), or Dunkmaster Flex as I call him, became the obvious fan favorite on this year's basketball team due to his high-flying, rim-rocking abilities. When times were looking rough, you could always count on him for an alley-oop or a dunk from the free throw line to get the crowd back in it and pick things up. In fact, as you probably know by now, his dunking skills got him an invite to the State Farm College Slam Dunk & 3-Point Championships that will be broadcasted on ESPN next Thursday night at 8pm CT.
In my opinion, he's the most complete player Auburn has had in years. He's tall and lanky, can block, obviously dunk, and can shoot from anywhere on the court. BUT, he's a senior and his playing days at Auburn are done. So that's why I wanted to ask him a few questions before he moves on to bigger, but probably not better (nothing is better than Auburn) things. Kenny was more than happy to answer, so we can add "nice guy" to his profile, too.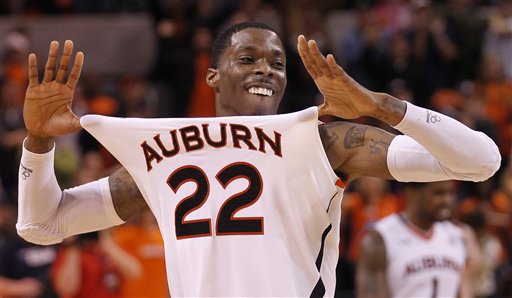 1. What's the number one thing you will take away from Coach Barbee that you can use in your career?
Basketball will stop one day. And he always gets us prepared for after basketball with the things he teaches us.

2. Do you see yourself as a former player that will continue to come back to Auburn as Marquis Daniels did earlier this season?
Of course!! I know the guys coming in so I have to get them prepared for what's coming up and what's at task for the upcoming season.
3. What does next year's team look like to you? Do the returning players, along with a strong recruiting class, have what it takes to get into the postseason?
I think they will make it to the tournament or a top contender in the NIT because of the returning players and the recruits that they have coming in. They all are hungry and they want to win!!
4. What's your best memory from your time at Auburn?
Recording Auburn's first triple double. It's great to become the first person in Auburn history to do that! I'm just one blessed person!
5. How old were you the first time you dunked? Did you learn from watching any NBA players growing up?
I was 14 when I got my first dunk. I was excited! I used to watch Micheal Jordan the most as a kid and Kevin Garnett.
6. What were some of your favorite dunks from this past season?
The alley oop I caught in Hawaii, the lob against Georgia, break away dunk I got vs. LSU and the two dunks I got vs. Kentucky.
7. Even though the State Farm Dunk Contest is just for fun, given that its on a national stage with players from teams like Duke and Missouri, do you feel any extra pressure to represent Auburn well?
No pressure at all! Just honored to be in it honestly!! Just want to go have fun and try to be the crowd favorite!
8. I know you don't want to give any secrets away, but can you give us any hints on what type of dunks you're working on for the contest? You need me to lob one?
Haha, umm just know that I have one coming from a different angle!
9. Are you hearing anything about your future in the NBA?
Not really… I guess I would say that I'm cutting it close right from being drafted. But if I just get into the month of May and work hard, I should make an NBA roster.
10. Is there anything you'd like to tell the fans before you move on in your career?
Thank you guys for supporting me while I was here! I enjoyed you guys being at the games and cheering me on!! I'll be back to visit!! WAR DAMN EAGLE!!