We all had to know that Ted Roof would not return to Auburn next season, but none of us knew that it would be because he left to take the same position at Central Florida, as Auburn Undercover reported earlier this afternoon. My immediate reaction was that Chizik did the honorable thing and let Roof find another position before letting any information out to the public. You know, instead of just firing the guy on the way home from a family member's funeral.
However, Phillip Marshall insists that Roof was not asked to leave or find another job. That doesn't mean he didn't feel the pressure or need to do so after the bowl game. I'm not the type to call for anybody's head regardless of how bad they've done their job, especially since he'd do a better job than I would ever do, but it was time for Roof to move on. Roof even knew it himself. Otherwise, why would you give yourself a demotion? Roof did the tough and honorable thing, and I wouldn't expect any different.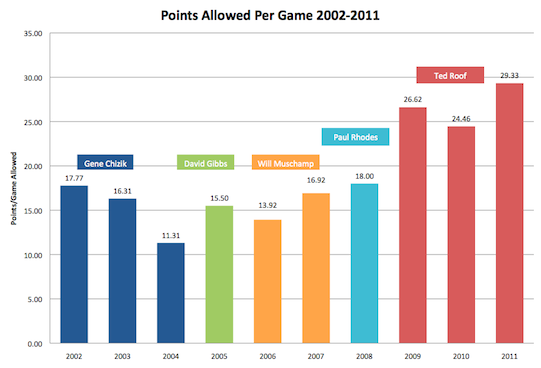 This graphic, created and sent to me by @robbielaney, is quite depressing, but amazing at the same time. While giving up that many points, Auburn still won 74% (29-10) of their games over the last three years. By the way, anybody remember that Chizik guy? Let's get him back.
Roof, we love you. You'll always be a part of the Auburn Family and a major part of the first of Auburn's many championship over the next century. War Eagle Forever.