With Clemson's win over Virginia Tech in the ACC Championship game, it appears the Hokies are the likely opponent for Auburn in the 2011 Chick-Fil-A Bowl (12/31, 6:30 pm CT, ESPN). The Tigers have seemingly been atop the bowl's list for their SEC member for weeks. Representatives were spotted at Auburn's last three games of the season.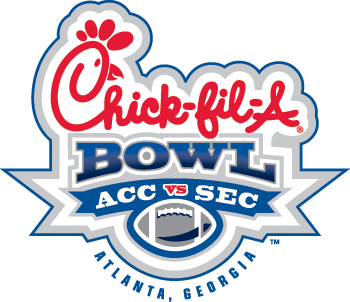 It was rumored, and feared by Auburn fans, that had Clemson lost the ACC Championship Game, the Chick-Fil-A Bowl would have still chosen them as Auburn's opponent, even though the Tigers and Tigers had already played this year and open next year playing in the Chick-Fil-A Kickoff Classic. According to my Twitter feed, bad things were going to happen if this happened. Luckily, Clemson will be going to the Orange Bowl.
There is still a small chance that Virginia Tech could be selected by the BCS as an at-large team. Before their loss to Clemson this weekend, the Hokies were ranked #5 in the nation. If they do not fall more than nine spots (#14), they are still eligible for the BCS. They shouldn't drop any further than that, but the chance they are chosen by a BCS bowl is still pretty small.
In the small chance that they are selected, according to the Chick-Fil-A Bowl president, Florida State, Virginia, Georgia Tech, and Wake Forest would be in the mix because they all have 5-3 records in the ACC.
Having said all that, I firmly believe that Auburn will play in the Chick-Fil-A Bowl against Virginia Tech. This would be the Tigers 7th ranked opponent of the season.
I don't want to get too far ahead of myself and evaluate the Hokies before the matchup is set, but one key note is that they have two losses on the season that both came to Clemson. In both games, Virginia Tech was beaten by more than 20 points. The Hokies have obviously had the more successful season in terms of overall record, but in terms of like opponents, they seem to have the same problems Auburn had against Clemson earlier in the season. Despite the Hokies being ranked much higher than the Tigers, it could be a much more evenly matched game than it appears.
In less than 24 hours, this will all be clear, but you can bet your house on Auburn going to the Chick-Fil-A Bowl, and bet your dog on them playing Virginia Tech, provided you don't love your dog as much as your house.