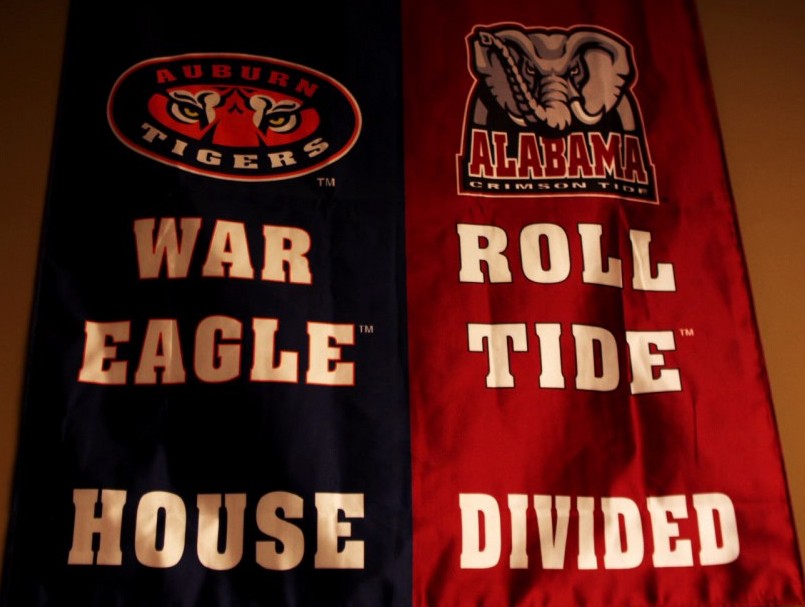 Let's clear this up right now: I am not a film reviewer. I do watch lots of scary movies and one day hope to make my own, but I have never been given the task of watching something for the purposes of reviewing. That being said, I do feel like I can watch a movie/show/documentary and give you my thoughts on how it was made, how the points were presented, and how I felt just after it was over.
I should start this by reminding you that I have only seen "R— T—/War Eagle" once, in a theater, without taking notes, and without the ability to pause or rewind. I was also tweeting some of the major points in hopes to give you some idea of what it as all about, so I'm sure I missed a few things. I must also tell you that the first five minutes are a blur because I couldn't hear half off it. Why? Well, apparently the Alabama fans in attendance have Crimson Tourette's and have to scream uncontrollably any time they see someone connected to Alabama.
The screams rivaled anything you would hear on any gameday, only this was at a movie, in an old-timey theater in downtown Birmingham. Considering there were people from ESPN there, people like Bruce Feldman, I was sincerely embarrassed as a Alabama citizen. But that's another blog for another time. On to the show…
As most Auburn fans expected and feared, the opening shot of "R— T—/War Eagle," directed by Martin Khodabakhshian and produced by Joe Tessitore and Bruce Feldman, is of Paul Finebaum's studio, shortly followed by a few of the famous calls to the show from the past few months. I immediately suspected that the entire piece would revolve around Finebaum and his pot-stirring abilities, while painting a very inaccurate portrait of what's gone on down here since 2009. Fortunately, it did not.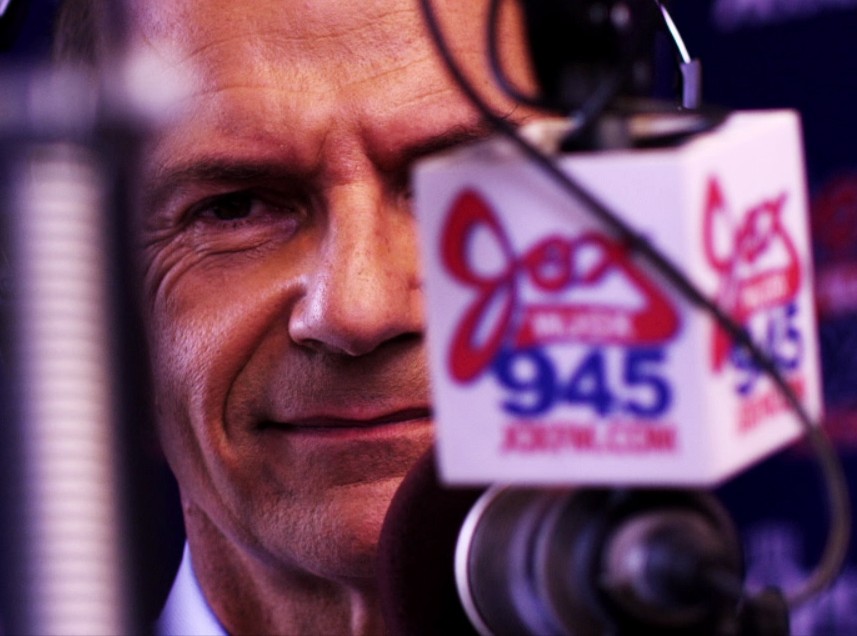 As a whole, Finebaum is quite objective, paints a pretty fair picture, and mostly talks about the rivalry in general without taking any real jabs at any one side. He's mostly only the focal point in the beginning as they set the scene for the Harvey Updyke situation, but over the course of the documentary he only pops up a few other times. I can't remember one thing that he said that I did not agree with. When does that ever happen? It goes to show the lengths the filmmakers went to make sure this was not a one-sided affair.
Some may ask why a radio talk show host is even in a documentary about the Auburn/Alabama, but like it or not, his show has become the medium for most of the craziness that has occurred over the last two years. You may think he doesn't know his stuff in terms of X's and O's, but this was a show about rivalry, and his platform is this most entertaining and the best known platform out there.
As far as the calls from his show that were played, I thought surely that they would be misused to portray the entire state as a bunch of lunatics that have nothing to do but to call a radio show. Maybe it's because I know that the callers don't represent the entire state, but I never got that vibe. I took these segments to be comic relief, and so did the crowd. Auburn and Alabama fans alike were laughing together at the stupidity that is spewed on Finebaum's show each day.
But therein lies a small problem. Will the rest of the country realize that these callers are the lunatic fringe? Probably not. But believe me, Auburn fans really need not worry, except when Tammy's talking. (I love you, Tammy.)
Another fear that Auburn fans had expressed all over message boards, Twitter, etc. was that ESPN would portray Alabama as the big brother, while Auburn would be portrayed as the little farm school fighting for scraps. That was not the case.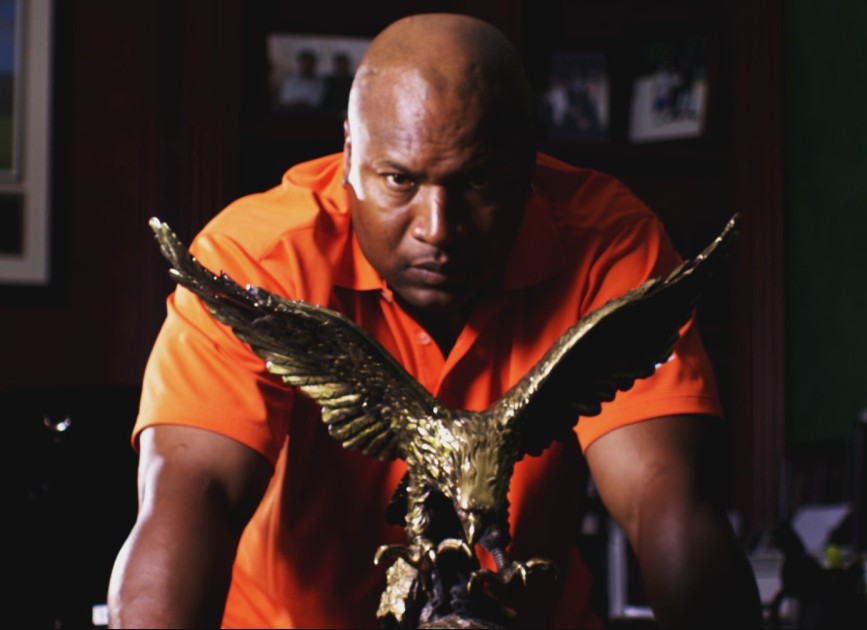 There were multiple interviews with coaches and players on both sides that helped tell a pretty accurate story of the rivalry. Pat Dye, Bo Jackson, and Charles Barkley stood their ground and didn't pull any punches. They told it like it was, and did it in a very funny and entertaining way. The documentary lives on one-liners and these three were the main contributors.
On the other side, Mark Ingram told us in multiple ways that he hates Auburn, which he should, and Greg McElroy told a story about how Alabama fans were texting him the night before the 2010 Iron Bowl letting him know that the game would define his legacy, one year removed from his own National Championship. This did not help the "just one crazy" argument we've heard since Updyke came on the scene.
Speaking of Updyke, as expected, Harvey is one of the main focal points. He is interviewed, explains his hat collection, and is shot in many artsy, sitting-on-a-railroad-track-while-chunking-rocks sorts of ways. You won't really learn anything new about him. He is exactly what you know from hearing him on Finebaum. He still hates Auburn and is not remorseful for what he's done, although he claims he didn't do it.
The Cam Newton saga, of course, gets some play as well. Cam is interviewed and talks about "Take the Money and Run" being played at Bryant-Denny. You'll like that part. There's no more of this mouth-covering stuff going on. Like the other Auburn guys in the piece, he tells it like it is, or actually was.
However, there was one small thing that irked me when watching his segment. At the time of the interview (July 2011), the NCAA investigation involving his recruitment was still open. As he did most of last season, he says that he is unable to comment on the situation because "as they say, it's an open investigation," followed by a really big grin that will infuriate the world outside of Auburn. The producers quickly cut to another scene, leaving that smile as the last thing you see from Cam.
To some it may look like he was smiling in a "I got away with it" way, but in all actuality it was likely a smile of "sorry, I know I say this a lot." It really was just Cam being Cam, and the people who hated it before will still hate it now.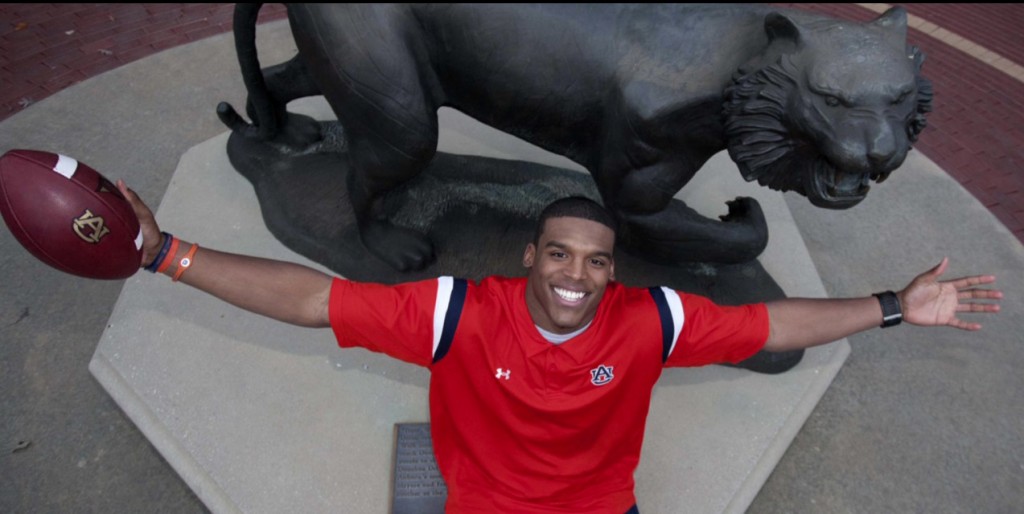 For the most part, I felt the documentary was fair and did a decent job of showing the world how we got here. You can't put 100 years of history in an hour and rightfully give enough time to the last two years, but I feel like they did the best job possible.
You all know that if there was anyone that would find something wrong with anything that's talking about Auburn/Alabama, it would be me, and I just don't remember anything that made me too mad when I left the theater. I'd say that after you see it, if you are upset, then you are just looking for things to be upset about.
You should be left with a sense of pride once it's over given that it's just the story of the rivalry in its current state and that Auburn has the most to brag about right now. It's the truth and they portray it how it is. There is no "yeah Auburn won last year, but they are still in the shadow of Alabama." They just tell the story, and right now, in terms of Auburn-Alabama, until November 26, 2011, the story is good for Auburn fans.
When it comes down to it, this documentary was not made for Auburn and Alabama fans. It was made for the world to get a deeper glimpse at Auburn and Alabama fans. I think it does that in a very entertaining way. Fans of both schools should be able to look at it and think "man, we have some idiots." Let's just hope the rest of the world doesn't see it and think "man, they are all idiots." I don't think they will. In my opinion, it is a must watch.
If you can't wait, here are three previews (courtesy of ESPN) to hold you over.
Explaining "R— T—" and "War Eagle":
The Hiring of Gene Chizik:
The Hiring of Nick Saban:
You can watch "Roll Tide/War Eagle" next Tuesday, November 8th, at 7pm CT on ESPN. If you can't see it at that time, and haven't upgraded to a DVR, here are a few other air times:
FRIDAY, NOV. 11 — ESPN2: 1 a.m.
SATURDAY, NOV. 12 — ESPN2: 8 a.m.
SUNDAY, NOV. 20 — ESPN2: 11:30 p.m.
SATURDAY, NOV. 26 — ESPN2: 8:30 a.m.
SUNDAY, NOV. 27 — ESPN2: 1 a.m., 3:30 p.m.
Photos/videos courtesy of ESPN.