In this video, Alex Howell, a four-year walk-on running back who played behind Ronnie Brown and Carnell Williams at Auburn, sits down with a dude from GameSpot and shows off a little bit of gameplay (with an Iron Bowl) from the latest edition of EA Sports' NCAA Football.
You may be wondering what Howell has to do with this. Well, it's because he designed the game; at least part of it. You know… it's just the AU representin' as always. We everywhere.
I bought last year's version and usually only buy one every 3-4 years, but this year's game looks like a pretty big step up. Too bad I won't be buying it because of this.
Below is a screenshot from the game. I know EA Sports has previously only designed players' faces for the Madden games, but take a look at Emory Blake (#80). Looks just like him, don't you think? I'm not sure which coach that is supposed to be, though.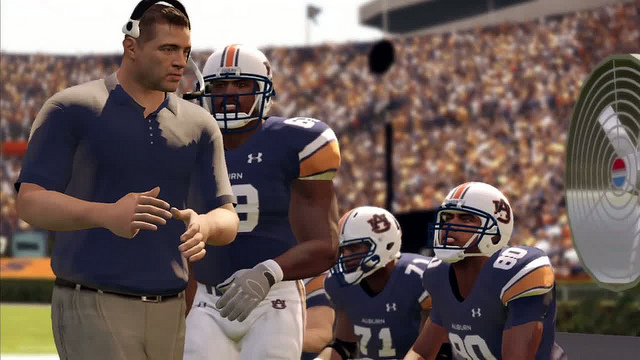 I read about this first on The Gaming Tailgate.