You may have heard by now that Cam Newton will be in New York this weekend for the presentation of a little trophy called the Heisman. You also may have heard that the NYC Auburn Club is planning a Tiger Walk of sorts when Cam arrives at the Best Buy Theater. If you happen to be in The Big Apple, you should stop by and yell a little. If you're not, I thought you might want to see what will be going on.
Below is what the New York Auburn Club sent its members (UPDATED).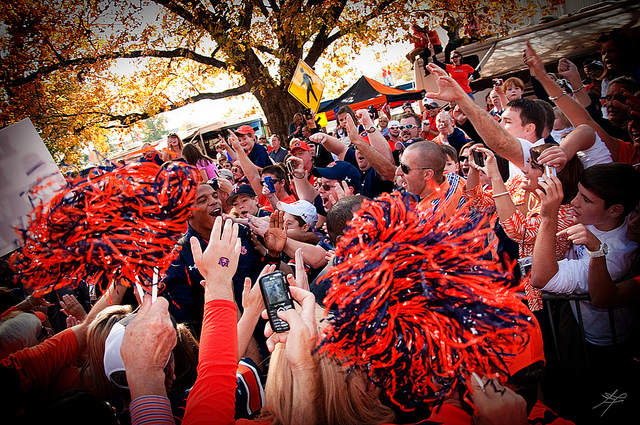 As you all know by now, we will be doing a NYC Heisman Tiger Walk this Saturday, December 11.

Just like the Tiger Walk on campus, we will be cheering and showing our support as Cam Newton, his guest(s), Coach Chizik and Auburn President Jay Gogue enter the Best Buy Theater for the 2010 Heisman award!

Please join us for an "ALL IN" Tiger Walk and bring posters, shakers and your Auburn spirit!  National media are eager to feed our event to their southern affiliates, so let's all show up and let them know how much we love our AU Family! Email nicole1083@gmail.com with any questions.

The club will also be distributing posters and shakers the University provided at the meeting spot so get their early.

UPDATE: We've just gotten new information from the athletic department.  Their schedule has changed a few times, but we now need everyone to arrive NO LATER THAN 5PM at the Best Buy Theater – 1515 Broadway @ 44th Street.  (No longer meeting in front of Champs – come straight to theater!).

**Heisman personnel have emphasized the importance of AUBURN alumni arriving an hour prior to expected player arrival – this is very important, and we promise there's a good reason for it!**

Heisman Watching Party details remain the same.

Here is the updated timeline for Saturday, 12/11

5:00pm – ARRIVE AT THE BEST BUY THEATER –  1515 Broadway –  Please arrive no later than 5pm.
5:45-6ish – Cam, Coach and President Gogue are expected to arrive for the 2010 Heisman ceremony.
6:30pm – We will walk to the nearby Tonic Sports Bar (727 7th Ave between 48th and 49th) for a Auburn Heisman Viewing Party on their 2nd floor.  If you cannot make it to the Tiger Walk, still join us at the bar to watch our Heisman Hopeful on the big screen. Tonic will be running fun Auburn drink specials from 6:30pm until whenever we are done celebrating! http://www.tonicbarnyc.com.
Our usual game-watching bar (Bar 515 – bar515.com on 3rd Ave at 34th St) will also be showing the ceremony.

As the NY family comes together for this "ALL IN" Tiger Walk, please bring posters, shakers, Cammy Cam Juice…whatever you feel is appropriate to show your Auburn pride and support.

Quick map links of these locations:

Best Buy (formerly Nokia) | TheatreTonic Restaurant & Bar
Here are a few pictures of our Auburn brethren from the NYC watching and celebrating after the SEC Championship:
It is rumored that Cam's guests will include his offensive line. Oh, and if you're wondering, of course I will have pictures and video from the event. If you are going, feel free to send me your footage to stuff@warblogle.com.
Tiger Walk picture from Scott Filmer. NYC pictures from @_kristindavis.