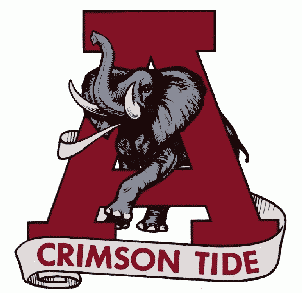 Kent to the Rescue
by Merideth Akers
This game brings back fond childhood memories of sitting around the radio, in south Alabama, with my dad and listening to Auburn – Alabama games. After the game, the neighborhood boys would go to the vacant lot and play our own Iron Bowl. We went to some games in Auburn, but never made the trip to Legion Field for the Iron Bowl. My memory tells me that the Iron Bowl was not televised until the 1964 game.
Sixth ranked Alabama entered the 1963 Iron Bowl sporting a 7-1 record and a flashy quarterback named Joe Namath. The ninth ranked Auburn Tigers had a record of 8-1 and were led by record setting and All-American quarterback, Jimmy Sidle. In 1963, Jimmy Sidle became the first quarterback to lead the nation in rushing with 1,006 yards. Sidle's record for rushing yards by a quarterback stood as an SEC record until Auburn's Cam Newton broke the record this year.
Early in the game, Alabama gang tackled Sidle injuring his ribs. Reserve quarterback Mailon Kent came off the bench to lead Auburn to a field goal and a 3-0 lead. Sidle was in and out of the game the rest of the day as he nursed his injured ribs.
After a day-long rugged defensive struggle, Alabama was able to score a touchdown and make a two-point conversion to take an 8-3 lead. Again, with backup Mailon Kent in the game, Auburn marched to a winning touchdown as Kent completed a touchdown pass to All-American and two-way starter, Tucker Fredrickson. Auburn clung to a slim 10-8 lead.
The Auburn defense took over and shut down the Alabama offense. Led by two-way starter, Howard Simpson, the Tigers' defense had taken advantage of Alabama's mistakes all day. As I recall, end Howard Simpson earned Southeastern Lineman of the Week honors after recovering fumbles and intercepting a pass in this epic struggle.
Reserve quarterback Mailon Kent's performance is still remembered with great fondness by the old Auburn faithful. Final score: Auburn 10, Alabama 8.
After the game, Joe Namath was suspended from the Alabama team and missed Alabama's final regular season game against Miami (postponed from its original date due to the assassination of President Kennedy) and the Sugar Bowl game against Ole Miss. The Auburn Tigers were rewarded for their 9-1 season with a trip to the Orange Bowl. In a ruggedly fought Orange Bowl game, Auburn fell to Nebraska by a score of 13-7.