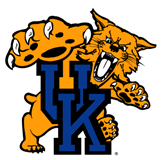 Hey, did you know that Auburn was 5-0 last year, just like this year? I'm sure you haven't heard, read, or been force-fed that bit of information at all this week, right? I'll try my best to stay away from it because whether it's 5-0, 6-0, or 11-0, it doesn't make one bit of difference in terms of tomorrow's match-up.
Do you think the players walk around thinking "man, if we can just get past 5-0, we'll be set for life!"? This game is nothing more than another SEC road game, and that's all that matters.
I'm not mentioning records, but I do want to talk a little bit about last year. Auburn came into their game with Kentucky following their first loss of the season, an eye-opening 44-23 loss to Arkansas.
It was a night game, and it was very cold, like miserable (for Southerners) cold. I went to the game thinking that it would be no big deal. The offense had a bad day against Arkansas, but I thought they would be able to bounce back against Kentucky.
Auburn had the lead at the half, and I felt like it was in the bag. I didn't realize Kentucky was even that close until I looked up and they had tied the game late in the 4th quarter. We all know what happened after that, so I won't bring it up. Actually, yes I will.
We freaking lost to Kentucky in football!!! That does not happen!!! I don't care what you have to do, Tigers. I don't care if you weren't on the team last year (Cam). I don't care if you were and didn't play a snap. You go out there and you show those basketball dribbling, football wannabe Wildcats what Auburn football is all about! If you can't do that, don't bother coming back. I won't watch you. I'll stay at home. I'll pull for Jacksonville State (who beat Ole Miss, who beat Kentucky). Ok?! Do we have that straight?!
Now that I got that out of the way, let's talk more about how this year's Tigers match-up against the Wildcats from the University of Kentucky.
Kentucky has given up 90 points in their last two games (Florida, Ole Miss), while scoring 59. That's a good sign for the #1 in the SEC in total offense Tigers. Auburn shouldn't have a problem scoring on Kentucky, but just for last year's sake, I would like to see them score on every possession as if they think Kentucky will do so as well.
The defense will have nearly the same task as they did last year. Derrick Locke and Randall Cobb are both back and just as good as ever. Quarterback Mike Hartline was hurt for last year's match-up, but he's healthy and will give Auburn a true passing threat to watch out for.
On a side note, I actually think Hartline being out last year helped Kentucky. Kentucky used a lot of Randall Cobb at wildcat, and Auburn struggled to stop him all night. Also, Auburn always has the toughest time stopping a team's 2nd choice at quarterback. It always seems like when they knock the starter out, the backup comes in and lights them up.
Anyway, I'm ready to see what last week's low-key rushing performance has done for Cam's legs. His passing definitely got some good work, and we know what his legs can do, so I can't wait to see what two weeks of rest will show. Who knows, we might be hearing "Denard who?" in the future.
If Auburn can just somewhat contain the few weapons the Wildcats have offensively, Auburn could be in for a big night. I think Auburn's offense will give the defense some cushion to work with, but it would be nice to see the defense shutdown an opponent on the road.
Given the virtual extra week of practice last week, and the way things clicked perfectly against ULM, Auburn should be primed and ready to avenge the fluke that was last season's loss. Kentucky will get up for the home crowd and is in must-win mode, but Auburn's talent on offense and improvement on defense will give Auburn a good, big, great, awesome, SEC road win.
Auburn 38, Kentucky 17