This week, former Auburn center, Cole Cubelic, joins Bret and Jeris on the roundtable. I know you will welcome him with open arms.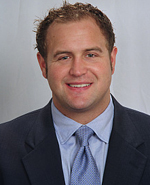 Cole Cubelic. Since graduating from Auburn, where he was one of the team's permanent captains in 2000, Cubelic has hosted the "War Eagle Warm-up" pregame show with former Auburn quarterback, Ben Leard. He is also a color commentator for CSS where has done Auburn replays and PPV broadcasts. Currently, he primarily works live broadcasts of Sunbelt games. He is also a full-time medical salesman in Huntsville.
1. How do you feel about Cam Newton carrying the ball more than any other player in the SEC? Is it worth it? Will he be able to do it all season long?
Bret: As long as he is productive and remains healthy, I am fine with it. I'm guessing teams will start doing something to try and counteract this which should open up opportunities for other players. With Cam's athleticism and Coach Malzahn's creativity, this offense could become more dangerous as it continues to evolve.
Jeris: I actually feel really good about Cam Newton carrying the ball as much as he does. The reason why I feel good about him carrying the ball this much is because you can account for him when he is runs the football. He runs when he has too and is smart about the way he runs the football. Tim Tebow did it in the SEC. Why not Cam Newton?
Cam does not have to just run everybody over because he has the speed to get to the outside and make the long run. Tebow could not do that. Yes, he will be able to do it all season long because he is smart about when he decides to over somebody or if he needs to get down and live for the next play.
Cole: I feel great about it. He leads the conference in rushing. Of course it's worth it. The team does not have a loss. I think he can do it all season. This "running the ball" is not new to him. It is obviously a more daunting task in the SEC, but I also believe that as defenses begin to load the box and he grows as a passer, the designed run plays for Cam will decrease and his pass attempts will increase.
2. Why do you think the defense was able to completely shut down Lattimore?

Bret: The main thing we did was not let their offensive line climb to the second level quickly. It allowed our linebackers to flow to the hole he was trying to hit freely to make the play. Also, our defensive line did a good job of penetrating to make all the South Carolina backs cut east and west before they got going downhill too far. When they did run the ball outside our defensive backs did a good job of quickly getting to the point of attack and making the play. It was a total defensive effort and if we can keep putting those together we will be in good shape.
Jeris: I don't see any team in the country running the football on us sucessfully. Our front seven is very good. We have a lot of depth and some very talented veterans that have played alot of football in the SEC, so I dont see anybody just running the ball on us. That's pretty much the same front seven that shut down Mark Ingram last year, so I was not surprised when Latimore had no room to run. I am not ever really worried about teams running the ball on us because as long as I can remember, we were always able to stop the run.
Cole: I believe that it is much easier and much more motivating for a defense to key on one individual. The second leading rusher for the Gamecocks coming into the Auburn game was Garcia with just over sixty yards. The defense knew stopping Lattimore was the key to stopping the team. Different situation in facing say, Nevada, Alabama, or Nebraska.
3. As a player, what were your thoughts going into a game against a team like UL-Monroe? Did you think of it as an easy week? How did the coaches treat the practices?

Bret: Win – Get healthy – Get the young guys some playing time.
It was treated like just about any other week, but the mood around campus was usually lighter. More reps for the young guys at practice and you always seemed to practice against stuff that you didnt see on film. Shockingly the next week, when you're playing an SEC team,  you'd see on film what you had been practicing against the week before. The coaches always try to make you focus on the challenge ahead and I have no doubt that is what they are doing this week. LA-Monroe can sneak up and play well so the key is to take them out of it early.
Jeris: As a player you know a team like LA-Monroe was not going to have the talent like an SEC team, but you would still want to go out a play hard. The coaches would always look at these games and want us to dominate and come out and get better. This would be a game where you would work on things, but no doubt about it, you want to win and win big just to make a statement.
Cole: Coaches usually let us relax. We would spen less time at the facility. The second and third groups would get more reps in practice, but there was still motivation and focus. You wanted to get in and get out. The only way to accomplish that was to build a significant lead, so we would not take anyone lightly. The preparation would just differ.